Last week we had the pleasure of re-airing episode 1 of On Frozen Ponds, a documentary of the pond hockey tradition in New England. Episode 2 comes out later today and we'll be sure to re-air that episode here as well.
But we also wanted to give DOY readers more info into the documentary, the behind-the-scenes action, and more info on the Pond Hockey Classic itself. PHC commissioner Scott Crowder was gracious enough to answer a few of our questions about PHC, On Frozen Ponds, and the pond hockey tradition in North America.
To start off, tell us a little bit about the Pond Hockey Classic. How it started, where it's located, and how long it's been going on for.
The Pond Hockey Classic was established in 2010 with the first New England Pond Hockey Classic taking place in Meredith, NH on Lake Winnipesaukee. 77 teams participated in the first year. Each year the event has grown in NH with 2014 hosting over 220 teams. We have expanded to host tournaments on Lake Champlain in Vermont and this year will be traveling to Montana to host the first ever Montana Pond Hockey Classic.
So what inspired you three to team up and make a documentary about pond hockey in New England?
In 2012, Elivia was working with National Geographic and came to the 3rd Annual NEPHC tourney to shoot for a web-series they were doing with the NHL called Beyond the Puck with Andrew Ference. This was the year we had to move our event to a smaller lake due to a mild winter, that didn't freeze the bay in Meredith.
After shooting the event, she fell in love with the story lines, the cast of characters and the environmental influences that embody the PHC tournaments. She went back to DC and discussed with Dan, who is an avid hockey fan the tournament and they approached me with the proposal to shoot specifically around the NEPHC and tell the story of the Pond Hockey Classic.
This has been a labor of love and a real passion project for the three of us. Dan and Elivia have put this together in a true freelance fashion. Last year we conducted a successful Kickstarter campaign to raise the funds to shoot the 2013 tournament. Over the course of the last year Dan and Elivia have poured over countless hours of footage on nights and weekends to put this project together.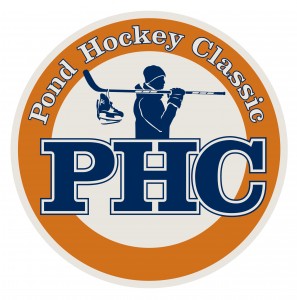 What I love about Episode 1 is that there's such an array of characters and personalities that are part of these events. We start off seeing the ice crew worrying about the erratic New England weather and then go meet some of the featured teams which vary from former hockey pros to beer swilling pick-up hockey amateurs and more. And we're sure that's really just the tip of the iceberg (pardon the pun). It really shows how diverse pond hockey events can be and bring folks together for a weekend of fun.
Honestly, that is what makes these events so unique. At the end of the day all the participants are washed up, no one is playing at a high level anymore. You have former NHLers and guys who might not have played for their highschool teams. The draw and allure of the pond brings everyone together. The weekend is a time for these teams and buddies to get back outside and play the game the way it was originally played. Its a weekend away for them to escape reality, relax and play the game they love.
Just like in a normal locker room, there is always an array of personalities and when you get a group of 1400+ hockey players together you can only imagine the characters that shine through.
How did you guys go about choosing these six teams (Winnipesaukee Whalers, Essex 73's, Peddler's Daughter, Nog, Monday Night Jacks, and Team C3) to be the focus of the documentary?
Running the tournament for three years prior you get to know the teams very well. We have the large majority of the teams return year after year and relationships are built. The teams cover a wide range of age and talent level. We wanted to give a good portrayal of the types of teams as well as characters who compete at these tourneys. These teams are certainly filled with characters and the footage and storylines captured last year are certainly proof of this.
What sort of work goes into setting up an event like this? From the documentary it's obvious that there's more going on than just a bunch of guys and gals in skates and jerseys showing up. There's a whole crew of folks working hard to make sure the ice is safe enough and things run smoothly.
Each year our crew battles the elements Mother Nature throws at us. Not knowing how the weather leading up to and during tournament is going to be certainly keeps our group on our toes. We are reminded each year why the sport of hockey has moved inside, to climate controlled links where weather is no longer a factor but that is also why we work so hard to put on these events. There is something special about skating outside and it really does pull at the heart strings of anyone who has ever laced up a pair of skates. We labor to create a playable ice surface for our participants and it is all worth it once the games begin and the smiles are pasted on the faces of everyone as the skate out to the rinks.
Pond hockey seems to have a pretty strong culture and deeps roots with a lot of people, especially in New England. What makes pond hockey so special?
It's natural, it's raw, it's the simpliest form of our great sport and as I mentioned before strikes a cord deep inside every hockey player out there. The open skies, the tree lined shores, the cold winter air and of course the perfectly imperfect ice. It all comes together to create a magical atmosphere that is rivaled by nothing for a true hockey player.
How has pond hockey changed and evolved over the years and where do you see the sport heading, especially with the growing concern of global warming/climate change wrecking havoc across the globe?
I believe as long as there are cold winters there will always be a draw to the frozen waters of lakes and ponds. We do have a concern about the warming temperatures, shorter winters. If kids cannot take to the ice there could be a whole generation of people that won't have the opportunity to play pond hockey. Some of the greatest players of all time honed their skills on back yard rinks and frozen ponds, talent is developed in the unrestrictive nature of playing hockey outdoors and hopefully future generations will always have the chance to head to a pond and play for hours. This is where a true love for the game is born and our goal is to showcase this and keep it alive and well.
Getting back to On Frozen Ponds, what can we expect to see in the rest of the documentary?
We have Episodes overviews on the website. Dan and Elivia can shed some light on the content of the up-coming episodes
In addition to the episode descriptions up on the site:
The series will follow each of the teams through their next series of games, delving into issues like the beauty and pitfalls of playing outside. Friendships and hangovers will be tested when our teams are pitted against each other on the ice and we'll see who has the passion (and self-control) to make it to the playoffs and take home the "storied" Winnipehockey Cup.
When are the up-coming 2014 PHC events and how can readers join in the fun?
5th Annual New England Pond Hockey Classic – January 31-February 2, Lake Winnipesaukee, Meredith, NH
3rd Annual Lake Champlain Pond Hockey Classic – February 14-16, Lake Champlain, Colchester, VT
1st Annual Montana Pond Hockey Classic – February 21-23, Foys Lake, Kalispell, MT
Registration for NEPHC is closed.
Registration for the LCPHC closes January 31st
Registration for the MTPHC closes January 7th