Last night it took the Bruins a third period line change for the magic to happen. Claude, doing very un-Claude-like things, switched Tyler Seguin and Nathan Horton before the puck dropped for the third period and saw his newly established first line of Lucic-Krejci-Seguin score 2 goals in about 3 minutes. The change seemed to spark both lines, as Horton was able to also rifle off a few shots while playing with Bergeron and Campbell.
But in reality, it was Tuukka Rask that allowed for this win to happen. If the Bruins didn't have Tuukka Rask between the pipes they would've been down about 4-0 before the first period even ended. The Boston defense was once again abysmal and the power play was as useless as a eunuch in an orgy. I'll have more on the power play in today's Grindin Gears segment because something needs to be done about it.
Seriously, is there anything worse than the Bruins power play? Well the answer is yes: PK Subban scoring a goal.
So Subban scores on the power play thanks to an inadvertent Rich Peverley tip and then starts humping everyone around him.
Jesus Christ. I guess we know where Cream of Turtle soup comes from.
Positives, Negatives and Lingering Questions ahoy!…
Tuukka Rask: How good was Tuukka Rask last night? In the first period, he was the sole reason why the Bruins finished the period tied. Like I mentioned earlier, without him they would have been down 4-0 going into the intermission. He made save…
After save…
After save in the first period. He was peppered with 11 total shots in the first period while his counterpart was only hit with 4. He was poised, calm and collected all game and made really tough saves when he had to. The Bruins defense did him ZERO favors last night (again), but this time Rask was able to do it by himself.
That D though…
The Causeway Saints (aka David Krejci and Tyler Seguin): So they didn't have a great game last night. In fact, you could say that up until the third period, their game wasn't even good and you'd be right, but scoring goals erases everything up until that point. You have to give Claude the ole stick tap on switching up lines because they weren't doing a god damn thing up until that point.
Seguin's goal:
Krejci's goal:
Lars Eller: For this:
Oooooooooooooooh, right in the baby dick! Let's see that again…in instant replay!
Oh it's so satisfying. The best thing about this is it's probably Eller's best snipe job of the season. I'm not sure I can advance the recap because I'm too busy staring at this. Yeah, a recap is good, but Carey Price getting hit in the tadpoles is Carey Price getting hit in the tadpoles.
The Entire First Period Outside of Tuukka Rask: A disgusting, lazy showing of hockey in the first period by the Bruins. They came out flatter than a 14 year old Chinese gymnast and still somehow pulled off a win. I'm not sure why the defense is having so many issues this season, but they've only played one true shutdown game and that was the shutout against the Maple Leafs.
I think the key to beating this Bruins defense is team speed. Toronto has it and they were able to get some quality shots off against the Bruins defense. Buffalo and Montreal also have it and we know how these games turned out. Boston has issues stopping speedy forwards. The defense, overall, has been a fucking mess outside of the Seidenberg/Hamilton pairing.
Zdeno Chara: I hate to do this, I really do, but Chara has been FUGLY this season. He's made some crucial mistakes which have led to odd man breakaways and he's pinched when he hasn't needed to. Last night, on a Bruins power play no less, he made a pass that was easily intercepted and taken for a breakaway by the Canadiens. The thing was, this was a routine pass and he hesitated on it.
I'll chalk it up to an early season, but we're almost a quarter of the way through. At some point, the big guy needs to be called out on his play doesn't he? I still think the guy is one of the best defensemen in the NHL and I'm sure the transition from how they play in the KHL to the NHL is effecting him, but it's time to wake up.
Bruins Power Play: It sucks. I'll be writing about it in today's Grindin' Gears.
Discipline: Jesus. Fucking. Christ. Does Peter Chiarelli get around the team and say "Hey guys, remember tonight we have to meet our 7 stupid penalty quota and I'll throw us all a pizza party tomorrow!"? It's slowly becoming a trend this season where a Bruins player gets beat and takes a penalty trying to recover, giving their opponent a power play at a crucial time.
I can't tell you how many times the B's committed a stupid penalty. This, of course, does not include Krejci's "hooking" penalty. How is this a hook?!

(Stick tap to HBAdventure for the screen grab)
Whoever this clown is: Sit down, jerk. Good thing those people in Canada are so good natured because you deserve to get bottled over the head for being such an asshole.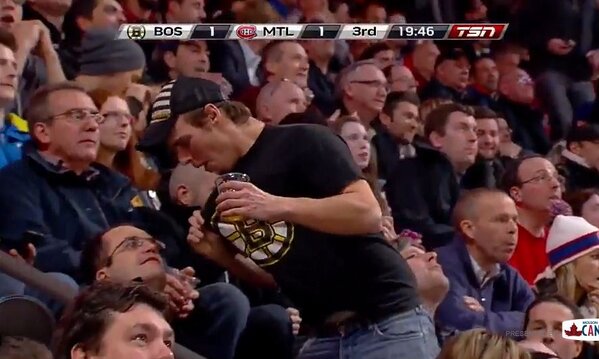 – When will Jeremy Jacobs have another lockout so he can get "Declining a penalty" written into the CBA?
– Did anyone ask Tyler Seguin how the air in the Bell Centre tasted?
– Why didn't Pete #OfferSheetPK?
– How many pink hats got all hot and bothered by Seguin's tongue wagging last night?