– Brad Marchand was unreal last night. First he opened the game with scoring a goal at the 26 second mark. If I could, I would personally thank Sidney Crosby for that turnover which lead to the Marchand goal.
And as great as that goal was, the second one was even better. Marchand starts chirping Cooke, gets Cooke's defenses down and then takes off on a rush and scores a beauty of a snipe. Here's a gif from Adam of ThePensBlog:
And if you watch the video, you notice the two of them jawing at the bottom and then Marchand just burns Cooke. Someone should check Cooke for third degree burns on that play. That's why the Bruins don't allow him to get in their head because outside of being a goon, he's not incredibly skilled.
That's also the "pest" role that Marchand fills perfectly. He is able to get into the opponents heads and then put numbers on the scoreboard. What Marchand doesn't need to do is take stupid penalties like he did in the second period where he basically slewfooted Sidney Crosby. Did Crosby embellish it? Maybe, but Marchand shouldn't even give him the opportunity.
We're talking about a 4-1 at that point and a Pens power play goal could have really lifted their spirits. Luckily the Penguins power play is hitting Bruins 2011 levels.
– Bergeron's goal was sick. The pass from Jagr was so sick it was drinking a bottle of Nyquil just to survive.
Bergeron does it all man – he really does. He was dominant in the faceoff dot again last night – going 10/15 (67%) on the night and 100% in the offensive zone. He's everything this Bruins team embodies.
– David Krejci continues to quietly be the best player in the playoffs. It's not just Krejci either, that whole line has decided to wake up since Game 7 of the first round and blow the doors off of anyone. David Krejci, Milan Lucic and Nathan Horton are vastly outplaying Sidney Crosby, Chris Kunitz and Pascal Dupuis. Did anyone think that a line like that would be written because I sure as hell didn't.
That goal is so orgasmic that Brazzers is considering a contract offer for 3 movies and an Adult Video Awards hosting gig. Disgusting.
And the Pens were just hanging in their zone. Sipping on some gin and juice.
– Nathan Horton is on fire. Straight up.
There's a rumor that Nathan Horton left something for Tomas Vokoun when he went to wipe his tears away when he was pulled.
You want to see how good that line has been? Check this out: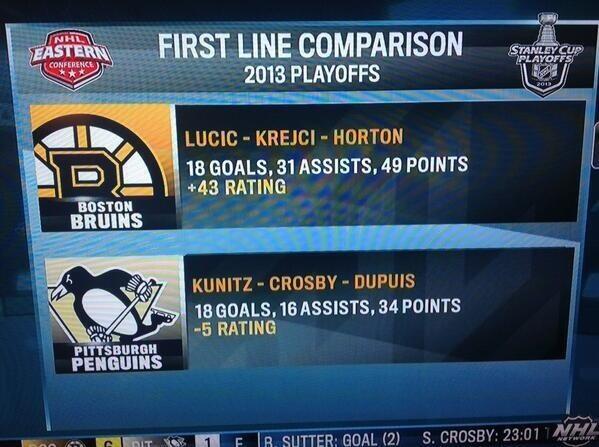 (stick tap to Whisperandmoan for the screen grab)
I haven't even talked about Tuukka Rask yet. Let's talk about Tuukka Rask.
In Game 1, Tuukka Rask stood on his head and led the Bruins to a victory. In Game 2, Tuukka Rask was able to hang out and make sandwiches because Boston was so good at keeping the Penguins out of their own end. Pittsburgh had 27 shots on goal, but 13 through 2 periods. He didn't have to be out of this world because the Penguins weren't even in the correct galaxy.
But hey, Mark Madden still thinks Rask is just "an average goalie".
– Sorry Iggy, I love you to death but this is fantastic. You broke my heart and now you look like you haven't even played in the Eastern Conference Finals yet. I'll take it while it lasts. You said you wanted to go to Pittsburgh to win a Stanley Cup, but you've been invisible in the first two games. Your biggest impact was a scrum at the end of the second period in Game 1 that broke your team.
– This: (Stick tap to Adam from PensBlog again)
– How fucking awesome is this feeling?
– Will the Bruins continue to play this well now that they're home?
– Who didn't replace Malkin's batteries?
WINS TO THE CUP: