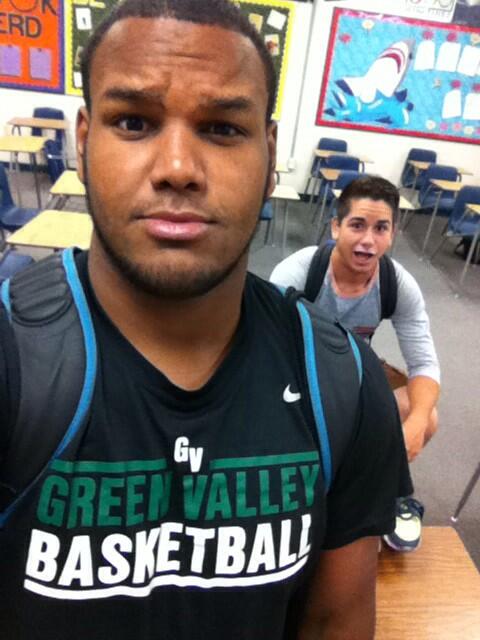 Tyrell Crosby is a funny guy.
He's serious about football, but takes everything else with a sense of humor. Visit his Twitter on any given day and you're apt to see a picture of him with a mischievous look on his face, one eyebrow raised, or his arm around a pretty girl.
He's deft with an old-school reference: leaving for Eugene on Thursday he announced, "In the words of Billy Joel, I'm movin' out."
I interviewed Tyrell this spring for Duck Sports Authority, and we talked about his dual nature, ferocious 6-5, 300-pound left tackle/sociable "goofy kid":
DSA: I checked out your Twitter, and you seem like a really fun-loving, sociable and easy-going guy. How would your friends describe you?
Crosby: Just as a big teddy bear, that's what most people describe me as.
DSA: That's a good way to be when you're a big guy. Otherwise, you can be a little scary,
Crosby: Yeah, that's what a lot of people tell me. It's like they were intimidated by me when they first see me but when they get to know me they realize I'm a nice person.
DSA: I'm seen a few interviews and you have a way of putting people at ease, a nice big smile and personable demeanor, but I've also seen a few football highlights and you kind of change personalities when you get on the football field. You're a little bit of a Hulkster. You can be an assassin on the field.
Crosby: (Laughs) Yeah, I have like a good switch but even on the field I'm always trying to smile and have fun but do the best I can do.
DSA: How do you do that, how do you mix that easy-going nature with being in a game where you have be physical and dominate people?
Crosby: Always try to stay focused, but always try to have fun because that's why I want to play the sport is just to have fun, but also to make myself a better person playing the sport.
Crosby starred in three sports for the Green Valley Gators, left tackle, a basketball center, shot and discus in track. He averaged 13 points and 16 rebounds a game as a senior, dead lifts and squats over 400 pounds. In one GAME last fall his coaches credited him with 18 pancake blocks.
In both ability and as a personality, Tyrell is the young Duck most likely to take over for Tyler Johnstone a year or two down the road. He's quick, tall and agile with a lot of athletic ability, and he has the same comic timing and cleverness that's made Johnstone a fan favorite in interviews and in his "Moose Time" segments for KEZI.