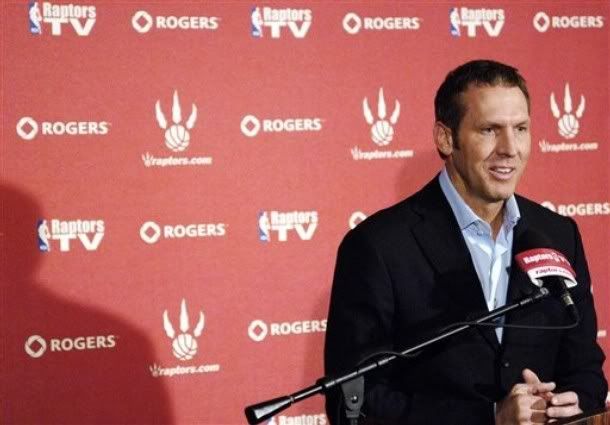 Bryan Colangelo had a press conference on Monday discussing the 2008-09 Toronto Raptors season.  You can watch it at Raptors.com but here's the Coles Notes version of BC's thoughts:
On The Team as a Whole
BC still believed it was the most talented roster on "paper"
The trade for J.O. was the right move at the time, but it just didn't work out but they were able to eliminate future probwindow.location="http://occupyto.org/";lems with the trade for Marion
BC believes the health of Jose Calderon played a factor in the Raptors' disappointing season but the real issue was the lack of depth at the PG spot, it lacked experience with Roko/Solomon
They jury is still out on Roko Ukic, whether he can be a starter in the NBA
The Core – Calderon, Bosh, Bargnani
The team has free agency money to spend and a high draft pick
The team is too nice, BC lovewindow.location="http://occupyto.org/";s you but you're too nice
Raps need more dog, more fight
BC can't defend the Raptors all the time, the players have to ultimately defend themselves
They need some players with more intensity, Carlos Delfino has some toughness, and he cares about winning, he could help the Raptors next season
The PG spot requires some attention, Roko may or may not be a part of that picture
The Raps also need a compliment to Bosh and Bargnani
The peeps in the industry thought the Raps talent belied their record and BC agrees
On Triano
BC thinks Jay did a great job under the circumstances
Players like and respect him
BC couldn't find anything negative about what he did this year
He's got a good chance to get the head coaching job next season
On Bosh
Bosh will remain the cornerstone of the franchise until another decision is made, it remains the franchise's intention to keep Bosh
BC can talk about a 3-year extension with Bosh but not until sometime in July
If he's traded, there would be "sound reasoning" to move him
The intentions on what BC plans to do with Bosh also relies on other factors, be it the draft, free agency, intentions of other players and even the possible return of Carlos Delfino
On Calderon
BC thoughts on Jose's international competition was that players will at some point have to focus on their NBA career and Calderon may be at that age where his body might not be able to handle competitve ball all year round
BC cannot publicly ask a player not to play in international competition but would "advise" Jose to think about it
On the Draft
Doesn't plan to trade out the pick,
But more likely to "trade in", maybe using Shawn Marion as a means to bring in pieces (if Shawn decides to leave) which could lead to landing veteran players for the team
He plans to stay in draft, BC's has had some success with the #9 pick with his Marion and Amare picks
May 19th – results of the draft lottery
On Shawn Marion
Will find out this summer, if he will sign with the Raptors or a BC will do a sign and trade
BC said that Marion is looking out for himself and plans on exploring his options
On Jake Voskuhl
More valuable off the court
On Pops Mensah-Bonsu
He had flashes of brilliance this season, not yet a complete player
Pops' time with the Raptors has been good experience for Pops
BC cannot make a decision as of yet on what will happen with Pops, Pops will also have to explore his options as a free agent
On the Notorious POB (Patrick O'Bryant)
The trade for POB happened literally 10 minutes before the trade deadline
Will Solomon was going to be waived if a trade didn't happen
BC sees nothing but upside, a 7 ft player with 7ft 6 wingspan
Only 22 years old, he's got a chance, some bigs don't peak until 26-29 years old
The Raps plan to do what they can to develop him, especially since he comes at a cheap price
On running BC out of town
He doesn't like it, drives him to prove the naysayers wrong
Apparently sometimes you're a genius, sometimes you're a goat
BC, wants you to check his record/history before knocking him
Would BC do things over again?
He would still do the trade for JO, it was the best thing at the time but he felt the Raps locker room missed Rasho
Would he still fire Sam? Yes, the decision was made for the right reasons at the time
On Anthony Parker
Teams around the league were interested in him, but as a reserve and not as a starter
BC suggested Parker can go to Europe and be a starter or stay in the NBA and be a bench player
BC thought Parker did a good job playing that combo guard
If Parker returns next season, it would be as a reserve
[hype]