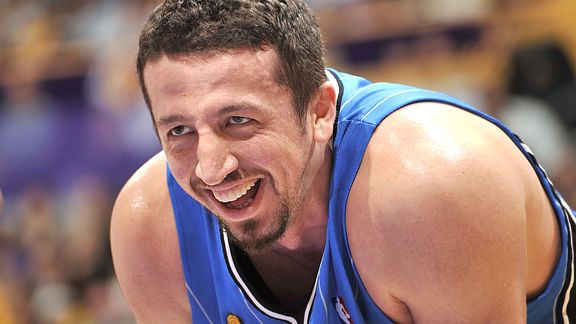 Ok, so the latest from Adrian Wajnarowski of Yahoo! Sports is that:
"Free agent Hedo Turkoglu has backed out of his commitment to the Portland Trail Blazers and plans to sign with the Toronto Raptors, multiple league sources told Yahoo! Sports on Friday night.
Turkoglu had agreed on a five-year, $50 million deal with the Blazers, but changed his mind and is headed for a five-year, $56 million deal with the Raptors. Toronto would have to renounce three free agents – Shawn Marion, Carlos Delfino and Anthony Parker – to create the cap space for Turkoglu."
So don't get me wrong, I think Turkoglu would be a great addition to the Raps but having to give up Marion, Delfino and Parker to sign Turkoglu just sounds like too much to give up.  I was really liking the idea of a starting five of Calderon, DeRozan, Marion, Bosh and Bargnani with Delfino coming off the bench.  And personally,  I think Marion's defense and rebounding is a better fit than what Turkoglu can provide.  Maybe there's more moves to come from Colangelo that show this makes sense. I just feel bad for the Blazer fans.  They were ready to welcome Hedo to Portland and even our Bloguin brothers, Bust a Bucket had the Hedo Blazers jersey all set.
According to Chris Bosh's Twitter, he's all for it:
"IF IT'S TRUE..Let's get it cracking H Turk!!!"
Photo Credit: ESPN
[hype]