To the frustration of many basketball fans in Canada, the national team has had very little success in international competition. Whether it be the Olympics, the FIBA World Championships or any junior level competition, the Canadian team has consistently struggled against their foes from around the world.
All the while, European and South American teams have become increasingly powerful on the world stage in the past decade. Spain, Greece, Argentina and Brazil all field very competitive teams, and the vast majority of their players are honoured to represent their country. That is part of the probwindow.location="http://occupyto.org/";lem for Canada, as Steve Nash has not represented the true north strong and free in years, Samuel Dalembert didn't last more than a week under coach Leo Rautins, and there are simply few other Canadian players in the NBA.
In 1992, Grassroots Canada was founded in Toronto initially as a program to give inner-city youth the chance to compete at the highest level of basketball. There was the hope that this would in turn give them the exposure necessary to receive scholarships from major American schools. While it took some time to develop a successful program, the travelling AAU Grassroots Canada team has recently burst onto the summer circuit as a team to be reckoned with. However there has been some criticism of the way in which some of these players have gained their exposure. Citing the lack of competition and exposure playing high school ball in Canada, many players from Grassroots Canada have headed south to play for prep high schools in an attempt to further increase their exposure.
This past year, Canadian standouts Cory Joseph and Tristan Thompson played for powerhouse Findlay Prep in Nevada, and helped lead them to a high school national championship. Some see schools like Findlay and Oak Hill Academy in Virginia as nothing more than recruiting machines, where students from around the country, and often around the world, come to spend their final few years of high school playing on the road more than most college teams. But despite the criticism, the exposure did great things for Joseph and Thompson, as they well both suit up for the Texas Longhorns this year, one of the top college programs in the country.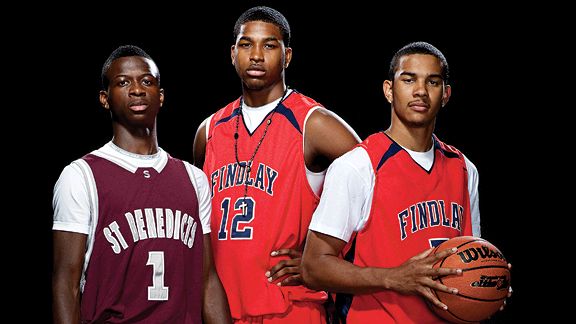 Canadian high school stars have historically made their way to second rate American schools, as the skill level was simply not seen to be on par with their counterparts from the South. But the landscape is changing in favour of Canada with many more high level players coming through the pipeline. Another product of Grassroots Canada is combo guard Myck Kabongo, who will finish his high school career at the aforementioned Findlay Prep this year. He has already committed to play for the Longhorns as well, and barring one-and-done's from Joseph or Thompson, Texas could challenge Gonzaga for the most Canadian players on a major NCAA squad. To further bring the Canadian development system into question, Kabongo attended another powerhouse prep school, St. Benedict's in New Jersey since grade 9. All criticism aside, Kabongo, Joseph and Thompson have all declared that they are Canadian before anything else, and they could be the future of the national team.
The up and coming players in the Canadian system bring even more intrigue, as there is a set of brothers who could change the landscape of basketball both in Canada and around the world. Sim and Tanveer Bhullar who are 7'4 and 7'2 respectively, are Toronto natives, but their parents are from India. They have become minor celebrities where ever they go, as it is understandably difficult to hide from the attention.  What makes that even more astonishing is that Sim will be entering his junior year of high school while Tanveer will be just a sophomore. They too play at a prep school in the states, The Kiski School in Pennsylvania. This is not however the same type of basketball warehouse that the other Canadian prep stars have been attending. The Kiski School is coached Daryn Freedman, who has experience in both the NBA and with Division 1 college schools. Kiski also has a distinguished academic history, something that the brothers are very focused upon. While the Bhullar brothers have yet to garner interest from the major schools that the Texas trio have, as their games continues to develop, and they improve their conditioning and ability to deal with their size, the offers will come. And as they say, you can't teach size.
But of all the Canadian ballers that are making their way through the system, the best could be one of the youngest. Andrew Wiggins is a 6'6 14-year old from Toronto, yet he has already received interest from the likes of Duke and North Carolina. He too is a product of the Grassroots Canada AAU team, and recently competed for Canada at the U-17 World Championships against the likes of top college recruits Mike Gilchrest (Kentucky) and James McAdoo (North Carolina). While there has recently been rumblings that he will stay in for the extent of his high school career, it is unlikely. Founder and coach of Grassroots Canada, Ro Russel, was recently named head coach and associate athletic director at Christian Faith Center Academy in North Carolina, so a move there is likely on the horizon. While Wiggins was initially supposed to head there for his freshmen season, his father, a former NBA player himself, decided that he should wait until he is 16. As ridiculous as that sounds, it will at least keep him in Canada for another year.
If all, or even some, of these players commit to playing for Canada on the international stage once they make their way to college and into the professional ranks, the state of Canadian basketball could improve in a hurry. Andy Rautins and Joel Anthony are currently the stars of the National Team, and nothing against the two, but they wont exactly take the team to the next level.
Remember the names: Cory Joseph, Tristan Thompson, Myck Kabongo, Sim and Tanveer Bhullar and Andrew Wiggins. They will be making Canada proud, and much of it is thanks to the work that Ro Russel has done with Grassroots Canada in Toronto. He understood that there was a untapped talent hotbed in Toronto, and after years of development, they have become a force against some of the best American AAU teams. Now if only the Canadian government would realize the benefit of investing into inner-city athletic development, then private organizations such as Grassroots Canada would not have to develop such programs entirely on their own.