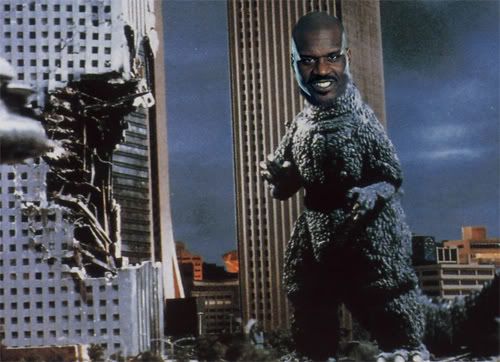 Suns 133, Raptors 113
It was this Shaq  x 20 last night.  As the Raptors fouls racked up, the more the Big Shaq-tus dominated and got whatever he wanted down low.  And unfortunately for the Raps, Shaq shot well from the line, going 5-8. The Phoenix Suns shot 56% from the floor and scored 90 points in the paint with a big chunk of them coming from Shaq.  It was like my buddy U-E said, this was King Kong going up against a bunch of curly straws.  Shaq finished with 45 points, 11 boards, 3 steals and 1 swat.  The Suns were without Steve Nash (right ankle) and Amare Stoudemire (detached retina).
Shawn Marion showed up for the Raptors in the game against his former Suns' squad, Shawn Marion finished with 27 points, 11 rebounds and 3 steals.  The Raps didn't play bad last night as they kept up with the Suns all night and after three quarters as the Suns were only up 96-92.  Unlike the game against the Knicks where the game was run and gun and the Raps didn't do anything at all, they actually got the offense rolling last night against the Suns.  All five Raps starters were in double figures and Jason Kapono had 15 points off of the bench.
For the Suns, the unsung hero was Louis Amundson who had an outstanding game with 20 pts and 10 boards.  The Suns just dominated in the fourth quarter outscoring the Raptors, 37-21.  The Raps had no defense at all for Shaq as Jake Voskuhl, Andrea Bargnani fouled out in their attempts to guard Shaq, while Chris Bosh played with 5 fouls for most of the second half.
Oh, check out this Grant Hill a la '97 with his dunk on Bargnani!
After the game, Shaq described that any of the centres in the NBA are just "barbecue chicken" down low.  Shaq is most definitely entertaining.
jNLHJhfYqQk[/youtube]
I got the chance to liveblog last night's game on theScore.com, here's the play by play.  For a Suns perspective, check out Fanster's Phoenix Suns Community
The Raptors play the Mavs on Sunday night.
[hype]