Yeah, our teams suck and what?  It's award season and the players on our teams aren't even in the running for these fancy-schmancy regular season awards voted by the press, why?  Because our teams suck.  Our players are currently watching the playoffs from home, twittering what they had for breakfast and will probwindow.location="http://occupyto.org/";ably be doing some post season reporting for NBA TV or TNT. 
Well, HHN decided to take matters into our own hands, we first introduced the Veteran of the Year award, now I present to you The Peanut Gallery's "Best of the Worst" NBA Awards.   And who gets to vote?  Bloggers.  The bloggers of the NBA teams that are out of the playoff picture.  And the best part of all, the winners of these awards are from the crappiest teams in the L. Take that Lebron James!  No MVP award for you here!
Our esteemed Peanut Gallery panel include:
College Wolf from

Twolves Blog
– the saddened Minnesota Timberwolves blogger
Nets Daily from NetsDaily.com –
the upset New Jersey Nets blogger
Romy (myself) from Hoop Heads North
 – the down in the dumps Toronto Raptors blogger
U-E from
Hoop Heads North
–
the chain-smoking dejected Toronto Raptors blogger (oh and he likes the Pistons too, who have also been depressing)
And without further adieu, here are your winners.
MVP – Most Valuable Player of the Least Valuable Teams
Winner – Danny Granger, Indiana Pacers (24 voting pts)
Zeb (Blue Blitz): I honestly think he's the only reason the Pacers are where they are right now. Without him, they'd be a bottom 3 team, easily.
 1stRunner-up:  Kevin Durant (20 voting pts)
Zeb (Blue Blitz):  As far as individual player talent, he's the best, but I think his team can do better without him. Most valuable, to me, is most valuable to your team. 
2ndRunner-up:  Chris Bosh, Toronto Raptors (15 voting pts)
David (Rufus On Fire): Toronto fans can dissect his flaws, and there are a few, including his propensity to attempt long twos instead of either taking it to the lane or setting up for a three, but he's such a dominant player it's a shame everything except Bargnani and Bosh fell apart for the Raptors.
 Honorable Mentions: Devin Harris, Steve Nash, Al Jefferson
Rookie of the Year – The Best Rookie of the Worst NBA Teams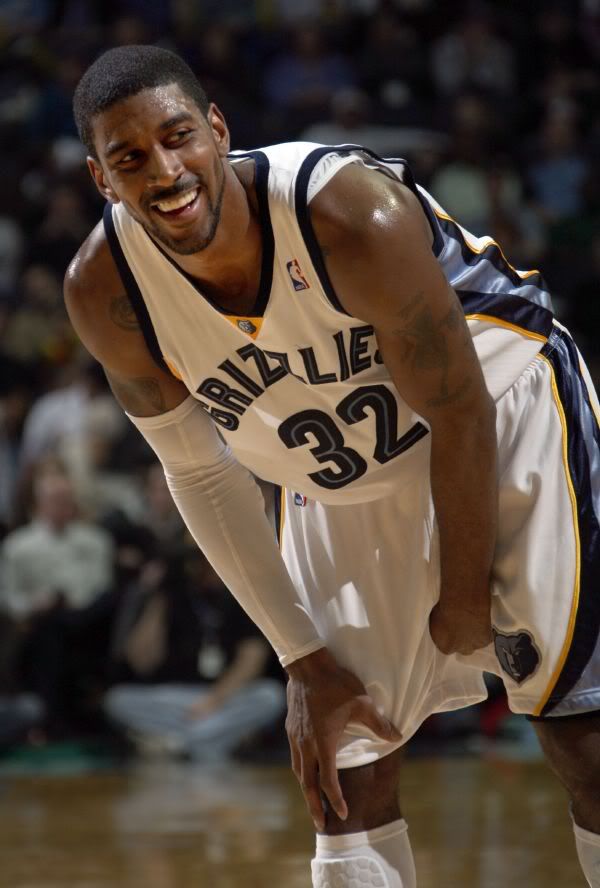 Winner – OJ Mayo, Memphis Grizzlies (27 voting pts, 4 first place votes)
Zeb (Blue Blitz):  Orange Juice Mayonnaise – He is what he is – a good SF. Lets hope that he can get some fans.
1stRunner-up:  Russell Westbrook, OKC Thunder (27 voting pts, 3 first place votes)
David (Rufus On Fire): If the Thunder get the top pick in this upcoming draft, I completely understand why they'd take Blake Griffin, but if they take Ricky Rubio, they'll have Westbrook, a point guard who can cover any other point in the league, and Rubio, a point guard who can cover both ones and twos. They would immediately become the most fun team in the league, with Kevin Durant providing the most of the fireworks, and Westbrook and (possibly) Rubio exploding in the lane regularly.
Zeb (Blue Blitz):  I don't understand why he dropped in the rankings just because Scott Brooks decided to rest him a bit in favour of guys like Shaun Livingston. Aside from the tanking part at the end of the season, I'd say he's easily the best rookie next to Derrick Rose.
2ndRunner-up:  Brook Lopez, New Jersey Nets (21 voting pts)
David (Rufus On Fire): He'll go down as one of the top three players from this deep draft.
Romy (Hoop Heads North): I mean, Brookie of the Year sounds so cool.
Honorable Mentions: Kevin Love, Eric Gordon
LVP – The Worst of the Worst, the Least Valuable Player from the NBA's Worst Teams 
A player on a non-playoff team that you call a "bum" or a "disappointment" who doesn't deserve the money he's making, maybe you call him a "sorry excuse of $5-10 million (or whatever salary he's making)"
Winner – Eddy Curry, New York Knicks (28 voting pts)
Jeff  (Pete Marasmitch): Sorry, I'm not much for mudslinging. Curry is the only non-playoff bum that comes to mind (first LVP that comes to mind is now-Celtic Stephon Marbury).  Why nominate Curry as LVP? Well, he chose to go out of shape, sit on the sidelines, and be a negativity magnet for Mike D'Antoni's Knicks. He has the talent that warranted the $11+ million/year salary(!), but he just didn't wanna use it.
Kyle (Truth About It):  You could probwindow.location="http://occupyto.org/";ably fill the top three with Knicks and then some … but the fact that fat Eddy Curry made around $810,331 per minute on the court this season is disgusting … shadowing the fact that he's due $21.275 million plus over the next two years.
Romy (Hoop Heads North): Oh Stephon, you're lucky you're on the C's or this spot would be yours.
1strunner-up:  Gilbert Arenas, Washington Wizards (11 voting pts)
David (Rufus On Fire): Possibly the least tradeable contract in the league, Gil is, apparently, a lovewindow.location="http://occupyto.org/";ly guy, but the combination of his huge contract and injured knee is holding down the Wizards and will haunt them until they rid themselves of it.
Zeb (Blue Blitz):  Another injury, and another dismal Wizards season. He got paid, what, $14 million this year? And he's signed through 2013/2014, when he'll earn a whopping 22 million? Now, this would be okay if this were a average guy. But this guy bragged about himself being on the cover of NBA Live while his team was in the playoffs, and he's a ballhog who misses a lot more than he makes while drawing phantom, Dwyane Wade-esque fouls. He hasn't really been relevant since 2006, and his team invested a lot in him, but he's failed to deliver, time and time again.
2ndrunner-up:  Jamaal Tinsley, Indiana Pacers (8 voting pts)
Romy (Hoop Heads North): $14.7 mill over the next two years and your boss doesn't want you to show up for work?   I wish I had your job, Mr. Tinsley. 
Honorable Mentions: Marcus Banks, Richard Jefferson
Kyle (Truth About It):  Marcus Banks (Toronto – via mid-season trade w Miami) – Why is this dude making $4.26 million again?
MVE – Most Valuable Excuse
The GM has excuses, the Players have excuses, hell even the bloggers even have excuses on why their team had a horrible season.  This is the excuse either the GM, the players, the coach or even the blogger uses for why their team didn't make the playoffs
Winner – Injuries (28 voting pts)
Kyle (Truth About It):  Injuries (and with the Washington Wizards, it's not only an excuse, but a way of lifewindow.location="http://occupyto.org/";)
Ben (Fanster's  Phoenix Suns Community): Retinas are a serious threat to man-kind
1stRunner-up: Age (14 voting pts)
Zeb (Blue Blitz):  "We're too young." – Used all of the time, and it's pretty much true. The "veterans" on our team to start the season were people like Earl Watson, Damien Wilkins, and Johan Petro. Joe Smith was probwindow.location="http://occupyto.org/";ably the only guy who was even close to legit. So, while it's overused, it's true.
Kyle (Truth About It):  Inexperience (when you're hit with injuries, and all you have is a bunch of kids, losses can easily mount)
2ndRunner-up: Off The Court Baby Mama Drama (7 voting pts)
Jeff (Pete Marasmitch):  "Our franchise player was distracted by his ex-fiancee who was suing him for child support."
Honorable Mentions: The Izod Center, Defense, Not Enough Talent
Nets Daily(NetsDaily.com): The IZOD Center. It's a dump and with sparse crowds, provides no home court advantage.
Thanks to the Peanut Gallery bloggers for taking the time to cast their votes and congratulations to our winners (?).  Take that Lebron, Danny Granger is our MVP!  Let us know what you think, who do you have for these awards?  Cast your votes in the comments section. 
[hype]