After every 10 spots unveiled we will put them all in one spot for your viewing pleasure, so enjoy the first group to be unveiled, 100-91!!
No. 100 – Army vs. Canadian Royal Miltary College (DI Men's Hockey)
Guessing you've probably never thought of or heard of this one, but this is a must see event on the collegiate ice hockey calender nearly every year. It's the oldest and most played international rivalry in college sports. Add in the fact that it's USA vs. Canada in hockey and you've got yourself a heck of a game already.
But we're not even close to being done. While Army isn't exactly a power in collegiate hockey this game has all the pomp & circumstance of Army-Navy in football and it makes it a must see event right there. Players and coaches from the very beginning of this series are still alive and keep the memory of what it means to play in this game alive for the current crop who, until this season, hadn't experienced this game. Just like the service academy games in the United States this game features the corp of cadets from each school in attendance and it makes for a great atmosphere.
Unfortunately it's a game that's also seen some controversy. After playing for 75 straight years this series took a 5 year break due to a dispute over RMC using civilian and post-graduate players. Luckily the series was restarted just this past season for at least a three year contract. So, if you want to see this one get yourselves out to West Point next year or to Canada the season after that.
All that is fine and dandy, but what about the actual competition on the ice, right? Well it's a series that's been very competitive since it's 1923 inception with Army holding a 40-29-7 record after their 9-1 trashing of RMC this past season.
Call us a bunch of suckers for patriotism or for the service academies, but pomp and circumstance is what draws most of us to college sports in the first place and this game gives us a good indication of just what it means to put service over self and that's a lesson we all can use a reminder of from time to time no matter what we're doing with our lives. Plus on the sporting side this game has the tradition and history that makes it just good enough to squeak into our list this year. Let's just hope they can extend the international series out beyond these three games, but only time will tell that
No. 99: Adrian vs. MSOE (Division III Hockey):
Yep, we've gone under the radar with our pick for No. 99 on the MTB College Sports Bucket List once again. Adrian College is a small private university that has about 1,500 students located in Adrian, Michigan. MSOE stands for Milwaukee School of Engineering and has about 2,600 students located in the middle of downtown Milwaukee, Wisconsin. Really the make up of the schools and locations couldn't be much different and that helps kick start this as a must see game.
They both reside in the Midwest Collegiate Hockey Association (MCHA) that is made up of schools in Wisconsin and Michigan and is an up and coming league at the DIII level.
What makes these two teams worth watching? Well, until Adrian came into the conference MSOE had one heck of a run going in the MCHA and was one of the better programs in the Midwest. Problem was once Adrian came on board there was a new top dog (pun unintended). Adrian had won the first 18 meetings going into this past season, but finally the Raiders of MSOE broke through in the win column. They actually took the season series with a 2-1-1 record and even took home the MCHA Harris Cup for the first time since Adrian joined the league to earn the automatic birth in the NCAA DIII tournament for 2012.
Don't let the unbeaten streak of 18 games fool you though, these two teams always are competitive and it's usually a battle between 1st and 2nd place, something that always helps a rivalry develop for sure. The Raiders and Bulldogs just plain don't like each other much either, so that helps.
These two meet at least four times a year and more than most likely it's 5 or 6 if you include the playoffs. While it may not have the deep rooted history of some classic rivals at the DIII level what more can you ask for than hatred, respect, competitive games, and playing at the top of your conference year in and year out to make it a game you must see?
Add in the fact that they both play in great intimate hockey venues and you've got yourself one of the games you must see if you want to call yourself a true fan of college sports.
No. 98 – "Military Classic of the South" (FCS Football)
We've already highlighted one of the service academies, but this has a whole different twist on it and we're talking about The Citadel vs. VMI – a.k.a. "The Military Classic of the South." Since 1920 these two teams have only missed games in 1956, 2004, and 2008-2010. As a result it is the 13th oldest rivalry in FCS football.
These two schools both represent great Southern Military traditions as well as great educational institutions. Besides pride in their traditions and hard lives led by the cadets at these schools they both were founded as public institutions and have a great level of support from the surrounding communities and alumni.
On the field this has been a pretty fierce rivalry and only twice has their been any sort of separation in the series, a series that The Citadel leads 35-30-2. The Bulldogs only lead the series by that margin thanks to winning 5 straight over the Keydets of VMI. However, VMI holds the longest winning streak in the series, winning 7 straight from 1950 to 1957 and held an 18-8-1 advantage over the Bulldogs of The Citadel in 1967. Also, this series has been tied across the board 4 times in it's history.
As with Army vs. Navy, these two schools aren't very fond of each other and they
play ever year for the "Silver Shako" trophy which was introduced in 1976. What more could you want out of a rivalry than for it to be competitive and between institutions that are rooted in the communities they represent.
No. 97 – Cy-Hawk Series: Iowa State vs. Iowa (FBS Football):
Full disclosure, I attended Iowa State University, so this one may have a slight bias to it, but I tried my hardest to be fair… 😉
For those of us that live in a state where there are professional sports teams at the highest level like we have here in Wisconsin it's hard to describe what these type of games mean. I'll give it my best shot – it's like rolling the Packers vs. Bears, Packers vs. Vikings, Brewers vs. Cubs, and Brewers vs. Cardinals all in to one and add in even more hate. It's intense and fun all at the same time, seriously these guys compete at everything.
(Iowa couldn't beat ISU at football, basketball, or even full table beer pong in 2007 – just shows how competitive and fun this thing called the Cy-Hawk rivalry can be)
Well, if you live in Iowa this game is one that is shaped by which team you support. If you are a Hawkeye fan chances are you see the Cyclones as a very little brother that annoys you from time to time, especially in football.
If you are a Cyclone fan there may not be a bigger game on your sporting calendar than this one against the "big brother" known not so affectionately as "Eastern Iowa University."
Overall this series dates back to 1894 and this season will mark the 60th time that this game has been played. The Hawkeyes own a pretty big advantage (there's a reason for that, which we'll get to in a bit) in the overall series at 39-20. There have been a few long breaks in the series with the first one being a 12 year absence (1921-1933) and then an unreal 43 year absence (1934-1977). That's when this rivalry really got good though as Iowa State won 4 of the first 6 games in the reconstituted "Cy-Hawk" rivalry. After that though it was total domination from Iowa, winning 15 straight games from 1983 to 1997. Since then Iowa State owned the Hawkeyes, winning 5 straight against their intrastate foes. That 1998 game was a turning point in the rivalry as it's been much, much more competitive since then with the Cyclones owning an 8-6 advantage (including 5 straight from 1998-2002).
The jokes are all over the place (Iowa's version of Iowa State "jokes" and Iowa State's Iowa jokes) and and no matter if the game is played in Ames or in Iowa City it's a time for the entire state (unless you are a dirty Huskers fan) to gather and celebrate what makes the state great, it's people and it's awesome tailgating.
Personally I was in attendance at one of the games that has defined the rivalry in recent years, the 2007 Cy-Hawk game. If you really want to get under a Hawkeye fans skin just ask them "How many touchdowns does it take to beat a Hawkeye?" Answer: None – thanks to ISU's 15-13 victory over the fine folks at the institution known as the University of Iowa.
That game and this past season's intense comeback triple-overtime win by the Cyclones serve as examples of just how intense this rivalry can become and just how unpredictable things can be. Seriously, who beats the Hawkeyes without scoring a TD, or comes back on them with under 5 minutes remaining? Both teams have won games over each other at each others homes as well, making the game pretty unpredictable.
Like I said from the get go, I'd put this one way up there on the list and it was for most of the staff, but my attendance at this game in the past skewed the numbers down a bit. If you're looking for a game that you'll never know what will happen in then pack your bags for either Ames or Iowa City, but if you want real tailgating then head to Ames, just saying.
No. 96 Calvin vs. Hope (DIII Basketball):
Like a lot of good college sports rivalries this one is born out of the religious affiliations of the two schools. Hope is affiliated with the Reformed Church in America while Calvin is affiliated with the Christian Reformed Church. Yep, you guessed it, the CRC is a breakaway from the Reformed Church in America.
Chances are you may have not heard of this game and that's an absolute shame because it's one of the nations longest standing and best college basketball rivalries out there. Don't underestimate this one just because it's not a "major college" rivalry. It's got all the ingredients of those rivalries, minus one – the hate. Heck, it's even got it's own website, I mean seriously, how many DIII games can say that?
This one is simply born out of quality basketball and a competitive nature between the two Michigan based schools. The Calvin Knights vs. Hope Flying Dutchmen is for my money one of the top five college basketball games you could see in any given year. Why? Well, the series is about as close as you can get (Hope leads 95-87 overall) and the series difference in points is just 131, which is only 0.720 per game, ya I'd say that's damn close, huh?
These two teams regularly play for conference honors as well as NCAA tournament appearances and games in that tournament so it's not based on pure hate, but out of respect for the competitive level these two teams have for each other. Over 90 years the two teams have met 182 times. In fact since 2002 these teams have met more than the two regular season games in 7 seasons with the 2007 year being the most meetings in a single season at 5. Yes, you saw that correct, in one year these teams managed to meet 5 times. Of course it wouldn't be Calvin vs. Hope if the series didn't end 3-2 in favor of Hope only on the strength of their 79-76 win the DIII national tournament 2nd round.
Don't think it's always been a super close rivalry either though. During the 1970's Calvin went undefeated against their rivals and owned a 21-0 mark. Hope responded by going 14-9 in the next decade and then these two got back to their super close ways by splitting the 1990's at 13 games a piece.
This game has become a must see event not only for the schools, the communities, the alumni, but for others across the world and the game is regularly televised on TV and through the internet. Alumni regularly find a spot to meet up and watch the game wherever in the world they are. Sure sounds a lot like those "big" college rivalries, huh?
In fact this rivalry set the record for attendance at a DIII basketball game in 1997 by packing the Van Andel Arena in Grand Rapids to the tune of an 11,442 sell-out, as if you needed any more reason why this one is on the list.
For sure this one is deserving of being higher on the list, and it was on my personal list, but alas I'm not the only decider here at MTB. I hope you explore this one and consider being one of the thousands in attendance at least once in your lifetime, I know I will.
No. 95 – UCLA vs. Arizona (DI Basketball):
Chances are if you were a kid that spent the vast majority of your middle school and high school days in the 90's or if you remember the domination that was the UCLA program in the 70's then you know what were about to say. Before Gonzaga vs. St. Mary's took over the UCLA vs. Arizona game was easily the best rivalry game on the west coast.
This was a game, especially in the 90's to early 2000's that was easily must see TV for any college basketball fan. Pauley Pavilion and the McKale Center always were packed and rocked during these games. Heck, most of the time these two teams were playing for top 5 rankings, conference championships, and even No. 1 seeds in the NCAA Tournament.
Unfortunately this game has taken a slide as both programs have struggled since the days of Lute Olsen at Arizona and Steve Lavin at UCLA. It's also been really overshadowed by better basketball being played out of the West Coast Conference and the Gonzaga vs. St. Mary's rivalry as of late has become can't miss TV. If these two teams were more relevant to today's college basketball landscape there's no way you have this series anywhere in the 90's that's for sure.
However, the Wildcats vs. Bruins is a pure classic and you have to think that eventually these teams will make the Pac-12 relevant again in the somewhat near future.
If you know your college basketball history then you know about the utter domination that the Bruins had, not just on the Wildcats, but on the entire college basketball world for what seemed like the entire decade of the 70's. Amazingly it hasn't bore out that way in the overall series between these two once and future bitter rivals. Overall the series stands 46-40 in favor of UCLA. There have been periods of domination by both sides that's for sure. Starting off with a 24-3 lead for the Bruins as they won 11 straight games against Arizona twice. The first span was from 1923-1977 (obviously didn't play every year in there) and again from 1979-1984. Arizona on the other hand held a 25-13 advantage in games between 1988-2005.
Last season the Wildcats held a 2-1 series advantage that included a victory in the Pac-12 Tournament.
If these two programs ever get back to a semblance of national prominence again this is one of the games that will be looked back upon on this list as a "How was it ranked that low" moment, but combine a lack of deep rooted history and where the programs are now it just can't be any higher at this point in time. Still, seeing a game at McKale Center or Pauley Pavilion should be on the list of any true college basketball fan and you might as well make it UCLA vs. Arizona if you're going to do it.
No. 94 – Texas vs. TCU (FBS Football):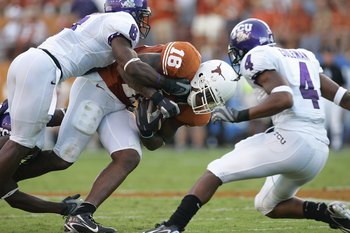 Let's face it, football is KING in Texas and the whole country knows about it. But like I stated above the landscape of football in the state is in a state of flux and gone are the days of Texas vs. Texas A&M as A&M bolted for the "richer" pastures of the SEC. That decision won't negate the hate between the two biggest schools in the state, but it does bring about a renewed rivalry from way back in the day and that's Texas vs. TCU.
These two schools were former members of the classic Southwest Conference from 1927-1996 and once that broke up the Horned Frogs were left out in the cold of Conference-USA while the "big time" program of Texas began it's stint in the Big XII.
Overall Texas has a commanding 61-20-1 record over TCU, but don't let that fool you. These two schools are in vastly different positions from where they were when they last were in a conference together.
Texas is struggling to live up to lofty expectations, having lost to Iowa State at home for the first time in school history just a few years ago on it's way to a losing season and then struggling for bowl eligibility last season, going 8-5. However, they were just 4-5 inside the Big XII.
TCU is a school that's been on the rise. They've been in the national title picture for a few seasons now and they… as painful a memory as this game is for us Badger faithful…. won the 2011 Rose Bowl.
Add in the fact that the Longhorns will be looking for another 2nd rival, after Oklahoma of course, and you have the ingredients of a good rivalry. No matter if it turns in to one, seeing two Texas schools battling it out should be on any College Sports fans lists of things to do.
It may turn out that Baylor and TCU become bigger "rivals" in the end due to the backgrounds of the colleges and that amazing game they played early on last season before even being conference foes, but we're sticking with the "Big Brother" vs. "Little Brother" in terms of longer term success as the game to see.
No. 93: Alaska-Fairbanks vs. Alaska-Anchorage: (DI Hockey)
Frankly you could pick any one of the sports that these two teams play in but it's hockey that's king in the 49th state.
It's a classic case of small-town school vs. the state's largest city. It's also a case of these schools being polar opposites. UAF is the states oldest public state school starting in 1922 while UAA began life as a university relatively recently (1976). However, UAA is the bigger of the two institutions today with around 17,000 students while UAF boasts about 10,000 students or so.
What makes this rivalry more unique is that these schools alumni are quite likely to travel to the games together or work side by side and only have hatred on the weekends these two schools meet. If you are a student, alum, or fan of UAF you simply refer to yourselves as the University of Alaska, just an added twist of the knife to the much younger Alaska-Anchorage Seawolves.
The hockey teams have competed in and out of the same conferences over their time as Division I
hockey programs. Right now UAA competes in the WCHA alongside our Badgers and Fairbanks competes in the CCHA. However, as Badger fans we are well aware of the musical chairs that hockey will be going through in the 2013-14 season and as a result the WCHA will welcome back Alaska-Fairbanks to it's ranks and these two teams' games for the Governors Cup will go from two per season to at least four and maybe more.
Overall the series is a relatively new one, beginning in earnest as of 1994 and currently stands at 11-9 in favor of the Nanooks of Alaska-Fairbanks. The series has a bigger history than the Governors Cup though and that lead belongs to the Seawolves at 22-26-8-3.
With the records so close you can imagine that the competitive nature of the games is there and you'd be right, but it's also the strong feelings of the fanbases that add some great spice to the games. What more could you want from a rivalry than having an entire state taking notice of the game? That's exactly what happens up in Alaska when these two schools meet.
For the closeness of the hockey series and the intensity of the rivalry being felt throughout the state this one earns a spot on our list and is a game this writer is anxious to try and take in sooner than later!
No.92: Plattsburgh vs. Oswego State (DIII Hockey):
Whoever says that only "big schools" can have rivalries that matter has never been introduced to this game that's for sure. If they had been then they are flat out lying because this game has everything you can think of to make it a must see at least once in your life.
Plattsburgh and Oswego State are both state schools in the SUNY (State University of New York)
system and are by bodies of water, but are separated by nearly four hours of travel time. That in and of itself makes it a bit interesting in terms of DIII "rivalries" which usually have a lot to do with geography. Plattsburgh is located just off of Lake Champlain on the border with Vermont and a scant 20 miles south of the border between New York and Canada (just 60 miles from Montreal), while Oswego State is located northwest of Syracuse directly on Lake Ontario.
What makes this rivalry great is that both teams are very competitive in the SUNYAC (SUNY Athletic Conference) as well as on the national level. The Cardinals of Plattsburgh and the Lakers of Oswego State have met 98 times since their first meeting in 1975. The series is led by Plattsburgh 68-32-4. Plattsburgh has won 21 conference titles to Oswego's 8 and both have one DIII National Championships. Plattsburgh in 1987 (*vacated by NCAA), 1992, and 2001. Oswego has won just one, but it's the most recent, happening in 2007.
These teams have met 9 times since the 2001-02 season in SUNYAC tournament finals, including this past year. In fact the past year was typical of this rivalry as of late with Oswego winning a regular season meeting, tying the other, and losing to Plattsburgh in the SUNYAC finals. Plattsburgh would lose to Amherst in the first round of the NCAA DIII tournament.
Add in the fact that there are many layers of fan hatred coming from both sides and you get an annual game at both schools that rivals what you see at any DI rivalry and no, not necessarily on a smaller scale either, especially in hockey.
Both teams regularly sell out their arena's for this game which seat between 2,800-3,000 people on a given night. Not too shabby for a DIII game huh?
There is a ton of fan tradition, but this rivalry was really sparked when the "pioneer" of Oswego State Lakers hockey, Herb Hammond (176-122-5), left to coach at then budding rival Plattsburgh. The fans loved Hammond, so instead of turning their hate on him they upped the ante against the Cardinals of Plattsburgh, but he only lasted two years at the rival school.
Add in a few thousand tennis balls and some bagels and you've got a creative fan set of traditions. Unfortunately those two don't exist anymore, but the back story gives you a great idea of the level of fan interaction with this rivalry.
Back in 1990 the Cardinal Booster Club got the idea to throw tennis balls on to the ice after the first Plattsburgh goal. The idea behind the throwing of tennis balls is the stuff that makes any rivalry on any level matter, it's origin can't be traced to one specific thing. It may have referenced the fact that Oswego's hockey coach also doubled as the tennis coach or it could've been that the balls matched the color of the Oswego jerseys or it could be in reference to the fact that the Oswego tennis coach had left for that same post after the 1989 season to the same post at Plattsburgh.
Of course you would expect retaliation, but it wouldn't come until the 1998 season when Oswego went to Plattsburgh and blanked the Cardinals. During the return game that season at Oswego the Lakers fans threw bagels on to the ice after the first Lakers goal, signifying the "zero" shut out that they had put on Plattsburgh earlier that season.
Due to NCAA regulations against throwing objects on the ice the teams began a series of PSA's to stop the traditions beginning in the 2006 season with Oswego. Oswego has since replaced it with a tradition called "White Out", which you can see the latest seasons video for here:
Personally this is a game I had way higher on my list as it's one of the most intense games on the DIII level and may well be the best DIII hockey rivalry in the country. But again, I'm not the one solely responsible for this list and I totally understand the understated nature of DIII games
No. 91: RPI vs. Union (DIII Football):
Some of you may be shocked we didn't go for the hockey series between these schools since they both compete at the Division I level and regularly play each other, but as you'll see this is a rivalry that started with and ends with football.
These teams have met 106 times in their football series dating back to 1903 which makes it the oldest and most played rivalry in the state of New York. Add in the close proximity of just 14.5 miles between Troy, NY (RPI Engineers home) and Schenectady, NY (Union Dutchmen home) and you understand the fact that these two schools could easily hate each other. Each year they play for the Dutchman's Shoes, which has it's roots in some ugly history that the schools turned into a positive.
The 1949 game featured looting on both campuses and as a show of good faith the student committees from each school presented the Dutchman Shoes as a show of respect and it's been around ever since. This is a game that would've been higher on my personal list, but I couldn't do it once you examine the records of the two schools since the introduction of the trophy back in 1950. The record since it's introduction is about as one sided as you can get as Union leads 46-16 over the fine folks from RPI. Overall the series is also pretty one sided as Union leads 78-25-3
Both schools have been successful to an extent on the national level with RPI winning the Liberty League twice and making it to the DIII national semi-finals in the 2003 season before losing to powerhouse St. John's(MN). Union on the other hand has won 5 Liberty League titles since it's inception in the 2003 season and has appeared in the Stagg Bowl (DIII National Title Game) twice in it's history. Both teams regularly fill up the DIII All-American rosters and All-Conference rosters as well.
While the series hasn't been evenly matched throughout the history make no mistake that both schools get up for this game and usually the winner has a very good shot at the Liberty League title.
You may call me biased on this one, but I wouldn't be where I am today without the guidance set forth by 6 men back in 1847 at Union College, so I say go Dutchmen and TO THE OLD LADY!