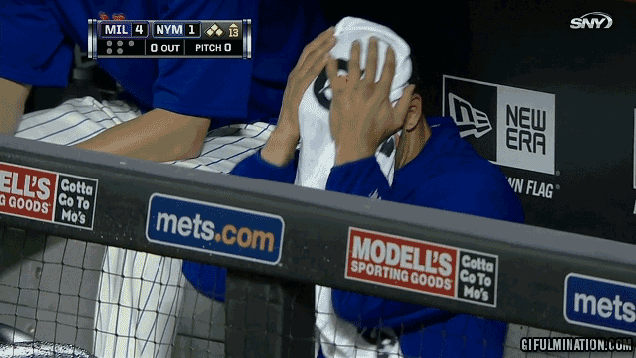 Above you see Carlos Torres turning the figurative pain of the Met fan … and making it literal.
The Mets lost another one of "those" games on Thursday … a 5-1 13 inning loss to the Milwaukee Brewers. Torres was the losing pitcher after he was asked to overextend himself in the 13th and gave up a two run homer to Jonathan Lucroy. This came after the Mets couldn't score in the 11th with the bases loaded and one out. That inning also featured Anthony Recker looking at strike three at his ankles, and then getting thrown out of the game by Angel Hernandez, who just earlier in the day I said could go screw himself … and earlier in the game went all Alexander Haig and ordered a rain delay when it was the crew chief's job. Way to go, Angel.
Hernandez should absolutely be fired for a variety of reasons, but it doesn't matter in the grand scheme as the Mets getting a damn hit when they need it would have made Recker's ejection not exist. Instead you have Recker telling Hernandez to go piss up a rope, and Torres giving himself a concussion. This whole team should be fired.
Thursday's game was presented with "limited commercial interruption" … which may or may not be code for "we're running out of sponsors". I fear that after this debacle, we're going to get a lot more of these "limited commercial interruption" games.