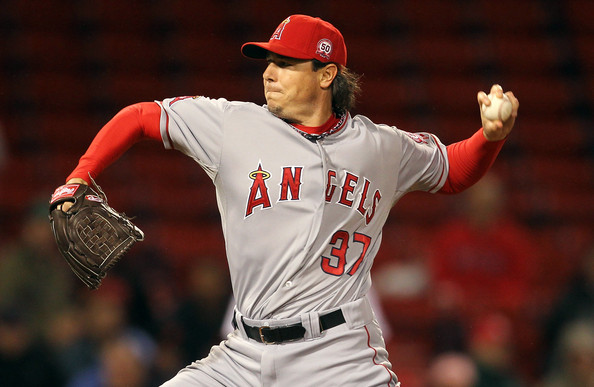 The Atlanta Braves have addressed their one true need this deadline season by announcing the acquisition of Los Angeles Angels reliever Scott Downs. Downs is not the type of player that generates headlines, nor is he the type of player that over the course of a season can carry a team. However, after giving up two earned runs on Sunday his ERA still stands brilliantly at 1.84.  He's the type of quality relief arm that helps a bullpen to stay healthy and effective through the course of the year and into the postseason.  I'm elated.  David O'Brien, the AJC Braves beat writer, had this to say:
As for Corey Rasmus, the reliever heading back to the Angels, he provides some potential future longterm value.  He's struggled in brief callups with the Braves this year and his stuff doesn't scream even set-up man, but Rasmus has put together a good season in AAA (14 saves, 1.72 ERA) and should be in consideration to join Major League bullpens for years to come.
Still, one has to like this deal for the Braves.  They got another quality arm to add to a bullpen that needs one after Johnny Venters and Eric O'Flaherty went down with injury, and all they give up is a guy who can't help them this year and whose stuff holds him back.  The deal helps to stave off potential weardown of the Braves primary relief core (Kimbrel, Walden, Avilan) at no real cost.
For the Angels, they effectively waived the white flag over the weekend when Albert Pujols was put on the DL.  This is still a team with a payroll and talent all but guaranteed to compete next year.  As they continue to sell their expendable pieces, it's important that fans remember they want Major League ready talent in return.  The problem in looking for Major League ready talent in exchange for average Major Leaguers is that the talent will be of the variety that puts grandpa to sleep.
Scott Downs is good.  Colby Rasmus is decent.  Corey Rasmus is a fringey right handed reliever.  Braves Win.  
-Sean Morash