The Los Angeles Angels of Anaheim released LHP Scott Kazmir yesterday after an incredibly disappointing tenure with the team. Kazmir was a highly touted Mets prospect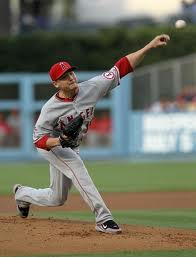 after being drafted 15th overall in 2002 but was dealt to Tampa Bay in July of 2004 in Victor Zambrano trade. After Kazmir posted an ERA better that 4 in each of his first 4 full seasons, made 2 All-Star teams, and led the league with 239 strikeouts in 2007, the general opinion was that Tamp got the better end of the deal.
In 2009, after going 8-7 with an ERA near 6, Kazmir was sent to the Angels in a post-deadline move. Scott finished that season 2-2 for LAA with an ERA of only 1.73. He was supposed to anchor the Angels rotation for years to come. 
Then 2010 happened. Kazmir just kind of fell apart. The entire Angels team had a disappointing season and Scott was no exception going 9-15 with an ERA of 5.94 and a career worst 1.18 strikeout to walk ratio (his career best, by the way, is an impressive 3.13 in his All-Star 2006 season). His velocity was way down and he lost the break and command of his once feared slider. This year Kazmir made only 1 start before being placed on the disabled list, he surrendered 5 earned runs in only 1.2 innings while walking 2 and striking out no one. The kicker is, in 5 rehab starts, Scott went 0-5 with 30 runs allowed in only 15.1 innings. He's been so bad that Angels finally gave up on him, deciding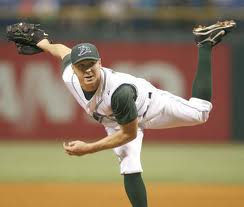 to pay out the remaining $14.5 million on his contract rather than keep him on the team.
I don't think all is lost for Scott Kazmir. He's only 27 years old and is free to sign with a new club at any time. Since he's collecting nearly $15 million from the Angels, signing a deal for the league minimum shouldn't be an issue. Scott should go somewhere with a strong and respected pitching coach and good minor league coaching. I can see Kazmir being one of those stories where, in a few years, we look back and say being released was the best thing that ever happened to him.
Looking at things from the other side, what team could benefit more from signing Kazmir to a pro-rated league minimum deal more than the Washington Nationals. They did a similar thing when they signed the injured Chin-Ming Wang to consecutive 1 year deals. Wang has yet to throw an inning for the Nats due to a shoulder problem. At this point, they've signed him just so they can pay for his rehab. Sure, there's a chance that Wang never recovers from his shoulder injury and that Kazmir never regains his form but there's a chance they do. And if that happens, imagine a rotation in DC with Stephen Stratsburg at the top and Chin-Ming Wang and Scott Kazmir behind him. I know I wouldn't want to face them in a short series.
-Max Frankel