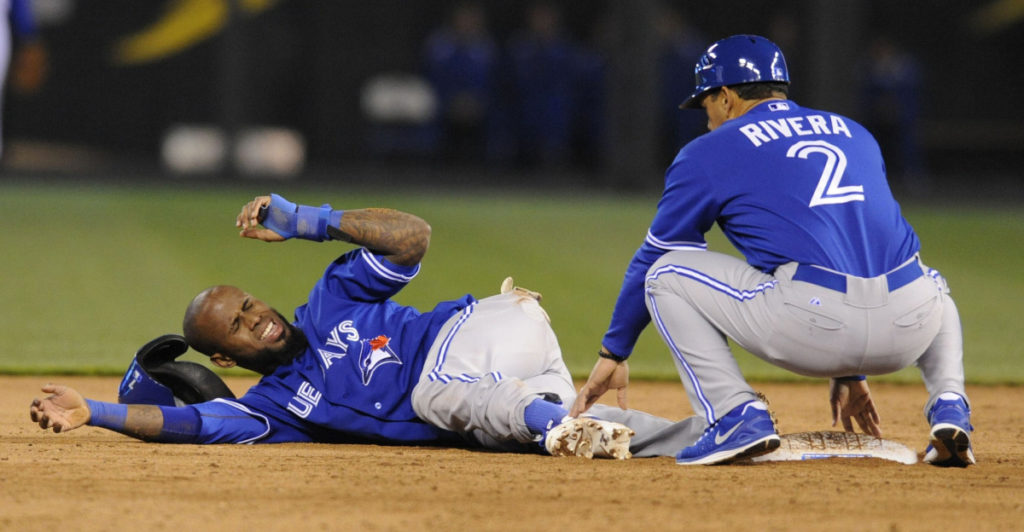 The Kobe-Dwight-Pau-Nash Lakers? Fighting for 8th place. The Vick-Vince-Dream Team Eagles? New coach, 4th overall pick. The Halladay-Lee-Hamels Phillies? 81-81 last season. The AGon-Kemp-Crawford Dodgers? Missed the playoffs in 2012, division rival won the World Series. The Yankees? One championship in the last 12 years. The Reyes-Stanton-Buehrle Marlins? Demolished. The Reyes-Dickey-Bautista Blue Jays? Well….
Super-Teams seem like a great idea. They look good on paper. It was easy to say that the Dodgers won last year's trade deadline or the Blue Jays won the offseason, because what's not to like about stacking your roster with All-Stars? Reality, though, is rarely so rosy. On the field these teams tend to struggle. It's not exactly clear what causes these issues–a clash of Type A personalities? Secondary roles for guys that have always been the center of attention? Dumb luck?–but it is clear that more often than not, the scary looking Super-Teams turn out to be less than successful.
This season, the Blue Jays were favored by many, including us, to win the ultra-competitive AL East but have come out of the gate poorly. It's way way waaaay too early to write them off, but they aren't playing well at all and have some serious problems.
First on their list is the injury to marquee shortstop Jose Reyes. Reyes will be out at least a couple of months with a bad ankle sprain and the team really doesn't have anyone to replace him. Emilio Bonafacio and Maicer Iztures are the most likely options, but neither is anywhere near as productive as the All-Star Reyes. Further, the entire infield situation becomes complicated if one of those two players moves over to short full time. The Jays are apparently working out Brett Lawrie at second as he works his way back from an oblique strain in the minors, but that is a shaky stopgap at best, and I'm doubtful that the team is comfortable with that as a longterm solution.
The next issue is RA Dickey. The Blue Jays have the second highest team ERA in the AL and that's in large part because of Dickey. The supposed Ace of the staff has an ERA approaching 6.00. Dickey needs to prove that he can make the transition to the AL, and to the dome in Toronto (a severely underrated factor given the effect of wind on knuckleballs), or the Jays are in serious trouble. There is a very real possibility that Dickey can't repeat his success from last season and if that is the case, the Jays might not be able to recover.
Finally, Edwin Encarnacion is scuffling. He hit 42 homers last season and drove in 110 runs, but both those numbers were huge aberrations in his career stats. Everyone seems to be on the Edwin bandwagon, but I'm not buying it. Just because Jose Bautista has continued his late career success doesn't necessarily mean Encarnacion can too. The first basemen is off to a sluggish start hitting only .182 with two homers, and I think by September he'll be closer to his 2005-2011 averages–112 games played, 17 homers, .260 average–than he will to last season's line.
No matter how good a team looks on paper it still has to win games on the field. In recent years we've seen a trend: teams stockpiling high end talent just to watch the results fall apart. The Blue Jays are good, for sure, but so were the Lakers, Eagles, Phillies, Yankees, and Marlins before their respective seasons began. Early struggles are certainly not a death sentence, but losses are losses and their division is anything but a cakewalk. Torontonians should not despair, there is ample time to turn things around, but an auspicious offseason has indeed kicked off in a markedly inauspicious manner.
-Max Frankel
Fact of the Day: As the school year begins its home stretch and theses and other work comes due at the same time the Division III baseball season reaches a fever pitch, Max and Sean have found time for blog writing difficult of late.