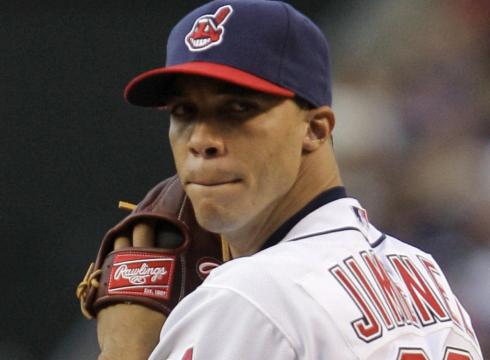 Buster Olney has written many times this winter that he believes that Josh Johnson of the Miami Marlins is the most important player to his team's success this season. I respectfully disagree. I think that the individual performance of Ubaldo Jimenez will have a massive impact on the team performance of the Cleveland Indians in 2012. The Indians sent a veritable treasure trove of prospects highlighted by pitcher Drew Pomeranz to the Colorado Rockies for Ubaldo in July of last season, betting that he could regain the magic that characterized his 2010 season but seemed to be eluding him in 2011. If Jimenez figures it out this year, the trade could certainly still be a success but should 2010 turn out to be a flash in the pan, Ubaldo could cripple the Indians franchise and set them back years in their quest to win a championship. Like no other player in baseball, the fate of an entire franchise rests on the shoulders of Ubaldo Jimenez.
Ubaldo Jimenez had been pretty good for a couple years heading into 2010. He certainly wasn't in the conversation of elite pitchers at that point despite posting back to back seasons with an ERA under 4 but was coming off of a 15 win campaign. In April 2010 he figured it all out. Jimenez opened that season 5-0 with a 0.79 ERA utilizing a 4-seamer that routinely hit 99 MPH, a 2-seamer that darted all over the strike zone and did it at close to 95 MPH, and a changeup that made hitters look silly. For all effective purposes, he was unhittable. By the end of May he was 10-1 with an ERA of 0.78 and was a bona fide sensation, the story of the year. His success seemed to be real, his stuff was nasty, he wasn't just some fluky guy with a gimmick, he was great. He ERA slowly climbed over the next month but was still under 2 when he won his 15th game in July, putting his record at 15-1. He finished the year 19-8. From July 19th on, Jimenez was 4-7 with an ERA of 3.80, still not bad but it sunk his Cy Young chances and he finished 3rd.
We all assumed that he tired out in the second half and hoped he'd regain his form at the start of last year. He didn't. He started the year off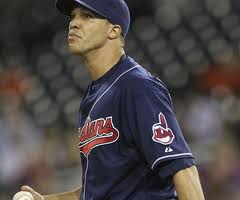 terribly, getting shelled in his first few starts. It took him until June 1st to win his first game and get his ERA below 5. He clearly wasn't the same guy and no reason was abundantly clear. He hadn't suffered an injury, he hadn't had some traumatic personal event, he was just worse. When the Rockies dealt him to Cleveland at the deadline he was 6-9 with a 4.46 ERA (though he had been pitching a little better at that point and the last game with Colorado, where he got charged with 4 earned runs in 1 inning, was a bit of a joke because we all knew the trade was coming and he shouldn't have pitched at all).
The Indians sent a bunch of their top farm hands to Colorado with the hopes that the new coaching staff and a new league would straighten the pitcher out. Cleveland gave up two of the top pitchers in their system, Drew Pomeranz and Alex White in the deal. Since then, White has struggled but still shows great potential and Pomeranz, despite some off field troubles, is poised to help the Rockies in their starting rotation this season. Meanwhile, Jimenez continued to struggle after the trade, finishing 4-4 with a 5.10 ERA for the Indians last year.
This season, the Indians are looking to contend for the AL Central crown. The Detroit Tigers are the reigning champs and have 3 of the best players in baseball in Justin Verlander, Miguel Cabrera, and Prince Fielder on their roster and the Kansas City Royals have been building towards this season for a very long time but Cleveland could have a shot. They have a healthy Grady Sizemore and Shin Soo Choo and some other good pieces but their starting rotation is very thin. Fausto Carmona (or whatever his name is) may be stuck in the Dominican Republic on an identity dispute, Justin Masterson and Josh Tomlin are good but lack a reliable track record, and the Braves paid $10 million just to give Derek Lowe to Cleveland and get him off of their roster. Jimenez is vital. The Indians rise and fall with him. Last season, Cleveland outplayed expectations finishing 2nd in the Central (though a distant second at 80-82) and they have the potential to play well again this year now that they are healthy. If Ubaldo is the pitcher he was in 2010, or at least the first half of 2010, Cleveland could be a very very tough team but if he's the 2011 version, this team is destined to top out in third place.
Let's now turn our attention to the Josh Johnson comparison. Olney contends that Johnson is very important to the Marlins success this year and he's right. Last season, he was the early Cy Young leader before he got hurt and the team tanked without him, finishing 72-90 and in last place. My assertion is that the Marlins are vastly improved this year and that with or without Johnson will be a good team. I think that they definitely have a much higher ceiling than the Indians but they also have a higher floor. I think that the Indians have the potential to be a pretty good team or an absolutely awful team and that much of that has to do with the way that Ubaldo Jimenez pitches. He is supremely important to this club in part because of how good his best is and how bad his worst is and in part because of the lack of depth around him. More than Albert Pujols, more than CC Sabathia, and more than Josh Johnson, his fate is the fate of his team and that's why he is the most important player in baseball.
-Max Frankel