While the offensive side of the had some very intriguing match-ups, it's the defense that features some of the top tier talent of the Senior Class, especially at defensive end and linebacker.
The senior class could have anywhere from 8-12 first round picks on this Senior Bowl defense, so you'll be sure NFL scouts will be in heavy numbers all week long.
Defensive End
1. Melvin Ingram, South Carolina
2. Andre Branch, Clemson
3. Quinton Coples, North Carolina
One to Watch: Vinny Curry, Marshall NOTES: Melvin Ingram is the cream of the crop of this senior defensive end class, the best player at the position regardless of year. He's the only one with a top 20 grade at the position that's in the game, and he'll have a chance to (hopefully) show off his outstanding versatility as a prospect all week. Andre Branch is more of a 3-4 OLB type in the NFL, and if he can show some awareness and fluidity in space, he could fly up boards and be a lock for the first round. Quinton Coples had a down year along with all of the Tar Heels on defense, lacking focus and what looks like mental preparation. He needs a big week to be back in line with NFL teams' expectations. Vinny Curry really didn't display the type of fluidity and flexibility I had hoped for this year in space, and for a bit of an undersized, high motor rusher, his ability to be a 3-4 OLB and not a 4-3 DE could be the difference between mid first and late second round.
Defensive Tackle
1. Devon Still, Penn State
2. Mike Martin, Michigan
3. Brandon Thompson, Clemson
One to Watch: Tydreke Powell, North Carolina
NOTES: Devon Still is the cream of the defensive tackle crop this year, regardless of class, but he still gets a bit high and part of his projection is his potential to improve. A lot of that will depend on how he's progressed since the end of the season. Mike Martin is a high motor, consistent leverage winner, and I have a feeling I may be a bit too high on him because of his lack of completeness and size in his game. If he can get pressure consistently as well as impactful in the run game, he could still warrant that Top 40-50 pick I think he is now. Brandon Thompson had a bit of a down year and was completely neutralized by average interior linemen at times. He has the first round talent, though, and a big week could change some opinions, including mine. Along with the aforementioned Coples, Tydreke Powell had just an atrocious year based on the lofty expectations that I and many had. He went from possible first rounder to likely undrafted. I've heard of some attitude and lack of coachability concerns, and if they're true, I wouldn't touch him with a draft selection.
Linebackers
1. (OLB) Courtney Upshaw, Alabama
Outside Linebacker to Watch: Lavonte David, Nebraska
1. (ILB) Emmanuel Acho, Texas
Inside Linebacker to Watch: Bobby Wagner, Utah State
NOTES: Courtney Upshaw and Zach Brown of North Carolina are the two clear cut outside linebackers in this class to me, with Upshaw being a more downhill pass rusher who can make plays in space, while Brown is the better overall athlete who can blitz, cover, and track running backs in space. Both still need to show that they have the completeness in their games to be Top 20 picks. Lavonte David was nothing but productive and closes on the ball as well as any linebacker in college football this past year, but he'll need to show that his size isn't a concern as he goes against a consistent stream of bigger, more athletic offensive guards and tight ends. Emmanuel Acho of Texas will hope to follow in his brother's footsteps from a year ago and use the Senior Bowl to boost his draft stock substantially. As of now, it's unsure what system he fits best in, but he has the size to play in either a 3-4 or 4-3 defense. I've heard a lot about Bobby Wagner and James Michael Johnson of Nevada this year from the WAC, and both really intrigue. I see what is to like about Michael-Johnson, he has the NFL build and is balance, fluid in space. But with Wagner, I just don't see the completeness, the aggression through second level blockers, and the consistent tackling ability to be considered a top three rounder like I've heard. Maybe he can prove me wrong, but it'll really take some convincing this week.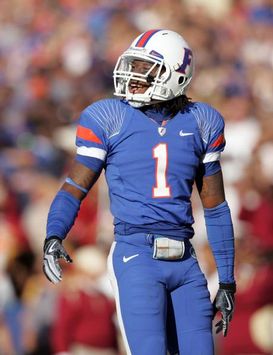 Cornerbacks
1. Janoris Jenkins, North Alabama
2. Casey Hayward, Vanderbilt
3. Brandon Boykin, Georgia
One to Watch: Asa Jackson, Cal Poly
NOTES: It may be a surprise to some and I doubt he'll be selected as highly as he's ranked right now, but Janoris Jenkins showed some fantastic coverage abilities at Florida as a junior, being maybe the one of the two or three shutdown cornerbacks in college then. He was forced to transfer to North Alabama after another positive drug test. If he can both match his junior year play (rarely tested at North Alabama) and interview well, he could move right back up to the high second round area. Casey Hayward was able to consistently make plays on the ball in the SEC and uses his long speed and length to be in great position. Brandon Boykin really excites me as a prospect and ended his senior season with one of the best bowl performances of the year. He's a great athlete, should have good length for his relatively smaller stature . Asa Jackson may be a surprise invite to some, but I for one and very excited to see him up close. A good athlete, mirrors well deep, and uses his hands down the field well, he and Ryan Steed of Furman will be battling for the top small school cornerback this year after Janoris Jenkins, a battle I currently have the lesser known Jackson in the lead for.
Safeties
1. Mark Barron, Alabama
One to Watch: George Iioka, Boise State
NOTES: Mark Barron is the clear leader, I would guess, on most team's board at the safety position, and is the only one that likely warrants a first round selection. I'll be looking to see how he does in man coverage on tight ends, because he makes outstanding reads in 10-20 yard zones and closes well on the ball. George Iioka has the raw talent and length to be a big "draft riser" if he can flash this week. If he can show a completeness to his game, he could emerge as the #2 safety in this class. He'll be battling fellow free safety Markell Martin of Oklahoma State for that task in my mind.