While by the time this is posted, the complete rosters haven't quite been posted, I'll still do my best to preview the offense here in what is a loaded running back and receiver class compared to last year.
And in my eyes and an entire offensive side of the ball that should have anywhere from 6-10 first round draft selections.
Quarterbacks
1. Brandon Weeden, Oklahoma State
2. Kirk Cousins, Michigan State
3. Nick Foles, Arizona
4. Kellen Moore, Boise State
5. Ryan Lindley, San Diego State
6. Russel Wilson, NC State
NOTES: It seems to me the clear-cut top quarterback in this game is Brandon Weeden, but the real question is: what is his value on draft day? Being 28 years old already, he needs to prove that he doesn't need a whole lot of development, as teams need him to be ready to play NOW and hit his prime early. If he can show technique and NFL readiness, he could be worth a late first round look, which is where his talent-value lies. I'm looking forward to see Kirk Cousins display the leadership qualities I've heard so much about, but also to see if he can consistently make the big time NFL throws. Finally, I'm really curious to see if the smaller QBs in Kellen Moore and Russell Wilson can hold up against the bigger, strong-armed Nick Foles and Ryan Lindley.
Running Backs
1. Chris Polk, Washington
2. Doug Martin, Boise State
3. Isaiah Pead, Cincinnati
One to Watch: Terrence Gannaway, Baylor
NOTES: Both Chris Polk and Doug Martin have a chance to be first round picks. Polk was a surprise invite considering he was a "junior" all season, but due to a non-medical redshirt year, he'll get a chance to show why I believe he's the clear second best running back in this class. I"m very curious to see Terrence Gannaway of Baylor this week, as he ended his season on a high note. if he can show some potential feature back ability, at his size and with his bulk, he could be a highly coveted power back.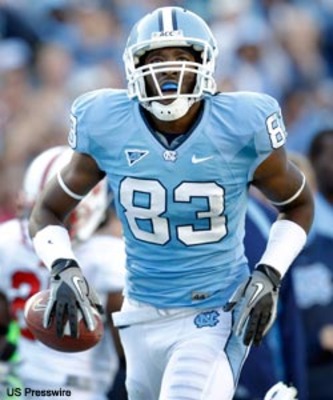 Wide Receivers
1. Dwight Jones, North Carolina
2. Kendall Wright, Baylor
3. Marvin McNutt, Iowa
4. Brian Quick, Appalachian State
5. Juron Criner, Arizona
One to Watch: DeVier Posey, Ohio State
NOTES: I hope this can stick with me, but Dwight Jones is my single most favorite player in this draft, as I truly feel he could be end being the best receiver in this class after the week, and should be a Top 20 pick. He'll have a chance to show why I believe he's that, as of now. Kendall Wright of Baylor isn't much further, though he'll need to show me he can be a consistent outside NFL receiver before I'll give him a Top 20 game. Brian Quick of Appalachian State is an exciting watch, as following him the past two years especially, the potential is there to develop into a great outside receiver. A big week against consistenty NFL talent could go a long way. And finally, DeVier Posey missed almost his entire senior season after two Ohio State suspensions, but he's flashed as a polished deep receiver who can get consistent separation. His stock could be made or broken this week.
Tight End
1. Michael Egnew, Missouri
One to Watch: DeAngelo Peterson, LSU
NOTES: Along with Michael Egnew, who is more of a situational, slot receiver/fringe inside blocker at the next level, Ladarius Green could be the number one senior on NFL team boards as well as a bit more powerful option. Both will be interesting to follow, as both need big weeks to be safe 2nd round picks. DeAngelo Peterson really intrigues as a joker TE at the next level, interested to see if he can be that match-up nightmare consistently or still raw in his development.
Offensive Linemen
1. (OT) Mike Adams, Ohio State
Tackle to Watch: Matt McCants, UAB
1. (OG) Cordy Glenn, Georgia
Guard to Watch: Amini Silatoulu, Midwestern State
1. (OC) Michael Brewster, Ohio State
Center to Watch: Ben Jones, Georgia
NOTES: Mike Adams of Ohio State is currently the top rated offensive tackle prospect and reportedly is high on NFL teams boards. However, I really wonder if he's a left tackle or bust, and he doesn't always show great pass blocking technique. Matt McCants of UAB really intrigues, and he may have a higher ceiling as a left tackle than Adams, but is far more raw. Both could move higher on NFL teams' boards with a big week. Cordy Glenn is only a team-by-team guard prospect, as many won't consider him at all based on their system and his struggles on the outside this year. High on NFL team's boards even in the pre-season, Amini Silatoulu has some lofty expectations to live up to, and against a talent defensive tackle and end group at the Senior Bowl, he'll surely be tested. I am hoping Mike Brewster gets some work at guard or tackle before the week's over with, but he's still one of the Top 6-7 interior offensive linemen in this draft. Ben Jones of Georgia looks great on film sometimes and has lead a young Georgia offensive line this year, but I'm not sold on him as a Top 3 center prospect after Peter Konz and David Molk.