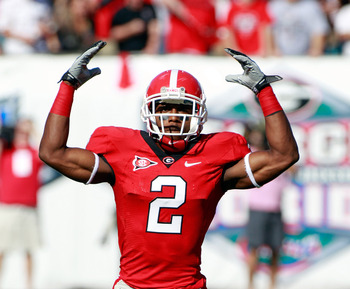 It was a bit of a windy day in the last NFL scout-full practice here at the Senior Bowl. To be honest, I was a Five-Hour Energy and Starbucks Coffee full, ready to go, so I got a chance to really focus in on how these prospects performed. I really focused on the receivers, defensive backs, and got some great offensive/defensive line notes as well.
The biggest winners today to me were Brandon Weeden, Cordy Glenn, Sean Spence, Brandon Boykin, Janoris Jenkins.
Quarterbacks
-I'll start by saying the Brandon Weeden to Joe Adams connection this week has been consistently impressive, and if I'm a team targeting Weeden in the second round, I'd be looking closely at Adams in the third round. Weeden has looked comfortable in team drills, making reads and finding gaps in defense well in the middle of the field (mostly to Adams).
–Ryan Lindley just looks too panicked out here for me, and I was hoping he'd be a little better as the week progressed. He has the quick release and the arm I like, but he's still not crisply on target down the field in one-on-ones and really struggled to place accurately in team drills. Nick Foles also took THREE "sacks" today, including two without a pass rush, with one of those just being extremely indecisive and not letting the ball fly to two different open receivers that he, at least it seemed, saw open.

Running Backs
-Not a great look at the running backs today, but surprisingly enough, the two new addtions (Alfred Morris of Florida Atlantic and Lennon Creer of Louisiana Tech) looked the best and most comfortable in pass blocking, though the linebackers on the South squard aren't anything special in that area as a whole.
–Vick Ballard seemed to be a little better with some better inside positioning and holding his ground well, while Terrence Gannaway seemed like little more than a load to get through, not really a polished pass blocker.


Wide Receivers/Tight Ends


–Jeff Fuller of Texas A&M had five of the seven drops by receivers I saw today, and I think a lot of it is he's soft down the field against cornerbacks. To me, he's a classic guy who's not a "ball grabber". He catches with his hands and will extend for the ball, but he doesn't rip the ball out of the air and leaves too much room for a cornerback to deflect passes. He showed some solid in air ability and can win jump balls, but even struggles there when he's along the sideline and jostling for position.
–Patrick Edwards of Houston continues to make my notes every day because of how quick he is in his breaks, and I can't say enough how perfect he seems for a 4th receiver in the NFL. His ideal fit would be to play as a situational quick 4th receiver to complement a longer, more powerful slot receiver for NFL teams. Not a guy who's a lock to get drafted, though.
–Dwight Jones of North Carolina has been a guy I've been advocating for and I'm not bailing on him yet, but his lack of concentration and desire to work down the field is worrisome. He just looks like he doesn't care at times, giving up on routes and plays altogether and not giving his best effort at times this week, seemingly trying less as the week's progressed. I still think he's as talented as any receiver in this draft class and has great potential, but hopefully it's just a bad day and not indicative of his actual play.

Offensive Linemen


-Didn't get a great look at the offensive line today, but I have been impressed at times this week with how well Cordy Glenn has played at tackle, all things considered. He's still going to get beat inside against lower rushers and doesn't bend well enough to likely stay at left tackle in the NFL. But he's got some raw power to drive blockers to the ground, and he's got powerful hands to lock on and drive rushers who don't utilize their counter move early enough.
-While he's been beat on a fairly consistent basis, I wonder how much Zebrie Sanders stock would have been saved this week if Courtney Upshaw was not in attendance. He's been consistently driven off the snap and knocked back by Upshaw again, twice today. But it's been a consistent trend to see Sanders knocked back by edge rushers, as he gives up too much ground and plays far too soft in both pass protection and in-line blocking. I wasn't overly high on Sanders on film, and he's been exposed this week.
–Matt McCants of UAB hasn't generally been a guy many have been high on, but I'm more encouraged at times than taking his play this week as a whole. He's still very raw as a prospect and does some classic technique negatives (over-extends, leans too much in initial run blocking, outside hand placement at times), but he's gotten better each week, and outside of some really poor plays against Courtney Upshaw (who's been dominating everyone this week), he's been holding his point of attack well, having a strong base in pass protection, and slowed down both Melvin Ingram and Quinton Coples in power rushes today.

Defensive Linemen


–Kheeston Randall of Texas really didn't show much today or this week in terms of versatility in pass rush moves and couldn't consistently get his hands free from more fundamentally sound blockers. Also, Tydreke Powell of North Carolina showed very little other than some raw strength to me today. And when you get held up on two separate occasions by William Vlachos of Alabama (a non-NFL guy to me), you're not really showing much.
–Derek Wolfe of Cincinnati is really showing a lot the past two days, today especially. He's a guy who on film doesn't always show great rushing ability, but he reacts to what blockers are trying to do to him very well and can take advantage of poor balance or over-extension. He's been able to execute that well this week, and he's a guy I'll need to watch a bit more of afterwards because I was not sold pre-draft on Wolfe at all.
-I won't talk about Courtney Upshaw again today, because he played well and explosive today, very difficult for anyone to block though not as consistent as previous days. Also, Quinton Coples has since regressed from a dominating first day to me, and still flashed some inconsistencies today. Melvin Ingram of South Carolina still hasn't dominated the way I thought he would, but I think he's looked best as a inside rusher from the end spot, making him a potential great fit as a 3-4 defensive end.

Linebackers
-It was interesting watching three different linebackers all show a little bit different styles/abilities in coverage and coverage drills today. To start, Nigel Bradham of Florida State is tough for me to figure out. He is so polished in coverage, flipping his body with balance well to his drops and having little wasted motion in coverage. However, he's a bit slow footed and isn't great in his lateral quickness, which will likely will hurt in a quicker Cover 2 scheme in the NFL. Still, his natural abilities in that role are intriguing along with his length, and he's done adequately versus tight ends.
-A bit of a different story at linebacker was Sean Spence, who doesn't seem to flip smoothly and get quickly and with balance to his coverage drops, but has just outstandingly quick feet and a powerful burst in his cuts. He seems to lean back too much as well, something that will hinder his explosive ability when he is asked to drop into coverage. Still, he shows patience and reacts well in short area routes and seems to have a good overall feel for receivers around him
-The final different scouting angle at linebacker was Emmanuel Acho who seems like a poor mix of both Spence and Bradham in coverage. He doesn't have overly quick feet and has a lot of wasted motion in quicker linebacker drills as well as in short area coveraeg plays. He overall doesn't look like anything but an inside linebacker at this point to me, where we (thanks to Alex Brown of Optimum Scouting) have him at in our rankings at this point.

Defensive Backs


-I was very impressed with how physical and effectively using his hands Brandon Boykin of Georgia was today. He was disrupting Dwight Jones (twice) and Jeff Fuller (twice) today in press coverage as well as redirecting their routes down the field. He stayed physical and in great position pretty much all day today.
–Janoris Jenkins of North Alabama also continued to show his physical nature, though still at times over-aggressive and trying to be too physical. Still, he can drive and redirect routes with his hands down the field, stays tight in the receivers hip pocket and battles well and without an interference call down the field, turning and running very fluidly. He needs to turn and react to the ball a little better, especially receivers with the height advantage. He also closed very well in the short area passing game and tracks the ball well in coverage.
–Ryan Steed of Furman can really extend and drive in press coverage, but struggled a bit again today with transitioning from that press to staying tight down the field. He had a few nice coverage plays in vertical routes and got down the field well, using his length, but he also struggled to transition from press to quicker inside routes. The same went at times for Vanderbilt's Casey Hayward, though I've seen him better at that in game film than he showed today.
-DeQuan Menzie of Alabama has some physicality at the line of scrimmage and can extend and stay fairly tight across the middle, but he just isn't quick nor fluid enough to likely play out of a zone scheme in the NFL.
–