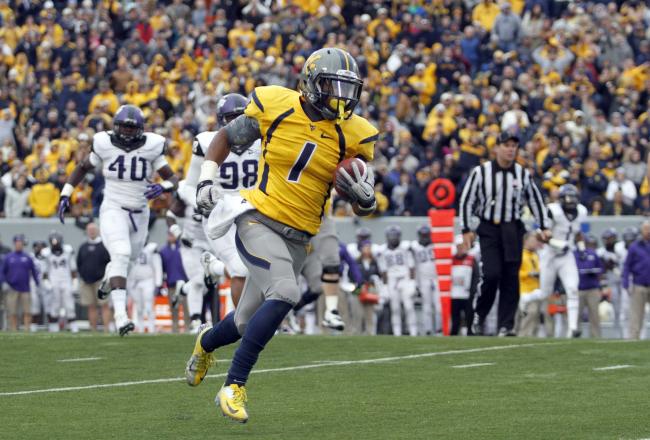 The story of the day amongst the wide reciever's workouts was the incredible speed that many of the players displayed on Sunday morning. Some were some incredible times turned in – what else was noteworthy?
Tavon Austin emphatically silenced any doubts there were about his long speed, clocking in with a tremendously forty time of 4.34, which just may have solidified his standing as a first round pick. Marquise Goodwin (Texas) was one of few able to best Austin, effortlessly turning in a forty time of 4.27.
Tennessee wide receiver Justin Hunter confirmed to the NFL world that he is, in fact, a physical freak. He ran a 4.44 forty, broad jumped 11'3, and had a 39.5 inch vertical. His broad jump was the second best since 2006. His frame paired with the explosion he demonstrated today gives him some of the highest upside in the draft.
Marquees Wilson needed a good workout to take some of the spotlight off of his untimely departure from Washington State, and he actually did well. His routes looked smooth and he did a good job of tracking the ball. Many around the league felt he'd made a mistake entering the draft, but he looked more polished than most would have expected.
Denard Robinson has spent the past several months working on moving to the wide receiver position, but thus far he still doesn't look comfortable with the transition. His hands looked shaky and he looked lost at times during the drills. He's still got a long road ahead if he wants to stick with the new position. Would running back be a better fit?
USC's Robert Woods was considered to be a potential first round pick if he could show he had NFL speed, and he tested well across the board. He again looked polished running routes and could very well be a late first or early second round pick now on most teams' boards.
Cordarrelle Patterson looked about like most expected him to on Sunday. He's obviously tremendously gifted athletically, but he's still clearly raw and he didn't appear to be totally focused in his drills at times.
Kenny Stills and Ryan Swope both showed surprising speed (4.38 and 4.34). Neither was expected to show that sort of speed and both looked impressive in positional drills. This is an extremely crowed wide receiver group, but they both helped separate themselves some today.