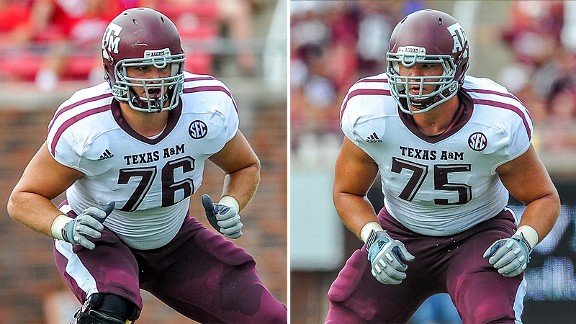 In the 2013 Cotton Bowl game featuring the Oklahoma Sooners and the Texas A&M Aggies, expect a lot of points to be scored in a shootout of former Big 12 foes.
Texas A&M, having spurned the Big 12 and their rivalry with the Texas Longhorns, showed no fear in their inaugural SEC season. Holding their own against some of the league's best teams in close losses to Florida and LSU to begin the season, the Aggies rounded into shape as one of toughest teams to beat in the country. Having notched a road upset versus the BCS-title bound Alabama Crimson Tide and boasting a Heisman Trophy winner in freshman sensation Johnny Manziel, Texas A&M has a great deal of momentum and confidence leading into this game.
For Oklahoma, it was just another season of "what-ifs". To the Sooners credit, the only two losses on their schedule came to two BCS-bound teams in #1 ranked Notre Dame and #5 ranked Kansas State; still, both losses came at home and Oklahoma had opportunities to win both matchups. Despite winning their final five games of the season, however, I still feel like this team hasn't played a complete game in 2012. From a slow start against Iowa State, to poor tackling against West Virginia or inefficiency on offense, Oklahoma hasn't played up to their potential this year.
Whether or not Oklahoma can score with Texas A&M or come up with crucial stops on defense remains to be seen, but both squads present a bevy of NFL prospects, seniors and underclassmen alike, that you should take note of and watch closely.
Texas A&M
Christine Michael, RB, Texas A&M – #33, 5'11, 220
Working furiously in the offseason to regain his burst and explosion after a 2011 ACL injury, Michael had to overcome yet another, self-created hurdle in the form of touches in 2012. First being suspended for the team's second game versus SMU for "violation of team rules", Michael got himself in additional trouble via twitter while away from the team, vocalizing his frustrations with Kevin Smulin's offense. Michael tweeted out "Man, run the ball", among other tweets, during the Aggies' 48-3 shellacking of SMU. This isn't a serious mistake, but it certainly shows Michael, a 5th year senior had some growing up and maturing to do in order to earn back the respect of his coaches. Able to wrestle back carries and touches, Michcael's pre-injury suddenness repeatedly appeared in flashes this season. Michael surrendered the lead rushing roles to Heisman-winning quarterback Johnny Manziel and junior back Ben Malena, but his overall physique makes him a difficult back to bring down at first contact. A former first round talent, Michael could go anywhere from the 2nd to 4th rounds depending on how well he tests at the combine.
Ryan Swope, WR, Texas A&M – #25, 6'0, 206
Not your traditionally undersized, white slot possession receiver, Ryan Swope should never be compared to a player like Wes Welker, as he has developed his running back build and run after the catch skills to become a dynamic weapon for the Texas A&M offense. Recruited out of high school as a running back, Swope converted to receiver once he realized that it would be the quickest route to playing time. Since his freshman season, Swope has continually improved as a route runner, learning to set up his breaks with a variety of release and stem techniques. Well strung together at 200+ pounds, light on his feet and balanced in traffic, Swope does everything you want your slot target to do at the next level –from extending and exposing his frame over the middle, or winning with out breaking patterns, Swope is capable of attacking defenses in a variety of ways. Swope will test better than expected, should perform at the senior bowl and will likely be a 2nd or 3rd round selection in this year's draft.
(JR) Luke Joeckel, OT, Texas A&M – #76, 6'6, 310
A franchise left tackle in the mold of Cleveland Browns left tackle Joe Thomas, Joeckel is as polished and NFL-ready as he can possibly be at this point. Measuring a legit 6'6 (or taller) and likely to weigh in the low 300's, Joeckel has "plus" size and "plus" length. More important and impressive than his frame, however, is how light-footed and agile Joeckel is for a 6'6 tackle. Sliding out to cutoff the best of speed rushers in the SEC, Joeckel consistently protects the arc to the quarterback while having the redirect ability to potentially cover an inside counter move. Footwork and hand placement also earn "plus" grades for Joeckel, who takes great cutoff angles to position himself properly and consistently punches to control the chestplate of his opponent. Joeckel will wait until after the game to announce his decision regarding the NFL Draft, but would certainly be in contention for a top five selection should he declare himself eligible.
(JR) Jake Matthews, OT, Texas A&M – #75, 6'5, 305
Having already decided to return for his senior season, according to the National Football Post's Russ Lande, Jake Matthews has been every bit as impressive as teammate Luke Joeckel. Slightly smaller and more sudden than Joeckel, Matthews has anchored the right side of the line for the Aggies, winning against his opponents with lateral quickness and hand strength. Kick slide technique with Matthews is a bit short and choppy, but his hands are quick to engage and heavy to sustain. Able to direct the point of attack after engagement, Matthews generally does a nice job of turning his man in the hole to neutralize, though he can be susceptible to overextension in the run game. A likely top ten overall pick if he declared this season, Matthews will work to raise his draft stock up into the top five overall range for the 2014 draft.
Patrick Lewis, OC, Texas A&M – #61, 6'2, 312
Lewis, an unheralded senior, lacks the elite measurables of the Aggie tackle prospects but more than compensates with in-line savviness and polish. The leader of this offensive line, Lewis' experience, football IQ and sound technique show in the way he takes ideal cutoff angles to the second level, locates unblocked pass rushers and picks up stunting defensive linemen. Lewis will never impress with drive blocking ability, but does a more than adequate job of taking his man out of the play with body positioning. A late rounder that should stick at the next level, don't be surprised if Patrick Lewis develops into a solid NFL starter.

(JR) Damontre Moore, DE, Texas A&M – #94, 6'4, 250 (Declaring Article)
Declaring himself eligible this past week, Damontre Moore finally stepped out of Von Miller's shadow and made a name for himself with that name being "DaMonster". A bit raw and unrefined in the way he gets after the passer, Moore beats his opponents with unbridled force and speed. Explosive off the line and capable of either turning the corner with speed, converting speed to power with a bull rush or redirecting inside with a counter move, Moore can attack opposing tackles in more ways than one. Moore has experience rushing from a 2-point, standup position in a 3-4 defense, in addition to a hand-in-the-dirt, traditional 4-3 end position, which will only make him that much more appealing to NFL evaluators. He'll need to break the habit of raising his pad level mid-rush, but pure talent is clearly there with this first round bound edge rusher.
Jonathan Stewart, ILB, Texas A&M – #11, 6'4, 244
One of my "sleeper" prospects entering the year, Stewart more than looks the part, with an excellent size-speed combination at the Mike linebacker position. Stewart runs very well for his size, flashes quick diagnosing skills and normally takes correct read steps to flow, but too often in 2012 has shied away from attacking downhill and meeting ball carriers in the hole. Much more active and instinctive in the Aggies 2011 3-4 defensive scheme, Stewart hasn't been the same in 2012 playing behind a four-man front. While he doesn't excel in defeating one-on-one blocks with uncovered guards, Stewart appears more comfortable reading the offense with only three defensive linemen in front of him. I'd expect Stewart to test well and be selected in the 4th round, but 2012 has definitely been a down year for the senior prospect.
Sean Porter, OLB, Texas A&M – #10, 6'2, 230
Another senior that adapted slowly to the new 4-3 scheme is Sean Porter. Used in a pass rushing capacity for nearly his entire collegiate career, Porter was asked to read the action from a more traditional backer position. Despite lacking elite level instincts and feel for the position, obvious athleticism and explosiveness stood out on tape, as Porter showcased the ability to make plays off of blocks and in space. Porter must learn to trust his vision and instincts more, as when they're correct, Porter is capable of being a disruptive player. Likely a 3rd round selection, expect this senior to be blitzed early and throughout this matchup to rattle OU QB Landry Jones.
Others to Watch
Uzoma Nwachukwu, WR, Texas A&M – #7, 6'0, 194
Kenric McNeal, WR, Texas A&M – #5, 6'1, 184J
onathan Mathis, DT, Texas A&M – #92, 6'2, 300
Spencer Nealy, DT, Texas A&M – #99, 6'5, 277
Steven Jenkins, OLB, Texas A&M – #45, 6'2, 220
Dustin Harris, CB, Texas A&M – #22, 6'0, 175
Oklahoma
Landry Jones, QB, Oklahoma – #12, 6'4, 218
Assuming undue pressure and hype in replacing former number one overall draft choice Sam Bradford, Landry Jones appears to have leveled out as a 3rd or 4th round prospect. Prototypically built with a cannon arm, Landry Jones looks the part of a pocket passer with the arm talent to effortlessly hit every NFL throw. Quick timing, catch and fire passes make up a majority of the Oklahoma passing attack and, as a result, plays made by the receivers after the catch inflate Jones' statistics. Very real next level concerns arise in Jones' inability to fluidly escape pressure inside and outside the pocket, reset his feet and throwing base, and deliver accurately with bodies nearby. This trait of being able to throw under pressure is an absolute must-have at the NFL level and Jones has yet to convince myself, and many other evaluators, that he has the ability to do so. When given time and room to step into the throw, Jones can be deadly accurate to all areas of the field, particularly over the deep third and along the sidelines for bench routes. If Texas A&M cannot pressure Jones, look for big-time numbers from the senior prospect; if the pressure can get to Jones, it may be a long night for Sooner fans.
(JR) Trey Millard, FB, Oklahoma – #33, 6'2, 256
My favorite fullback prospect in the country, Trey Millard is a true "triple-threat" for the Oklahoma offense. Millard's impact can be felt in blocking, receiving and rushing capacities, and his skills are readily transferable to the next level, considering his powerful body, great agility and overall athletic ability. Millard's ability to change directions fluidly and also run through initial contact with leg drive, make him a solid rushing threat. Capable of hurdling low-tackling defensive backs and creating after the catch, Millard is the ideal H-back at the next level. Millard received a day three grade (4th-7th rounds) from the NFL Draft advisory committee, though he looks like a 3rd round player to me, and has a decision to make regarding the 2013 draft as an underclassman.
(JR) Kenny Stills, WR, Oklahoma – #4, 6'1, 190
After record setting senior Ryan Broyles went down with an ACL injury in 2011, Kenny Stills failed to establish himself as the primary option. Alligator-arming high throws in traffic and not putting forth his best efforts down the stretch as a sophomore, excitement was tempered entering this season. Stills, putting the late season struggles of 2011 behind him, stepped his game up to another level this season, by showcasing excellent route running technique and winning with separation at his breaks. Very fluid and savvy off the line, Stills does a great job of attacking the leverage of the cornerback, using a variety of release techniques and changing speeds effectively in route to get the defender off-balanced. Whether or not Stills can be a number one option at the next level remains to be seen, but his catch point athleticism and fluidity is reminiscent of a young Brandon Lloyd and worthy of a late 2nd round pick (should he declare).
Justin Brown, WR, Oklahoma – #19, 6'3, 209
Brown, who transferred out of a bad Penn State situation, picked up the Oklahoma Sooner playbook over the summer and incredibly won over a starting role with the offense. Playing almost exclusively on the far right side of formations as the "Z", Brown put on display reliable hands and tremendous focus at the point of the catch. Capable of extending in traffic and securing through contact, Brown became Landry Jones' primary possession receiver and a chains-mover for the offense. Brown doesn't create a ton of separation or have blazing deep speed, but he does have great length and a catching radius to win at the catch point. Brown will be a day three pick and produce like a day two pick in his rookie season.
Lane Johnson, OT, Oklahoma – #69, 6'7, 303
Ending the regular season on a high note, Johnson has skyrocketed up senior offensive tackle rankings. Being a swing tackle prospect, capable of playing both right and left tackle slots, Johnson's value will be equally high across NFL Draft boards. Though unrefined in his technique, both from a pass set standpoint and run blocking perspective, Johnson impressed by making the most of his plus length and consistently cutting off his opponent with good quickness off the snap. To improve his pass set on extended pass drops, I'd like to see Johnson get more depth with his initial punch step backwards off the snap, as he begins his pass set by picking up and setting his outside foot back in place, rather than gaining ground on the rusher. In the running game, Johnson needs to keep his hands inside and not overextend beyond his framework. Capable of being a starter at either left or right tackle spots at the next level, Johnson should be a day two pick and high upside developmental guy.
David King, DE, Oklahoma – #90, 6'5, 286
Not much of a pass rusher, David King makes his money as a stack and shed, 5-technique type of defensive end. Oklahoma incorporates more four man fronts than in years past, but nevertheless, King uses his heavy hands to direct the point of attack and work to the football. He'll never be an exceptional player at the next level, but I firmly believe King will be a valued rotational lineman early and possibly a starter later in his career. King's draft value sits in the 5th round range and could go up or down depending on workout numbers.
R.J. Washington, DE, Oklahoma – #11, 6'3, 256
The most explosive rusher, though also the most inconsistent and raw of Oklahoma ends, is RJ Washington. Washington is listed at 6'3, but plays much bigger and appears much longer than that height, effectively using his hands and leg-drive to collapse the pocket at times. For the senior end, it's all about the get-off and how well he can anticipate the snap count; when slow off the ball, Washington's lack of pass rush variety and polished hand usage shows. Washington is on the fringe of being a draftable prospect for us at Optimum Scouting, and will need a strong predraft season to work himself into a 6th or 7th round grade.
(JR) Tom Wort, ILB, Oklahoma – #21, 6'0, 237
An old school, violent run stuffing backer that can work off of blockers, Tom Wort has lost a number of snaps this season to redshirt freshman Frank Shannon due to injuries and struggles in coverage. Versus four and five receiver personnel sets, Wort is generally subbed out for an extra defensive back; this two-down label as a primary run defender will ultimately hurt Wort's stock but prepare him for reality in the NFL. Toughing through minor back, ankle and shoulder injuries early in the season, Wort finally appears to be back to full strength and speed, flashing to closing burst and activity level that he showed as a sophomore. Compact with a sturdy build, Wort attacks blockers with his hands well to keep clean and shed into a tackling position. Keeping his shoulders squared to the line of scrimmage when scraping to flow, Wort plays with a "cloudy-to-clear" mentality, reading flow and anticipating where the back should cut to the inside. Wort is capable of starting in a limited capacity as a rookie and his potential stock will depend on how he checks out medically.
(JR) Tony Jefferson, S, Oklahoma – #1, 5'11, 212
Oklahoma's leading tackler on the season should be considered one of the top safeties in the country with his elite level versatility and ability to play at either the free or strong safety position. Though measuring less than 6'0 tall, Jefferson plays bigger than most safeties of such height, throwing all 200+ pounds of his frame at the ball carrier with surprising force. Occasionally reckless in his approach to supporting the run, Jefferson still does a good job of breaking down in space, centering up the ball carrier and driving through the tackle with his feet. As a coverage player, his instincts and experience in deep coverage are readily apparent in the way he remains balanced, coordinated and in position to make a play when reading the route developments. Utilized much closer to the line of scrimmage in Brent Venables system as a robber zone defender and slot cover guy, Jefferson in 2012 has been tasked with even more coverage responsibility within Mike Stoops' defensive scheme; putting together two seasons of tape at both safety positions and excelling either close to the line of scrimmage or in deeper coverage, expect Jefferson to be highly sought after should he declare for the draft as a first or second round choice.
Others to Watch
(JR) Damien Williams, RB, Oklahoma – #26, 6'0, 208
(JR) Brennan Clay, RB, Oklahoma – #24, 5'11, 201
(JR) Gabe Ikard, OC, Oklahoma – #64, 6'3, 288
Jamarkus McFarland, DT, Oklahoma – #97, 6'2, 288
Casey Walker, DT, Oklahoma – #53, 6'2, 309
Stacy McGee, DT, Oklahoma – #92, 6'4, 299
(JR) Aaron Colvin, CB, Oklahoma – #14, 6'0, 181
Demontre Hurst, CB, Oklahoma – #6, 5'10, 183
Javon Harris, S, Oklahoma – #30, 5'11, 206