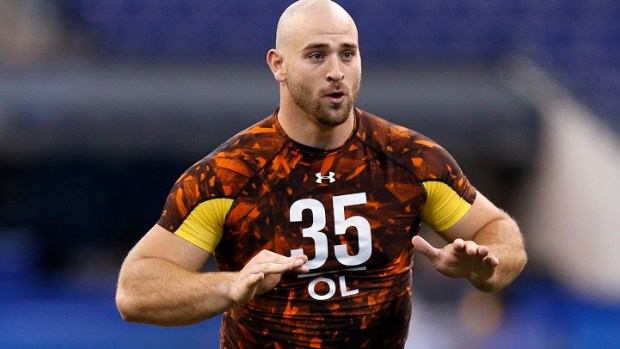 For the final division in this series, Jared Counterman takes a look at one of the most interesting divisions in this draft, the NFC North. Whether it was the Vikings making a big splash in the first round, Green Bay grabbing two starting quality running backs, or Chicago making a surprising first round selection, the NFC North added quite a few new faces that will likely be making an early impact.
Which team put together the best class?
Chicago Bears
Pick/Player
1st round – Kyle Long OL, Oregon
2nd round – Jon Bostic LB, Florida
4th round – Khaseem Greene LB, Rutgers
5th round – Jordan Mills OT, Louisiana Tech
6th round – Cornelius Washington DE, Georgia
7th round – Marquess Wilson WR, Washington State
Analysis: The surprise selection of Kyle Long is only a surprise to some, he's the offensive upside equivalent to a Jason Pierre-Paul. With only 4 starts under his belt of FBS football, Long is looked at as a prospect that lacks experience in a big way. On tape his movements skills and ability to get to the second level is intoxicating for evaluators. While 2013 might not be his best campaign, the future is promising for Long and the Bears OL.
The second round didn't excite fans as much either when the Bears "reached" for a run and hit linebacker in Jon Bostic. Bostic should be able to play both the Will and Sam positions in Chicago's front. Khaseem Greene was a tremendous value in the 4th round and he should be able to play immediately on special teams with upside to start. With their 5th round selection things started to look up with Jordan Mills who can start at OG on day one. He's a guy that could kick out to RT and really help in the running game.
If Cornelius Washington went in the 3rd round no one would have blinked. He's as talented an athlete as there was on the edge in this draft. At Georgia, Washington was the rare OLB-to-5T convert and he was notably out of place. Offseason workouts pushed Cornelius Washington up boards, but to take a potential dynamic edge rusher this late is a huge win for Chicago. With their last pick, Chicago pulled the trigger on the talented but red-flagged WR Marquess Wilson. After accusing the Washington State coaching staff of 'abuse', Wilson quit the team during a rough 2012 offseason. Before the incident, he was regarded as a possible top-64 pick.
Grade: B-
Minnesota Vikings
Pick/Player
1st round Sharrif Floyd DT, Florida
1st round Xavier Rhodes CB, FSU
1st round Cordarrelle Patterson WR, Tennessee
4th round Gerald Hodges LB, Penn State
5th round Jeff Locke P, UCLA
6th round Jeff Baca OG, UCLA
7th round Michael Mauti LB, Penn State
7th round Travis Bond OG, UNC
7th round Everett Dawkins DT, Florida State
Analysis: The Vikings may have made the biggest splash in the 2013 NFL Draft by picking a total of 3 times in the first round. Sharrif Floyd was pushed by the major media outlets as a potential top-3 selection, so to see him drop all the way to #23 overall must have been a surprise for the Vikings. Floyd is a disruptive, versatile 3 technique that has a lot of upside. He's got some technique issues but with the wealth of selections the had Floyd is worth the shot. Xavier Rhodes is a potential lockdown corner with tremendous size and body control. Questions about his ability to turn his hips and run with WRs slowly settled down as his game became more revered as complete.
Trading up to get UT WR Cordarrelle Patterson is a move that will define this draft class as a whole. He's a pure upside player with big holes in his game. Losing Percy Harvin was a large hit to the explosion factor of that offense, adding Cordarrelle Patterson was the best option available to replace that factor.
4th round pick Gerald Hodges could be a factor early at the Will LB spot as he's a very intelligent player. Punter Jeff Locke was widely regarded as the draft's best leg talent. Landing him in the 5th round should solidify that position for a decade. Late round offensive OGs Travis Bond and Jeff Baca have physical, blue collar tendencies. Baca brings consistency to the table with 45 career starts and Bond has more upside. 7th round pick Michael Mauti might turn out to be the best pick of the entire draft for Minnesota if he's healthy. He's a legit top-32 talent with a great reputation as a leader at PSU. Everett Dawkins is another high upside pick late in the draft with potential to provide long term depth behind Floyd.
Grade: A-
Detroit Lions
Pick/Player
1st round Ezekiel Ansah DE, BYU
2nd round Darius Slay CB, Mississippi State
3rd round Larry Warford OG, Kentucky
4th round Devin Taylor DE, South Carolina
5th round Sam Martin P, Appalachian State
6th round Corey Fuller WR, Virginia Tech
6th round Theo Riddick WR/RB, Notre Dame
7th round Michael Williams TE, Alabama
7th round Brandon Hepburn LB, Florida A&M
Analysis: As it stands now, the success of #5 overall pick Ezekiel Ansah is going to be the difference in lots of jobs in Detroit. Ansah comes out of BYU still very raw to the game of football, but again the upside is intoxicating. NFL decision makers have been asking themselves if this guys' rise is going to continue. Ultimately his potential to be a long term difference maker at a dynamic positition is what got him drafted in the top-4 selections.
2nd round pick Darius Slay has the length and coordination that defensive coaches are starting to covet. Slay was very well liked in draft circles. In the third round, the Lions were able to take a road grading OG in Larry Warford. He's going to be the type of OG that plays in his spot for years and dominates in the power running game. Devin Taylor in the fourth round was one of the biggest head scratchers in the whole draft has he's not an obvious fit in their defense. Taylor has issues sinking his hips and exploding up field and in Detroit's Wide-9 that pushes him inside exclusively.
6th round WR Corey Fuller out shined the more prototypical VT pass catcher Marcus Davis in the draft process. Theo Riddick gives them some flexibility from a depth standpoint as he'll line up in multiple places on offense. Blocking specialist Michael Williams will be just that in the power running game in Detroit. Williams will likely first find time on the field in "jumbo" packages as he has a reputation as a 6th offensive tackle.
Grade: B
Green Bay Packers
Pick/Player
1st round Datone Jones DE/DT, UCLA
2nd round Eddie Lacy RB, Alabama
4th round David Bakhtiari OT, Colorado
4th round JC Tretter OT, Cornell
4th round Johnathan Franklin RB, UCLA
5th round Micah Hyde CB, Iowa
5th round Josh Boyd DT, Mississippi State
6th round Nate Palmer DE/OLB, Illinois State
7th round Charles Johnson WR, Grand Valley State
7th round Kevin Dorsey WR, Maryland
7th round Sam Barrington OLB/DE, USF
Analysis: It really looks like Packer GM Ted Thompson hit another home run here in 2013. Datone Jones started the draft off with a versatile, penetrating bang. Jones is the type of player that can be pushed up and down the defensive front and create problems from multiple techniques. Second round pick Eddie Lacy was the top back on many boards in the media and filled a huge need in Green Bay. He's viewed as a guy that's naturally most comfortable in a power running scheme making the fit in Green Bay interesting to say that least. Lacy should be a weapon in the Packer's draw and delay concepts.
In the 4th round Green Bay doubled up at the offensive tackle position. David Bakhtiari had some big believers in the media drawing multiple 2nd round grades. Ivy League offensive tackle JC Tretter projects to make a move to OG, but has RT upside with great hands. The draft takes a big upswing with the selection of Jonathan Franklin; adding him to the fold with Eddie Lacy turns what was a glaring weak spot of the team into a promising strength. Lacy and Franklin have the potential to feed on one another and become a special combination in the NFL.
5th round picks Micah Hyde and Josh Boyd are typical blue collar tough Ted Thompson-esc selection that should provide depth at their positions. In the sixth round the Packers took a chance on one of the most dominant rushers in recent FCS memory in Nate Palmer. He'll be asked to stand out in Green Bay's odd front. 7th round WR selections Charles Johnson and Kevin Dorsey were surprising given the talent on the board at the position. It's likely only one will make the roster.
Grade: A