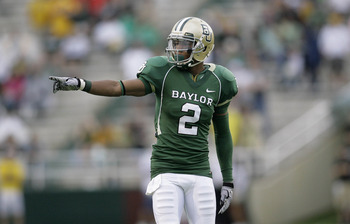 Despite it's history of being a high scoring affair, the Holiday Bowl has featured losing teams that have scored 10, 7 and 0 points the last three years. That should not be the case in the offensively-talented match-up of Art Briles and Baylor vs. Jim Mora Jr and UCLA.
Both teams are still fairly young on both sides of the ball, but both have talented running games, offenses capable of putting up 35-40 points by half time, and plenty of 2013 NFL Draft prospect seniors to watch.


Notes by Alex Brown and Mark Dulgerian of Optimum Scouting
Nick Florence, QB, Baylor – #11, 6'1, 205
It's not easy replacing a talent and phenom like Robert Griffin III, but Nick Florence sure made it look easy in 2012 by nearly duplicating Griffin's production with 4,652 yards of total offense and 40 total touchdowns. Lacking elite level measurables, Florence may never be viewed as a potential NFL starter, but that isn't to say he doesn't have a place in the NFL. As a clipboard holder and backup that can start in a pinch, Florence's bright football mind, ability to read coverages properly and diagnose the play quickly should endear him to teams and give him an outside shot at being drafted next April. More than a game manager and more of an athlete than often credited for, don't be surprised if Florence runs in a few touchdowns of his own en route to a strong showing against this UCLA defense.
Lanear Sampson, WR, Baylor – #3, 5'11, 200
Though Sampson plays a secondhand role behind Terrence Williams, don't mistake the 5th year senior for anything less than a legitimate NFL draft prospect. Well put together at 200 pounds and an explosive vertical threat that can stretch the field with sub 4.4 speed, Lanear Sampson could very well be a better pro than collegiate player. Excellent at tracking the deep ball and soft handed at the catch point, Sampson plays much bigger than his actual height by extending and attacking the football away from his frame. I expect to see Sampson's current streak of 42 games with a reception, extend to 43 after tonight's matchup versus the UCLA Bruins. A 6th or 7th round pick that should stick on a roster, don't be surprised if Sampson ends up producing right away at the next level.
Terrence Williams, WR, Baylor – #2, 6'3, 205
Dominating vertically with a "plus" combination of speed and size, Williams broke the receiving records set by former teammate Kendall Wright in 2011, recording 95 receptions for a total of 1,764 yards and 18 touchdowns in this past season. At his best running what scouts refer to as a "bang 8" pattern, also known as a "skinny post", Williams sells a vertical stem before breaking to the near goal post, anticipating an early throw to beat the (likely) safety help over the top. Williams can be gun-shy and anti-social over the middle field, however, as he'll look to avoid contact after the reception and protect himself first and foremost. At least once tonight, you'll see Williams flash elite athletic ability and impressive leaping skills at the catch point, as he climbed the ladder all season long for difficult receptions down the field. A physical specimen that will test well, Williams could work himself from the day two range, into the first round.
Ivory Wade, OG/C, Baylor – #78, 6'4, 310
An experienced leader among Baylor's offensive line, Ivory Wade will be finishing his collegiate career with an impressive 46 consecutive starts and experience at guard, tackle and center. Wade began his career at left guard, started two seasons at right tackle and moved to center with the graduation of Phillip Blake a year ago. Adjusting well to his new position, Wade has showcased the light feet, strong base and quick hands that made him a highly effective right tackle prospect. Wade, best served inside at guard, won't impress with drive blocking skills but excels in cutting his opponent off with efficient steps, ideal angles to the second level and consistent hand placement. Likely a day three pick, Wade's brings experience and versatility up front, with the ability to backup multiple positions.
Chance Casey, CB, Baylor – #9, 5'11, 185
Baylor cornerback Chance Casey, who missed most of the 2011 season with a torn knee ligament and struggled for stretches in 2012, appears to be fully recovered from his previous injury, showing the quick feet and reactions to throw that made him an intriguing junior prospect entering last year. Casey doesn't deal well with double moves, but provides enough in terms of physical tools and instincts to garner a priority free agent grading from NFL teams; he'll have to prove his worth in sub packages and on special teams to earn a roster spot and stick in the league though.
Mike Hicks, S, Baylor – #17, 5'11, 200
Hicks is a better athlete and impressive looking prospect than Casey, but is still rough around the edges as a next level safety. Looking to make the splashy, explosive hit, rather than attacking the football and breaking up the throw, Hicks allows a number of short and intermediate receptions before finishing with the hit. Effective when asked to man cover the opposing slot receiver, Hicks flashes the ability to click and close in a hurry, along with tight, type-writer pedal steps to remain balanced in coverage. The technique, competitiveness and athleticism are all fairly evident in Hicks' tape, but consistency has been the equalizer for the likely undrafted, priority free agent. Hicks could certainly work himself into being drafted but will need to cap off his senior season with an active game versus UCLA and an impressive combine or pro day.
Datone Jones, DT, UCLA – #56, 6-4 275
Jones has made a smooth transition to a 5-technique end after starting his career as primarily a 4-3 DT. He has the skill set to play in both schemes in the NFL and is considered one of the more versatile linemen in the draft. At 6-4 and roughly 275 pounds, Jones isn't physically imposing but he possesses very good athleticism and has surprising power at the point. He is second on the Bruins with 17.5 TFL and 6 sacks (behind stud OLB Anthony Barr). He shows decent hand work, but it's his explosiveness off the line and short area quicks that make him difficult to block on pass downs. Against the run, Jones often wins at the snap with a quick first step and violent hands and has enough speed to chase down ball carriers from the backside.
Jonathan Franklin, RB, UCLA – #23, 5-10 198
Franklin is one of the most improved players in the country, showing a better trust in his instincts and running much more confidently. He's become a much more patient runner and shows good judgment when picking and prodding through tight spaces. He could use an additional 5-10 pounds to fill out his frame, but he combined his natural balance and improved strength to become a better runner between the tackles in 2012. He is not a burner but he has enough speed to get to the edge and has the wiggle to make guys miss on the second level and has broken several long runs this year. He's also a solid route runner who displays plucking ability. Franklin is an ideal fit as a 3rd down back in the NFL and could end up a late 2nd day pick.
Joseph Fauria, TE, UCLA – #8, 6-7 260
Another tight end in the mold of the towering, athletic, red zone nightmare, Fauria is one of the more difficult players to defend one on one. Listed at 6-7, Fauria plays the game like a basketball player, using his length and frame to "outrebound" defenders as a receiver and showing above average run after catch ability. He is exceptional at high-pointing the ball, whether it's in traffic down the seams or in the back of the end zone. His body control and running ability are impressive for his size but he will have trouble running away from athletic "coverage" linebackers in the NFL. Considered more of a "joker" tight end, Fauria is a marginal blocker who has a lot of work to do from the inline position. He struggles with pad level, hand usage, and overall base strength to sustain blocks consistently although he has shown more toughness and physicality this year.

Jeff Baca, OG, UCLA – #60, 6-3 295
An under the radar prospect, Baca has played all along the Bruins' offensive line throughout his career. His size and skill set suggest his best fit is at guard and that is where he's spent the most time. He is a tenacious blocker who certainly does not lack in aggression and shows excellent on field awareness, anticipating blitzes and quickly getting into co-op support. However, he has average size for the position and can get bullied by bigger more powerful interior linemen. He's likely a top UDFA that a team may look to develop.