One of the most controversial prospects amongst potential top ten draft selections is BYU's athletic freak Ezekiel Ansah. Opinions on the defensive end prospect vary widely. Some feel he has the potential to be an elite pass rusher with some development, others, like South Florida Sun Sentinel's Omar Kelly feel that Ansah is just a "strong African learning football".
There's no question that picking Ansah will have some risk involved – but nearly all draft picks do. Is Ansah really that dangerous of a selection when compared to the rest of the defensive line class?
You'd have a difficult time finding a draft analyst who would tell you with a straight face that Ziggy Ansah is a player with a high floor. Ansah came to the United States from Ghana a few years ago with no aspirations of playing football. He had his eyes set on BYU's track program and perhaps basketball. Football was a sport that he was unfamiliar with and didn't have any interest in.
Even once Ansah found his way onto the football field, he wasn't an instant success. He entered his senior year with only ten career tackles and no starts. His final season was far more productive, but the raw numbers weren't anything breathtaking. He recorded a strong 62 tackles, but only had 4.5 sacks. It was apparent on tape that Ansah was still learning the game and had a great deal of developing to do.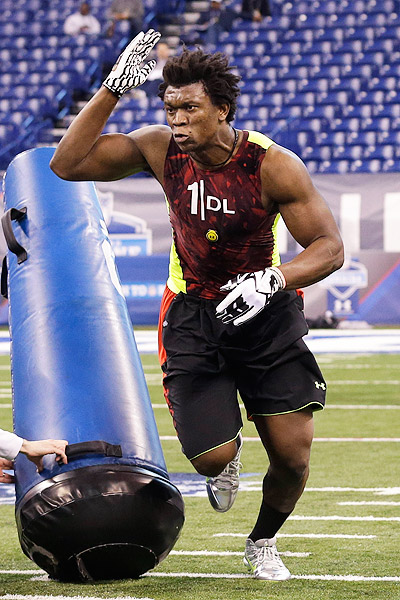 Ansah is best described as an athletic freak, and is without question one of the most naturally gifted prospects in this class. His 4.63 forty yard time at the Combine caught everyone's attention, as well as his 34.5 inch vertical and 9'10 broad jump. Those stellar numbers were made even more impressive by the reports that Ansah didn't spend time training specifically for the drills, as many of his counterparts would have.
Ansah clearly has gifts that no one else in his class has, but his limited experience and production playing football could give teams across the league serious pause before selecting him in the top ten. It's fair to consider if Ansah really is that risky when compared to other defensive players in this class, however.
Ansah isn't the only gifted pass rusher in the draft. During his time at Oregon, Dion Jordan played with his hand in the dirt, as an outside linebacker, and even spent time covering receivers in the slot. That sort of athleticism will make Jordan a lock to be drafted in the top ten, but he's not without some serious red flags. Because of his slight frame, Oregon had to scheme to keep Jordan away from playing too much against the run, and he doesn't have the strength to take on 300 lb offensive tackles. That lean frame also seems to have lead Jordan to be somewhat injury prone, and that's something that will only crop up more at the next level.
Jordan's potential medical concerns pale in comparison to those surrounding Jarvis Jones, however. The former Georgia Bulldog has spent much of the pre-draft process simply trying to convince NFL teams that his diagnosis of spinal stenosis isn't one that will hold him back in the NFL. Jones has the potential to be a Pro-Bowl caliber player, but the potential that his career could end abruptly is just as important for teams to consider.
On the other hand, LSU's Barkevious Mingo doesn't have much to worry about on the medical side of things. There's still plenty for teams to think about before drafting the DE/OLB. Much like Ansah, Mingo is a great athlete that got by in college, for the most part, by simply being more talented physically than the guy he lined up across from. Mingo has a ton of development ahead of him, especially in regards to pass rushing moves, and if he doesn't grow them he'll likely struggle to make an impact at the next level.
Every team enters the scouting process with the hopes of finding a player that is both risk free while still carrying the benefit of having a high floor. The reality is those players are few and far between, and for the most part when you draft a player there's going to be risk involved. High upside players are often the same players with the lowest floors.
Ziggy Ansah is, admittedly, a player that fits that category. He could prove to be an elite player just as easily as he could end up being a bust. However, that risk applies to a large majority of the top pass rushing talent in this class, and Ansah's sky-high potential still makes him worthy of being selected within the top 15 picks – and far more than just a strong guy who's learning the game.