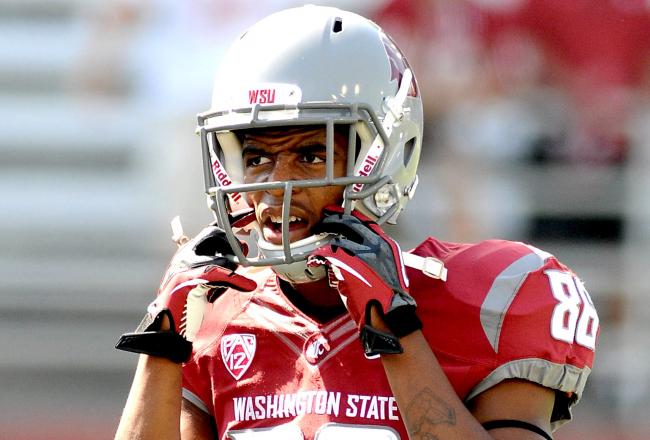 What a week it was for the Washington State football team. Their star receiver, Marquess Wilson was announced as "suspended" from the football team, with rumors that the junior would never come back. Then, just two hours before kickoff of this weekend's game vs. UCLA, Wilson released a statement about "abuse" by Mike Leach and his coaching staff.
In what are very serious accusations that, if true, would almost certainly cement Mike Leach as never to coach in college football again (thanks to his past allegations at Texas Tech), Marquess Wilson announced he wasn't suspeneded, but left the team himself to escape the "abuse".
While this likely will be investigated by the school to see if Washington State's football program in the wrong, but that's not the heart of this discussion from a scouting perspective. The focus for our purposes is just how serious this, along with other previous notes, could impact the future NFL (hopeful) career and NFL Draft stock for Marquess Wilson. And it doesn't look like it'll be a fun journey for Wilson.
I can't speak much of Marquess Wilson, Mike Leach's coaching habits, or what has gone on at Washington State this year, but Brian Floyd at CougCenter.com had quite a bit to say from his experience with all three. (All an excerpt from this article)
"All week, we heard about Wilson's draft stock and how he stood to lose millions by walking out of practice and quitting the team. Just by leaving, Wilson torpedoed his own draft stock — doing so was a sign of weakness."
"This letter sure as hell looks like it was written with Wilson's future interests in mind. It's a way to flip the script: The coaching staff was abusing Wilson and others above and beyond a normal football experience, thus causing him to leave, he claims. Again, Wilson struck a very specific chord knowing the controversy that surrounded Leach at the end of his Texas Tech tenure. Claim abuse and people are apt to run with it, because this is Leach."
I can only speak to what I've seen and say I've never watched a practice or conditioning session while feeling uncomfortable. I was skeptical of Leach's ways coming in and wondered how hard he pushed with his conditioning, and whether that ever crossed a line. If he has … I haven't seen it."

In short, it looks as though from Floyd's perspective, not much was going on. While he admits he hasn't seen "everything" that goes on at Washington State, he's never seen a line crossed throughout his (fantastic) coverage of the team this year.
Also chiming in, Washington State quarterback Connor Halliday told Jessamyn McIntyre of ESPN "No, I didn't' see any abuse". Considered a friend of Wilson, this may be some of the strongest evidence about Wilson's character in this situation of anything.
Wilson has already had reports of lacking top effort and not playing up to his high potential in the past. The work ethic concerns were there before Mike Leach. While it's unfair to rule out these allegations as truth until the university does a thorough investigation (pending), the evidence seems stacked against Marquess Wilson.
For receivers, maybe just second after quarterbacks, character evaluations are so important. Receivers need to be consistently focused, in top shape, develop quickly into new systems, work hard to develop chemistry, not be overly self-centered where it hurts the locker room, and able to adapt to changing situations in the NFL.
Marquess Wilson has shown concerns with all of those above things now in his time at Washington State. Leaving school on your own terms as a junior and throwing out allegations (not to mention they were just hours before his "teammates" had a game) on your way out is not a way to make a good impression with NFL GMs.
Wilson's NFL dreams are in serious trouble. The 6'4, 190 pound uber-talented receiver has number upside. He's been productive over his career, one of the few bright spots on a perennially bad team in the Pac-12. He even was viewed as battling with Robert Woods, Marquis Lee, and Keenan Allen in the pre-season as the best Pac-12 receiver.
Being just a junior, Wilson (expected now to declare for the 2013 NFL Draft) will have to wait all the way until Late February at the NFL Combine to talk to teams thoroughly and show he's not a character risk. And based on the likely depth at receiver in this class and team's already knocking him 3-4 rounds based off of this situation (true or not), it may be a near impossible uphill climb.
His situation is similar to former Syracuse receiver Mike Williams. Williams was a dominating receiver in the Big East, but in the middle of an impressive junior season, he was in violation in team rules after he was involved in a car accident with teammates. He quit the team instead of waiting for a possible suspension. Maybe having a better NFL body and showing a more complete game to his skill set, he tested fairly well at the NFL Combine and ended up being selected early in the 4th round by the Bucs, going onto be a very important part of their offense still.
For a receiver with number one NFL potential and the Top 64 dream in his grasp, this downward spiral and circus surrounding him may have torpedoed any chance of those happening. We'll see what becomes of these allegations, and more importantly for Wilson, we'll see how he can respond to the bombardment of questions/concerns NFL teams will have. As of now, he's no more than a 3rd round pick, and likely more in the 4th-5th round range for most teams to take a shot on him.
For a once promising, budding future NFL star, Marquess Wilson has fallen from grace. And he'll need to do a lot more than release a statement to fix this situation.