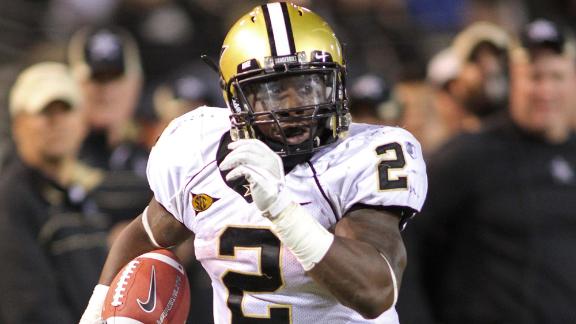 The depth at nearly every position stands as the true strength of this year's 2013 NFL Draft class. In this "Pass-Take" article, I'll be highlighting a few players that I'd pass on early for higher value picks later in the draft.
A for instance from last season's draft would be, "I'll pass on Ryan Tannehill in the top 10 overall and take Russell Wilson in the third round." With the idea that equal value and production can be attained by waiting a round or two (or three in some cases), here we go…
Pass on Montee Ball in 2nd, Get Zac Stacy in 4th
Both backs are ideally suited to play in zone blocking schemes, where their vision, steps and compact body types enable them to be productive ball carriers, but the clear choice in value is former Vanderbilt Commodore Zac Stacy.
While Montee Ball combines balance and sound footwork with plus vision between the tackles, his lack of burst or long speed make him more of a fringe top-100 selection than a sure-fire 2nd round prospect.
With Zac Stacy, I see equal vision between the tackles, similarly polished steps through cuts and much more power, as his stout, compact build and excellent core strength allow him to consistently drive through contact.
Neither back will be a homerun hitter or splashy player in the league, but both will assuredly push for starter snaps early in their careers thanks to plus vision, toughness and footwork to and through the hole. To me, I see two solid running backs that should be in the same tier. Beyond simply a value standpoint, I'll go as far as saying that Zac Stacy is a more talented and gifted next level prospect, considering his superior strength and leg drive through first contact.
Pass on Ryan Swope in 2nd/3rd, Get TJ Moe in the 5th
In evaluating both prospects, it's important to note that neither had experience at the wide receiver position prior to their collegiate careers, as Swope played running back in high school and Moe played quarterback. Regardless of inexperience, both players adapted quickly to their new positions and inserted themselves firmly into the starting lineups by their sophomore seasons.
Because of Ryan Swope's 4.3 40 time at the combine, he's sure to find himself in the 2nd round; conversely, T.J. Moe's 4.7 40 time will cause his stock to settle in the 4th or 5th round range. Nevertheless, as slot options at the next level, T.J. Moe's superior strength, quickness and route balance make for a much greater value. Timing the fastest 3-cone and short shuttle times at the combine, in addition to pumping out the most bench reps by any wide receiver at the event, Moe brings top level slot attributes to the table. As is the case with Montee Ball and Zac Stacy, I see Moe as a greater prospect than his more highly touted counterpart.
Both of these receivers are tough as nails and will finish receptions in traffic; however, I see fewer focus drops from Moe, less hesitation on option routes and more consistent hand adjustments at the point of the catch. If I'm choosing a slot receiver in this draft, I'll pass on Ryan Swope in round two and snatch up T.J. Moe on the final day of the draft.
Pass On Barrett Jones in 3rd, Take David Quessenberry in 4th
In the trenches, it's hard to not like a guy like Barrett Jones from Alabama. Beyond having started 49 games at every position along the offensive line, Jones was a three-time all conference selection and three-time national champion. His attention to detail on and off the field, awareness on the chalkboard and in the classroom, and sound fundamentals at the point of attack make for a coaches dream at the center position.
All positives aside, Jones has limitations in terms of point of attack power and anchor ability. He'll be sure to earn a third round pick, but may provide no more versatility or value than an unheralded offensive lineman from San Jose State.
From the West coast, San Jose State's David Quessenberry brings parallel attributes to the forefront, albeit at a much lower price in the fourth or fifth round of the 2013 NFL Draft. At the Senior Bowl, Quessenberry lined up at center, guard and tackle, while handling his opponents with quick, efficient footwork off the snap and ideal placement of his punches. Quessenberry has a leaner, more athletic skill set than Jones, slightly greater punch to his game and the same versatility to play every position across the line.
Give me Quessenberry in the fourth or fifth round over Barrett Jones in the third round, everyday of the week.
Pass on Nico Johnson in 4th, Get Vince Williams in the 5th/6th
Picking on another Alabama Crimson Tide player that I like but don't love as much some, Mike linebacker Nico Johnson could serve a valuable role at the next level as a two-down run stuffer, inside a 4-3 or 3-4. His ability to take on and defeat lead blockers or uncovered guards, in addition to experience within a pro style system, will undoubtedly make him a fringe top 100 selection.
A near equal run supporter that only lacks in name value and consistency is Florida State's Vince Williams. As violent, reckless and wild as they come, Williams attacks blockers with abandonment and flashes incredible explosiveness as a tackler, both between the tackles and on the perimeter. His read steps and instincts could stand improvement, but the talent is there for Williams to become a two-down starter at the Mike backer position.
There's more certainty with Nico Johnson with production and experience; however, I'm positive that a player like Vince Williams can be just as productive at a much lower cost. Pass on Nico Johnson in the fourth round, and you'll be just fine selecting Vince Williams in the fifth or sixth round.
Pass on Matt Elam in 1st/2nd, Get Shamarko Thomas in the 3rd/4th
Florida safety Matt Elam may have one of the best highlight tapes around. He flies to the football with bad intentions and really showcases elite explosiveness at the point of attack. As the heart and soul of the Gators' defense, Elam jumped off the screen with "splash" plays. Still, Elam was a reckless and undisciplined defender that struggled in coverage, due to inconsistent footwork and limitations regarding length.
While Elam is viewed as a late first to early second round pick, another height deficient safety prospect that brings greater athletic ability and equal pop behind his pads at safety is Syracuse safety Shamarko Thomas. Both players measure 5'9, but it should be noted that both weigh over 210 pounds and deliver impressive force on contact.
Shamarko Thomas, like Elam, does not always take ideal angles in pursuit or proper read steps off the snap, while similarly coming up with timely plays in crucial moments of the game. Attacking the play without fear or concern for his own well being, Thomas throws his body around with force and competes harder than any other player on the Syracuse defense.
In short, if I'm unbiased towards height deficient safeties, I'll happily pass on Matt Elam in the 2nd round for Shamarko Thomas in the 5th round. Sharing traits of physicality, toughness and competitiveness, the two prospects are near carbon copies of one another.