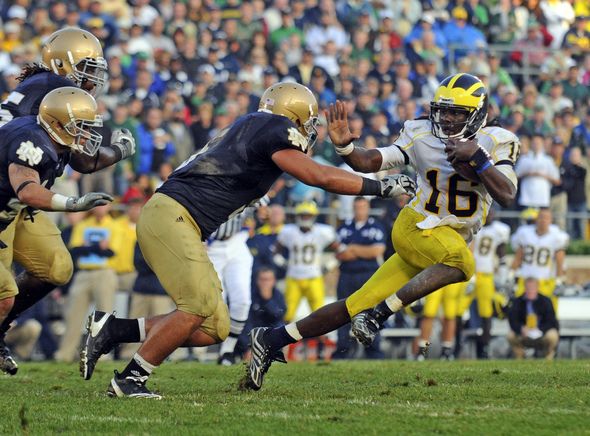 While the amount that we can actually learn from a pro day work out is limited, they're still a key part of the evaluation process and they shouldn't be taken too lightly. These workouts can be crucial, especially for those who either weren't able to work out at the Combine and who did and put up a poor showing.
We've had pro days nearly every day this month, but now, with the exception of a couple personal pro days that will happen in April, teams will be turning their attention to one on one interviews with prospects. Before we turn our attention there as well, let's take a look at some of the key things we've learned in the past month.
Players that helped themselves
In many ways, it's hard for a player to help themselves too much at a pro day. It's more about allowing teams to confirm what they think they know about a player, instead of finding out something new. Still, there were several players that definitely benefited from the opportunity.
Few players had more riding on their pro day than Denard Robinson. As he continues to work on the transition from being a quarterback to being a receiver and running back, Robinson needed to prove that he's got the hands for the job. Robinson didn't drop a pass during the workout, and also went through running back drills as well. He's still got plenty of developing to do, but he's shown great improvement from the Senior Bowl and teams should be encouraged by his progress.
Eric Fisher has been trying to make the case that he's the best offensive tackle in this draft, and he couldn't have made a better statement during Central Michigan's pro day. Of all the pro day performances this month, Fisher's was one of the most universally well received. He displayed athleticism that few offensive linemen possess, and it's something that could help separate him from Luke Joeckel and the rest of the 2013 draft class.
He wasn't the center of attention at Notre Dame's pro day, but Tyler Eifert had without a doubt the best performance there. He didn't drop a pass and looked extremely athletic, looking smooth and effortless throughout the workout. It was exactly the sort of showing he needed to solidify his standing as a first round draft pick.
Auburn's Corey Lemonier had already proven that he's capable of rushing the passer, and his pro day workout featured a somewhat surprising focus on linebacker positional work. He reportedly looked stiff at times, but he demonstrated that he's got the ability to play in a 3-4 defense.
Checking in on the Quarterbacks
Pro day workouts are designed for a quarterback to look good. He's throwing to his receivers, in a place he's familiar with, off of a script that was put together in mind to showcase his talents. Because of that, most of the reports from the quarterback workouts should be taken with a grain of salt. Still, with that in mind, there were some interesting things to note in a tight quarterback class.
EJ Manuel was able to show off a strong arm, but his mechanics still looked stiff and tight in general. He was very accurate during the workout, and he's got the potential to be a good NFL if he can smooth things out a bit.
Matt Barkley's work out saw widely varying reviews. One of the biggest downsides to the day was the confirmation that Barkley simply doesn't have a big arm, and forced his receivers to adjust to the ball too many times on deep passes. That was a known issue prior to the workout, however, and outside of that he reportedly had a good showing.
Ryan Nassib got the opportunity to workout in front of representatives from almost every NFL team at Syracuse's pro day, and while major media outlets aren't putting much stock in the possibility that he could be drafted very early on, NFL teams are clearly interested in him and after a good workout there's a chance he could be a surprise early selection.
In spite of that, Geno Smith still likely remains to be the first quarterback selected after a solid pro day at West Virginia. While Smith didn't particularly wow anyone, he avoided any bad surprises as well. The reality is that that's probably all he needed to all but lock up his place as the top quarterback in this class.
Players that hurt themselves
Michigan State defensive end William Gholston had a disappointing combine performance and needed to show during his pro day workout that he's more athletic than he showed in Indianapolis. Instead, he unfortunately picked up where he left of at the combine. He ran a 5.0 forty yard dash at Michigan State's work out and according to Russ Lande, the most concerning aspect of the workout may have been Gholston's low level of intensity during the pro day. In a crowded defensive end class, Gholston continues to his slide.
We already knew that Wisconsin running back Montee Ball's stock had dropped significantly since he was once regarded as one of the top running backs of his class. Because of that, it might not be entirely fair to say he hurt himself during his pro day.It was still surprising, however, when not one running back coach was in attendance at the workout. It was yet another disappointing moment for Ball in the pre draft process, although by all accounts he had a solid performance.
Matt Elam has tried to shake a reputation as being a player that will likely be constrained to playing as an in the box safety in the NFL. Unfortunately for the former Gator, Elam just wasn't able to show the speed and hips necessary to be consistent in coverage. It's likely a team will fall in love with his aggressive style of play, but he's not going to be drafted early because someone loves his measurables.
Jarvis Jones already had teams worried about the diagnosis of spinal stenosis. Now Jones will have to answer for a poor pro day performance as well. Jones hasn't ever been viewed as a relatively great athlete, but the times he put up in the 40 (4.9 seconds) and vertical (30 ½ inches) were still surprisingly poor. His work in linebacker and pass rushing drills showed very little explosion, and for the most part it was a day that Jones will probably be eager to forget.
Key Medical Checks
Marcus Lattimore, while unable to go through a typical pro day workout while recovering from his knee injury, may have been one of the better stories of the month. The workout he was able to go through in front of scouts garnered a round of applause and adds another chapter to what will hopefully be a story with a happy ending for the running back.
Lattimore wasn't the only player to clear a big hurdle in coming back from injury. Cincinnati's Walter Stewart suffered a serious back injury in 2012 and wasn't even allowed to participate in workouts at the combine. He did work out at the Bearcats' pro day, however, and still has a shot at getting drafted.
Star Lotulelei didn't have a particularly great workout, but the simple fact that he was medically cleared to fully participate was a huge win in itself. Teams will likely give him a pass for not being 100% in shape due to all of the medical concerns he's been dealing with, and his stock likely recovered some from the hit it took in Indianapolis.