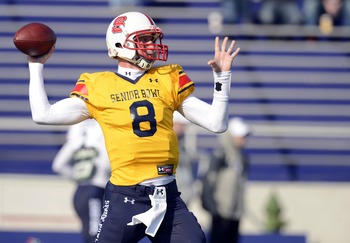 For the second year in a row, I (and Josh Norris) was able to get access to the "XOS Film Room", which does a fantastic job of compiling all of the video of practices for NFL teams at and after the Senior Bowl event.
Last year, I worked on a statistical breakdown of all of the quarterbacks, and the results were far more accurate and telling than I even gave them credit for. You can find them HERE, but it graded out as Russell Wilson being far and away the best quarterback mentally, followed by Brandon Weeden and Kirk Cousins.
Those results, as well as my film room review of Brandon Williams, Datone Jones, Ezekial Ansah, Dwayne Gratz, Jamar Taylor, Montori Hughes, Michael Buchanan, and Jonathan Cyprien.
"Progression Analysis" of the Senior Bowl North QBs
Unfortunately, I could only get to the North QBs (it's a long process), and thankfully had Josh Norris of Rotoworld.com to help breakdown the quarterbacks. This system is far from full proof, but I use eye vision, pre-snap reads, and timing of drop steps to get into the minds of the quarterbacks and how comfortable they are in making progressions. Here are the results:
1. Mike Glennon, NC State
-30 drop backs, 2 fumbled snaps, 4 "useless snaps"
-28 throws, 1.4 progressions made on average
-74% correct reads made, 14 % incorrect reads
–5 elite ball placement, 2 poor ball placement throws
-1 "sack" from his decision making
Notes: Upon further review, Glennon was the best quarterback on the North Roster, and maybe overall at the Senior Bowl in terms of reads, accuracy, and touch. He didn't make a poor read all of the second day, and just one on Day 3. He had some elite deep throws, including 4 elite throws on Day 3, three of which were easily the best throws of the week from any QB, North or South. However, his slow feet, lacking foot speed when asked to move laterally, slow movement on rollouts/off play active, and stiff hips that give safeties time to recover as he switches field are still concerning. He won't be moving on our board at all from this week, but he proved why some see him as the draft's best quarterback.

2. Ryan Nassib, Syracuse
-26 drop backs, 1 fumbled snap, 2 "useless snaps"
-23 throws, 1.4 progressions made on average
-76% correct reads made, 16% incorrect reads
-4 elite ball placement, 2 poor ball placement throws
Notes: An up and down week for Nassib, he struggled on Day Two the most, which is probably when many online evaluators questioned him entirely. He didn't make a poor read all of Day One, actually progressing the smoothest of any of the three quarterbacks for the first day. He consistently used his eyes to move the safety and anticipate/switch fields the best of the three quarterbacks. Also, his footwork and quickness in his drops/to adjust his vision was clearly the best and most controlled of the three quarterbacks. All of his "elite ball placement" throws were on Day Three. The biggest concerns from the week are on his deep balls, but after reviewing his velocity, I don't think it's his velocity. I think some of it stems from his over the top release, which he's forced to adjust when throwing past 30 or so yards, as he needs to dip his shoulder which causes him to put too much air underneath his throws and making it more difficult to pinpoint his throws.

3. Zac Dysert, Miami (OH)
-29 drop backs, 1 "useless snap"
-28 throws, 1.4 progressions made on average
-64% correct reads made, 22% incorrect reads
-4 elite ball placement, 6 poor ball placement throws
Notes: As you can tell by the numbers, Dysert struggled mightily with inconsistency, but didn't suffer in his ability to transition his eyes to the coverage. However, two concerns he brought up this week were his poor ball placement in the short area, with passes consistently sailing, and his lackluster ability to use his eyes to read/move the safety. He doesn't switch fields at all as he scans the field, and mostly determined his throw through pre-snap/at snap reads as well as high-low reads. He didn't look bad throughout the week, but he's behind in terms of comfort-ability from the shotgun and with time to make reads. He looked better when asked to drop back/be mobile, but still didn't have the timing/vision you'd like to see.
Other Notes from Film Study
-The best player from the week, even more impressive than Central Michigan's Eric Fisher, was UCLA Defensive Lineman Datone Jones. He showed suddenness upfield consistently, playing with great pad level, driving with his legs very well, and showcasing a strong rip to disengage on the inside and out. He plays very well before contact, and his ability to both drive his blocker as well set up counters (and was surprisingly sudden laterally this week) allowed him to have success against every blocker this week, including getting the better of Fisher on 3 of 5 occasions.
-Really the opposite of Jones, Ezekial Ansah of BYU did not look the part of a Top 10 or even a 1st rounder this week. While this won't trump his film over his career as well as still being very under-developed this week, it was clear that he's not going to have NFL success consistently working from the edge and running the arc, as well not being polished with his rush moves yet. He doesn't lock to drive with his legs well, he needs to slip and disengage with his hands much better to set up rush moves despite his hands being very active. He doesn't get consistent push on the outside, and though he flashes some ability to read the tackle's leverage point, he doesn't consistently have the awareness or separation to maximize that yet. Still a work in progress, Ansah may have immediate value as 5-technique, as he covers ground well in the run game, has the length to work with, and gets his hands up well to bat down passes at the line of scrimmage.
-The most surprising stud of the day was Missouri Southern DT Brandon Williams. He showed the strongest hands, the most active hands (after Cornelius Washington of Georgia), and the most devastating rip to disengage move (after Datone Jones) of the defensive linemen. It was his polish and understanding as a rusher that really impressed. He slipped laterally well to force the lineman off balance, he timed his secondary rush move very well, and kept his leverage well throughout. He has some balance issues and didn't consistently dominate in 9 vs. 7 or 11 vs. 11 drills, but he was quietly a major "winner" of the Senior Bowl process.
–Jonathan Cyprien of Florida International made his case this week for the best senior safety, even potentially in the discussion with Kenny Vaccaro. His range, timing of his breaks, reading of the quarterback, and aggressiveness could make him one of the NFL's best free safeties. I'm looking forward to watching more film, but it's clear he has elite upside as a safety.
-Also of Note: CB Dwayne Gratz of UConn showed great press coverage ability and pinched on inside routes very well. But when asked to work vertical, he struggled to stay tight to his receiver, lost his speed too quickly downfield, and didn't turn his head to the ball very well. Upon further review, he struggled this week, despite flashing; Tennessee-Martin DT Montori Hughes showed elite first step, only behind Sylvester Williams; Michael Buchanan of Illinois plays too high initially, and needs to hit and adjust laterally better. He does flash the elite upside though, showcasing some elite spin and edge rushes at times; Jamar Taylor of Boise State has fantastic turn and run ability, recovering well after his turn; OT Oday Aboushi continues to let rushers inside of him too quickly, and waits for contact far too much. A turnstile at guard or tackle, he'll need to work on that drastically if he hopes to last in the NFL.