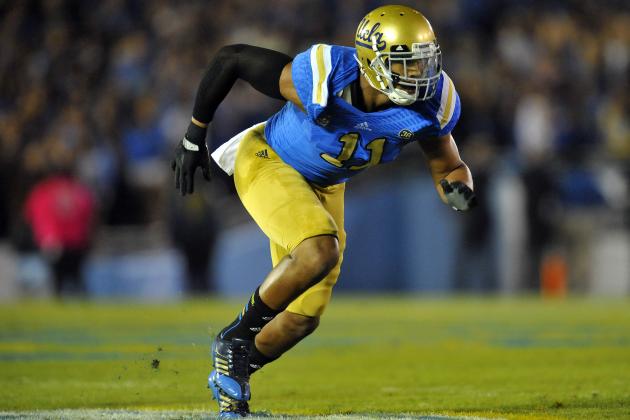 Despite free agency being at the forefront of NFL executives' minds, the NFL draft process didn't go away, and the Pro Day circuit continued on. While none of the big quarterbacks worked out for scouts, the UCLA and Michigan State Pro Days still attracted heavy interest from NFL teams.
Anthony Barr impressed scouts and showed while he's firmly in the top-10 discussion, Darqueze Dennard put up top-20 worthy workout numbers, Max Bullough answered some weight question marks and a host of other prospects impressed evaluators in attendance at the UCLA, Michigan State, Temple and Uconn Pro Days.
The feature attraction of the day was UCLA's Anthony Barr, as he's a top-10 prospect for many teams around the league. After a good, not great, combine performance, Barr kicked off his day with a 4.44 electronically-timed forty-yard-dash, according to his head coach Jim Mora Jr. He also put up 19 bench reps. Both numbers improve greatly upon his NFL Combine numbers, and it's clear that he won't leave the top-15 picks, with the top-six still a legitimate option.
-Also at the UCLA Pro Day, receiver Shaquille Evans and linebacker Jordan Zumwalt posted great forty-times. Evans ran a 4.33, while Zumwalt ran a 4.61. Both players are angling to be fringe Top-100 prospects. However, both are still looking at being drafted in the 4th-6th round range, despite their workout numbers.

-At the Michigan State Pro Day, cornerback Darqueze Dennard was the player evaluators came to focus on, and he didn't disappoint. Posting a 36" vertical jump and 11'2" broad jump, he only helped his case to be a top-15 draft pick. The Steelers general manager and head coach were in attendance, and Dennard is a strong possibility for them at pick #15.
-Also for the Spartans, receiver Bennie Fowler ran between a 4.27 and a 4.35, according to scouts he spoke with, and has a chance to drafted late. Linebacker Max Bullough, who was the talk of the Shrine Game after weighing-in at 260 pounds, checked in at 245 at his Pro Day, posting a 4.69 forty-time. He may have greatly improved his stock to be back in the mid-round mix.
-At the Temple Pro Day, I was told safety Abdul Smith posted 29" vertical jump, 9'10" on the broad jump and put up 27 bench reps. He's an unlikely draft pick, but has clear athleticism to warrant a free agent pickup.
-At the Uconn Pro Day, linebacker Yawin Smallwood wasn't able to work-out much today thanks to a hamstring injury. He's a mid-round prospect, and hopefully he can work-out again before the draft without injury issues.