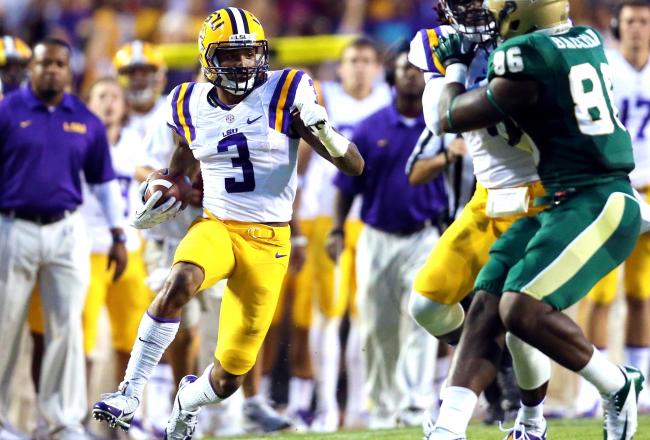 An SEC rivalry match-up, this LSU team should have little trouble getting a conference victory against the still-rebuilding Auburn team. With our top rated senior quarterback Zach Mettenberger at the helm along with this talented offense around him, he should be able to have another 1st round worthy game as he arrives into the SEC chunk of his schedule.
(JR) Nick Marshall, QB, Auburn – #14, 6'1, 210
For a player only 5 weeks into a new offensive system and making the jump from junior college to division 1A competition, Nick Marshall has grown at an accelerated rate from his week 1 start versus Washington State to his most recent win against conference opponent Mississippi State. After playing his freshman season at defensive back with Georgia, Marshall was dismissed from the program after reportedly stealing from a teammate. Forced to transfer down to the junior college level, Marshall started for Garden City Community College in the Jayhawk Conference and threw for over 3,000 yards, ran for over 1,000 yards and scored a total of 37 touchdowns. Parlaying the situation into a scholarship at Auburn, Nick Marshall not only is an athletic and dangerous ball carrier but also sports a cannon for an arm. From a physical attributes perspective, Marshall looks, moves, and throws like a younger, less refined Michael Vick. Marshall possesses an effortless and fluid throwing motion that allows him to easily make all the throws, however, timing and chemistry in the vertical game have led to missed opportunities this season. As a 6'1 passer, Marshall has struggled with his release point and trajectory on level throws over the middle of the field, leading to pass deflections at the line of scrimmage. Still, Marshall's pure arm talent allows him to attack the deepest areas of the field and forces the opposing secondary to respect the vertical passing game. With his confidence building in each successive game and the playbook starting to open up, Marshall is certainly a prospect worth taking a look at on Saturday night.
(JR) Tre Mason, RB, Auburn – #21, 5'10, 205
Leading the team in carries and total offensive touches, Tre Mason is the primary ball carrier for Auburn. Patient to allow zone blocks to develop and explosive in cutting upfield, Mason can gash opposing defenses by cutting across the grain or simply hitting runs through the open lane. Mason can be sudden in tight quarters and elusive in the open field, but should not be mistakenly labeled "quicker than fast". Excelling as a kickoff returner, Mason has the long speed to take any run the distance.
(JR) Corey Grant, RB, Auburn – #20, 5'11, 205
Despite taking 15 fewer handoffs than Tre Mason, Corey Grant has led this team in rushing by averaging nearly 10 yards a tote. Replacing speedster Onterio McCalebb from a year ago, Grant has the elite speed and explosive qualities to create yards for himself on a variety of sweep run designs to the sideline. Not as much of a straight-line athlete as McCalebb, Grant may present the most upside as a running back prospect due to his ability to cut vertically on outside pressing runs and break arm tackle attempts from alley defenders. Grant can and will deliver contact to defenders as he's nearing the sidelines, but he brings a homerun hitting aspect to this three-headed rushing attack.
(JR) Cameron Artis-Payne, RB, Auburn – #44, 5'11, 210
The third member of Auburn's rushing attack, Cameron Artis-Payne looks the part of a Maurice Jones-Drew or Ray Rice ball carrier in terms of build and skill set. Running a low center of gravity and impressive contact balance between the tackles, Artis-Payne refuses to go down on first contact and possesses the leg drive to move the pile. Having only received 6 rushes a week ago, the Tigers will look to get him more touches against LSU.
(JR) Sammy Coates, WR, Auburn – #18, 6'2, 201
While Coates leads his team in receiving, his numbers could and should be much greater, as quarterback Nick Marshall has misfired on multiple vertical throws directed #18's way. Consistently getting behind opposing defenses with his long speed and able to come down with contested targets thank to his ideal frame, Sammy Coates has the size and speed element to intrigue NFL evaluators as an early mid round prospect. Look for his production to increase as Nick Marshall further develops in this Auburn offense.
Dee Ford, DE, Auburn – #30, 6'2, 240
In his return from a left knee strain that kept him out of Auburn's first two games of the season, Dee Ford made his presence felt by recording 6 tackles and forcing two quarterback pressures versus conference opponent Mississippi State. Filled out and muscular throughout, Ford looks the part of a 3-4 outside linebacker conversion and has the movement skills to successfully make that switch. Able to run tackles wide with a speed rush and bend the arc, Ford presents natural pass rush ability to NFL evaluators. In preseason evaluations, Ford was not a very good run defender at the point of attack, which led to a late round draftable grade. From just one game however, it appears Ford has focused heavily on improving his take-on technique and strength against the run. Should he stay healthy and continue to win off the edge, look for Ford to raise his draft stock significantly.
Other Auburn Notes:
Junior center Reese Dismukes (#50) and right guard Chad Slade (#62) are solid underclassmen prospects, but will be facing a pair of potential top round players in LSU's Anthony Johnson and Ego Ferguson at defensive tackle. This high-flying offense won't get off the ground if Dismukes and Slade can't handle their business on the interior.
Senior corner Ryan White (#19) was a relative unknown commodity until recently, as his play in the wake of starter Chris Davis' injury has opened the eyes of scouts. White is a former high school quarterback that holds on extra points, runs the swinging gate formation on two-point conversions, and starts as Auburn's primary field cornerback. Displaying the quick twitch and aggressive traits to make it at the next level, White will be tested mightily against Odell Beckham Jr., who leads the nation in all-purpose yardage. White's performance in this game could go a long way in determining whether or not he has a chance at earning a late draftable grade.
As noted earlier, starter Chris Davis has been out with an injury and is questionable for this week's game, so I'd anticipate junior Robinson Therezie (#27), Auburn's top cover defender to defend LSU receiver Jarvis Landry.
Junior tight end C.J. Uzomah (#81) flew under the radar entering this season, but performed admirably in last week's win by coming down with multiple contested receptions over the middle of the field and the game-winning touchdown off a double move route. Auburn's coaching staff is starting to realize his potential as an athletic, 6'4, 260 pound target, and have begun lining Uzomah all over the field –placing him at the H-Back position, in-line at tight end, off-the-line as a slot receiver or outside as a receiver.

Zach Mettenberger, QB, LSU – #8, 6'5, 235
Our top rated senior quarterback entering the season, Zach Mettenberger hasn't disappointed through the first three weeks of the college football season. With the addition of new offensive coordinator Cam Cameron, the LSU offense has become noticeably less predictive and more explosive. Cameron has shown a tendency to open a new set of downs with play action concepts and has given Zach quite a bit of autonomy to audible at the line of scrimmage. Mettenberger still hasn't nailed down his deep ball placement on a consistent basis, but he's as lethal as they come in completing drive passes between 10-25 yards downfield. In my preseason evaluation, Mettenberger consistently threw away from leverage when faced with tight man coverage and 2013 hasn't been different; trusting his receivers to finish the catch and driving tight window throws with authority, Mettenberger has an outstanding arm to complete all the throws in the book.
(JR) Odell Beckham Jr., WR, LSU – #3, 6'0, 193
It would an absolute crime to note Mettenberger's improvements and not point out how remarkable Odell Beckham Jr. has played so far this season. Leading the country in all-purpose yards, Beckham has been able to create big plays as both a receiver and returner. With massive mitts and exceptional body control at the catch point, Beckham Jr. plays far bigger than his listed 6'0 frame. Capable of playing inside or outside, winning vertically or underneath, and dangerous after the catch, OBJ brings a complete skill set to the table and could potentially be a top 40 selection when all is said and done.
(JR) Jarvis Landry, WR, LSU – #80, 6'1, 195
LSU's primary possession receiver, Landry has actually transitioned into more of a slot receiver role than teammate OBJ. Landry plays quite a bit like a younger, more explosive Anquan Boldin, with strong hands at the catch point and quick-twitched movements after the catch. Winning with strength, savvy and crisp pass catching skills, Landry consistently comes away with contested passes and is unafraid to work the middle of the field. Long speed is solid, not spectacular with Landry, but his high level of consistency and ability to make defenders miss after the catch will make him a highly sought after possession target at the next level.
(JR) Anthony Johnson, DT, LSU – #90, 6'3, 294
Anthony Johnson, nicknamed "The Freak" by teammates, is truly a gifted athlete and playmaker on the interior. Johnson showcases a plus first step and snap awareness to gain a jump off the line of scrimmage. In playing the run, Johnson takes on blockers with a balanced anchor, operates with ideal leverage and can disengage to either side to finish tackles in the backfield. Johnson avoids low blocks, pursues with great effort and shows up on every snap. For NFL teams, this guy can start as a shade nose or 3-technique, and should be a playmaker on the interior for many years.
(JR) Ego Ferguson, DT, LSU – #9, 6'3, 309
Another massive player on the interior for LSU, Ego Ferguson may project equally as high as teammate Anthony Johnson. Thick bodied with a barrel chest, heavy hands and strong arms, Ferguson is surprisingly fleet of foot. Defeating pass sets with arm-over swim moves and lateral quickness, Ferguson has lived in opponents' backfields through three games. In addition to attacking blockers with power and quicks, Ego Ferguson shows a developed understanding of pressure points and how to efficiently disengage into position.
Craig Loston, S, LSU – #6, 6'2, 209
After a rough week one performance chock full of missed interception opportunities and multiple poor angles in pursuit of the ball carrier, Craig Loston suffered a lower leg injury that caused him to sit out of LSU's most recent win versus Kent State. Listed as questionable this week to open conference play against the Auburn Tigers, Loston won't be eased back into play this week, as Auburn's tight end C.J. Uzomah has the size-speed and ball skills to present a nice mismatch across the field. Loston, more than any other LSU defender, needs a bounce back performance and will have to be more sharp with his pursuit angles against an up-tempo, spread based attack that utilizes the entire width of the playing field.

Other LSU Notes:
Senior receivers Kadron Boone (#86) and James Wright (#82) were hoping to use 2013 to elevate themselves into draftable positions, but both are now fighting for playing time. Both Boone and Wright have ideal body type measurables, yet neither present any plus skill for NFL teams. The two have made the most of their snaps and have impressed with dominant blocking skills on the perimeter, which is pleasing to see for scouts.
As for players that have emerged in 2013, left tackle La'el Collins (#70) has transformed from a power-scheme offensive guard into a very legitimate offensive tackle prospect. Ending defensive ends once his hands engage, Collins has overpowering strength at the point of attack and displays more than above average foot speed on the edge. Having faced only marginal NFL talent at defensive end to this point, Auburn's combination of freshman Carl Lawson (#55) and senior Dee Ford (#30) should test Collins' true range and ability at left tackle.
Lead blocker J.C. Copeland (#44) is as nasty and destructive a fullback you will find across all of college football. As a former defensive tackle with a violent playing temperament and explosive first step at 272 pounds, Copeland is a unique fullback prospect that NFL teams will be split on. He can reach apexed outside linebackers on stretch runs, clear open filled running lanes and protect on passing downs, making him a valuable commodity for the few teams that still use a lead blocking fullback.
Defensive end Jordan Allen (#98) has battled his way from injury and climbed LSU's depth chart to emerge as arguably the Tiger's top edge rusher in 2013. Long and athletic at 6'6, 254 pounds, Allen uses his hands well to keep his midsection clean and remain active against the run or pass. Pad height seems to be a struggle for the tall end, but he's just getting his feet wet as a starter.