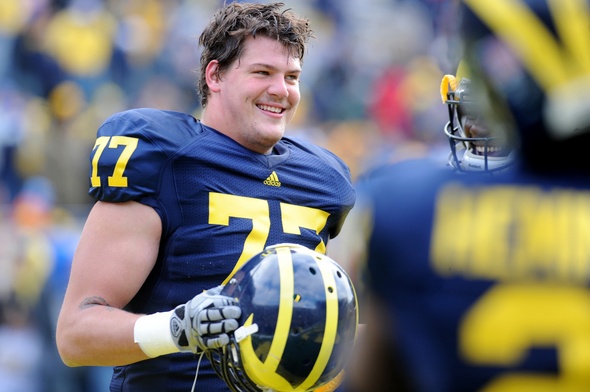 Last season, Kansas State was in the National Title discussion well up until the last few weeks of the season. Coming into this year, Michigan had BCS expectations, including knocking off "the team up north".
But the 2013 season didn't go how either team expected. Instead of playing in the Rose Bowl or Fiesta Bowl, they're forced into the Buffalo Wild Wings game where they'll hope to cap off and potentially redeem a bit of what was a struggle of a season. With talent on the offensive line for both teams and a handful of playmakers, it should be a fun battle between two talented teams and two exceptional coaches.
Taylor Lewan, OT, Michigan, #77, 6'8, 315
Despite the struggles Michigan's offense has had this year and the issues the offensive line has had as a whole, this season has been a very impressive final year for Taylor Lewan. He's impressed in nearly every game, with the exception of his on-field struggles and outburst in the Michigan State game. Lewan possesses elite size and strength across his frame, but he's able to win as a pass blocker thanks to his initial positioning and hand placement against multiple types of rushers. If his off the field issues are cleared up, his on-the-field value should make him a Top 10-15 prospect.
Jeremy Gallon, WR, Michigan, #10, 5'9, 187
Gallon hasn't been consistently productive all year, but his flashes of dominance this season have opened the door for his NFL future despite his diminutive size. While he doesn't have the length to consistently win vertically and doesn't have a wide set of routes that he's able to get separation (mostly utilized on deep comebacks and shallow drag routes), Gallon is able to extend away from his frame and gather the ball well for his run after catch options.
(JR) Jake Ryan, ILB, Michigan, #47, 6'2, 235
Coming off injury from last year, Jake Ryan has made the most of this season and has quickly regained his role as a leader of this defense. Though he hasn't been able to regain his consistency in his ball carrier lanes and as a threat as a pass rusher, Ryan is still the heart and soul of this defense, and he'll look to finish off a frustrating season for Ryan and the Michigan defense as a whole
Cornelius Lucas, OT, Kansas State, #78, 6'8, 300
Highly rated by us in the pre-season thanks to his ideal length, athleticism, and flashes of future NFL left tackle ability, Lucas has had a very hard time this year maintaining his pad level. Struggling mightily against speed rushers at times this year thanks to his struggles here, he'll get one final shot to redeem what was supposed to be his break out year. He'll have his hands full with Frank Clark attacking him in this one.
Others to Watch
Fitzgerald Toussaint, RB, Michigan, #28, 5'10, 200
Michael Schofield, OT, Michigan, #75, 6'5, 300
Quinton Washington, DT, Michigan #76, 6'4, 305
(JR) Frank Clark, DE, Michigan, #57, 6'3, 265
(RSSo) Blake Countless, CB, Michigan, #18, 6'1, 200

John Hubert, RB, Kansas State, #20, 5'9, 180
Andre McDonald, TE, Kansas State, #18, 6'8, 276
Chaquil Reed, DT, Kansas State, #98, 6'3, 309
Ty Zimmerman, S, Kansas State, #12, 6'1, 204