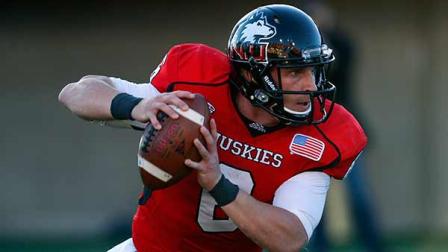 Despite hailing from two non-BCS conferences, both Utah State and Northern Illinois have gained respect as programs across the country, both for the talent they produce and the success their teams' have had in recent years.
Utah State has had multiple draft picks in the past three years, including running backs that played behind their two current stud offensive linemen Tyler Larsen and Eric Schultz. And Northern Illinois has produced NFL talent from both the offensive and defensive side of the ball, led by, for his final game, quarterback/all-purpose star Jordan Lynch.
Tyler Larsen, OC, Utah State, #58, 6'4, 315
In contention for our top ranked center prospect for the 2014 NFLD raft, Larsen has been a staple for the success this offensive line has had, leading to multiple NFL draft picks at running back and a successful offense even with head coach Garry Anderson's departure. A technician on the interior who places his hands consistently well on the interior, Larsen out-positions his initial block very well and attacks as an angle blocker very well. Moving well in a phone-booth and when attacking upfield, Larsen engages his target well and re-positions off his initial block well. He does have some issues with bigger nose tackles at times, and he'll need to showcase the ability to set and hold his anchor quickly in this game as well as at the Shrine Game in mid-January.
Eric Schultz, OT, Utah State, #66, 6'4, 308
Finishing off a career that saw him start at both guard and tackle and for all four years, Schultz will showcase his ability against a deep pass rushing unit of Northern Illinois. Quick-footed and balance on the perimeter, Schultz slides well in pass protection and picks his spots in terms of hand placement very well. Being a bit under-sized and at times a waist bender, Schultz may have trouble when rushers get underneath him or can drive him back quickly, as he relies on his quickness and hand placement to win.
Jordan Lynch, QB, Northern Illinois, #6, 6'0, 216
If Florida State had stumbled against Duke and Northern Illinois didn't against Bowling Green, Jordan Lynch may have added a Heisman trophy to his already loaded college resume. One of the most productive dual threat passers over his career in NCAA history, Lynch now has one final game to show that he has NFL talent, as a passer and/or a general athlete. While his touch along the sidelines is his most translatable passing skill, NFL teams will likely continue to look at Lynch as a developmental offensive weapon, as his best position may be in an H-Back role similar to Mike Karney or Michael Robinson.
Jimmie Ward, S, Northern Illinois, #15, 5'11, 192
Able to play both corner and safety, Ward's value to this Northern Illinois team is in both coverage and attacking the ball carrier. Fluid and balanced in coverage, Ward transitions well vertically as he adjusts in coverage, both man and short area zone, and when exploding upfield in run defense. In a weak safety class, Ward has the ability to utilize this game and the eventual Senior Bowl to showcase his ability as a free safety/nickel or dime cornerback for the next level. His size and worries about a lack of a true position are the two biggest concerns for Ward.
Others to Watch:
Nevin Lawson, CB, Utah State, #1, 5'9, 190
Connor Williams, DE, Utah State, #40, 6'3, 280

(JR )Cameron Stingley, RB, Northern Illinois, #42, 6'1, 244
Joe Windsor, DE, Northern Illinois, #97, 6'0, 236