One of college football's many qualities is the fact that upsets occur nearly every weekend. True to form, we've already seen one big upset as FCS program Towson knocked off Connecticut on Thursday night to start the college football season.
UConn was the first team to get knocked off by a much smaller school, but they certainly won't be the last. In fact, there are several more games this weekend which have some major upset potential. Who else should be on upset alert Saturday?
North Dakota State vs. Kansas State
When looking for FCS teams primed to upset an FBS opponent, there's no better place to start than North Dakota State. Not only is NDSU the reigning national champion and current top ranked FCS team, but they're also the first FCS team ever to beat an FBS opponent three years in a row; beating Kansas, Minnesota, and Colorado State the past three seasons.
Kansas State clearly has a talent advantage in this match-up, but this game is far from a lock. Not only are the Bisons extremely comfortable in these sorts of situations, but the Wildcats will also have plenty of players making their first ever starts on Saturday. There are a whopping eight new starters on defense, and junior college transfer Jake Waters will be making his first start for Kansas State.
Southern Illinois vs. Illinois
The Salulkis travel to take on in-state rival Illinois on Saturday, and with a talented offense there's little doubt they'll have a good bit of confidence heading into this match up. Led by fifth year senior quarterback Kory Faulkner, SIU's offense has plenty of experience to take advantage of a younger Illinois defense.
SIU boasts a three headed attack at running back, but focus especially on junior RB Tay Willis. He's a big play threat that has SIU's coaches raving. Willis, who will also get some time at wide receiver, is going to be a focal point of the Salukis' offense. If the Fighting Illini aren't focused, Willis could carry SIU to a surprising victory.
Murray State vs. Missouri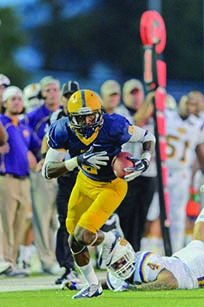 Whereas SIU brings multiple weapons to the table against Illinois, Murray State's hopes for upsetting Missouri will almost entirely be based upon the success that wide receiver Walter Powell has against the Tigers' top cornerback EJ Gaines. Powell caught nearly one hundred passes last season, including ten touchdowns. If Gaines, who is trying to bounce back from knee injury, can't contain him, it could spell trouble for Missouri.
If Powell is bottled up, that'll put a ton of pressure on former Ohio State running back Jaamal Berry. This is Berry's second season with Murray State, and he's looking to improve upon a season where he ran for 700 yards and seven touchdowns. He's unlikely to get off to a good start to the year if Powell is unable to loosen up the defense, however.
Old Dominion vs. East Carolina
For Old Dominion, 2013 will be a season of transition, as they beginning the several year process of moving from FCS status up to the FBS level of play. That's reflected in their schedule, as they face of with FBS teams like East Carolina and Maryland, as well as plenty of FCS opponets. Those FCS games shouldn't prove to be too difficult for ODU, as they're still a powerhouse. ECU will provide a much more interesting test.
There's no doubt that ODU will be able to score points – quarterback Taylor Heinicke returns to lead an offense that was the best among FCS teams in 2012 in total offense and scoring. The real question mark is the defense. Will new defensive coordinator Rich Nagy be able to turn what was an awful 2012 defense around, or will ECU be able to score at will?
Arkansas Pine-Bluff vs. Arkansas State
The match-up between Arkansas Pine Bluff and Arkansas State features two programs that have gotten very used to winning recently. UAPB is coming off a 2012 season that saw them win the SWAC Championship with a 10-2 record, and Arkansas State has had two ten win seasons in a row, as well as consecutive Sun Belt titles.
Arkansas State is heading into 2013 with a new head coach, 36 year old Bryan Harsin. Harsin was one of the most well respected young coaches in the league, but this is still his first head coaching job. While opening against an FCS opponent is usually not an extremely difficult task for most FBS programs, UAPB isn't a typical FCS opponent, and there are bound to be some hiccups in anyone's head coaching debut. Will Harsin and Arkansas State be able to overcome that and avoid giving UAPB a big win?