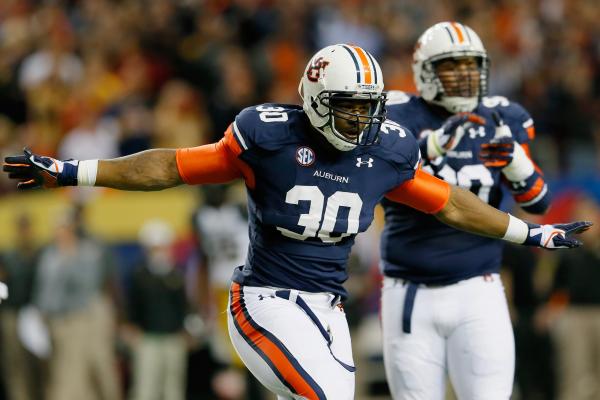 The Pro Day circuit continues on, with the second day of scheduled Pro Days featuring a handful of big names.
Khalil Mack made Buffalo a must-stop on the Pro Day schedule, and put on a 40-time show for scouts there. After not being able to test at the combine, Dee Ford did every drill at Auburn's Pro Day and certainly didn't disappoint. And while working out at Northwestern's Pro Day, quarterback Jimmy Garoppolo got the chance to throw once again in front of NFL scouts, and one NFL head coach in particular took interest.
2014 NFL DRAFT: HAGEMAN, MONCRIEF AND SAVAGE LEAD PRO DAY CIRCUIT'S DAY ONE
-The Buffalo Pro Day was well-attended, largely for Khalil Mack, and one long-standing scout reported that he ran a 4.45 40-yard dash according to ESPN's Adam Schefter, though others in attendance recorded a low-4.5 dash. He also impressed in his positional drills, including coverage and other 4-3 linebacker work.
-Receiver Alex Neutz pulled up with a tweaked hamstring after being asked to run a third 40-yard dash and ended his day. Running back Joe Oliver, who ran a mid-4.5 40-yard dash and benched 26 reps, while looking fluid and in control during positional drills.
-At that Pro Day was Marist edge rusher Terrence Fede, who tested with ideal measureables for a 4-3 defensive end at 6'4" and 278 pounds, with a mid-4.7's 40-yard dash, according to. With 25 reps, a 9'11" broad jump, a 7.02 3-cone and a low 4.4's in the shuttle, he could be a 7th-round pick.
-The Auburn Pro Day was attended by all 32 teams, and there was a lot of talent to go around. Dee Ford impressed a number of observers and may force himself into the first round with his performance—29 bench reps, mid-4.5 dash, a 10'3" broad jump, 35.5" vert and an astonishing 6.8 cone all speak to high-upside athleticism. (Thanks to ESPN The Drive 106.5)
–Tre Mason and Greg Robinson both chose to stand on their Combine numbers. Defensive back Chris Davis jumped 40.5" in the vertical, 10'4" in the broad jump and recorded a low-4.5 40-yard dash. At 5'9," the high vertical should help.
–Eastern Illinois hosted both Erik Lora and Jimmy Garoppolo, and both impressed. Lora ran a high-4.4/low-4.5 40-yard dash and showed fluidity and quickness throughout the day, according to Brad Biggs of the Chicago Tribune. He also jumped 36" in the vertical. Despite drops in the receiver drills, Lora had a good workout. Garoppolo had a heavy day of passes scripted and didn't leave many concerns from his throws. He also performed requested throws from coaches and scouts in attendance without much problem, including with Jim Harbaugh of the 49ers, according to Eric Edholm of MMQB .
-Cornerback Ricardo Allen at Purdue's Pro Day improved his Combine run of 4.61 to 4.48 Defensive tackle Trevor Pamphile improved his stock, clocking in with a below 1.7-second ten-yard split at 311 pounds and 6'4 1/2". He also had 25 bench reps, a 32" vertical and a 9' broad jump. He was fluid in position drills and excelled in that work.