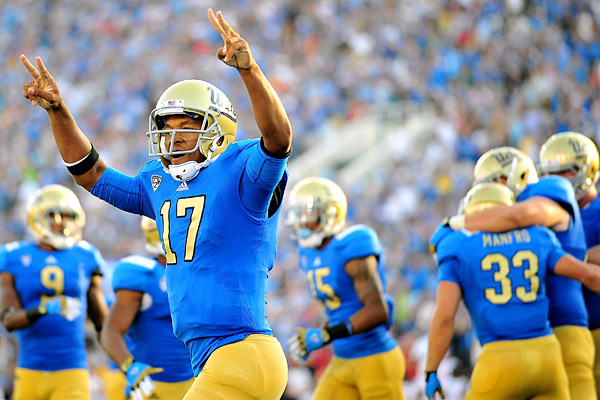 There's plenty of good college football action tonight for the night owls as well, as UCLA and Nevada won't kick off until 7 PT. Many eyes will be on UCLA's QB Brett Hundley, but there are plenty of other players to keep an eye on as well.
Several players in this late night game could very well hear their names called next spring in the NFL Draft. Who should you keep an eye on tonight?
In this west coast matchup, be prepared for a double dose of pistol read option attacks. For the Bruins, redshirt sophomore Brett Hundley (#17) is a well-known and popular commodity in the NFL Draft community. In his first season as a collegiate quarterback, Hundley set single season school records for completions, passing yardage and total offense. While in possession of plus size, athleticism and arm talent, Hundley also showcases efficiency as a passer both inside and outside the pocket. His lower body mechanics and weight transfer need correcting, particularly when pressured; however, this is a young player that has the draft stock arrow pointing up.
The quarterback on the opposite sideline is a legit NFL prospect in his own right, as Nevada's Cody Fajardo (#17) also has a dual threat makeup. Most of the Wolfpack's playbook flows from a constant mesh point between the halfback and Fajardo, with multiple quick pass concepts being packaged with the traditional inverted veer. Lost in the shuffle of the aesthetics is Fajardo's exceptional ball security and ball handling skills in this read option attack. Likely keying off UCLA's blue chipper Anthony Barr (#11), it will be critical for Fajardo to continue to excel as a distributor within this offense. As a passer, you see baseball-like aspects to his delivery –I.E. falling over the top of throws and overemphasizing the follow through. Still, he remains active with his throwing base to reset versus pressure and is light on his feet to buy time/extend plays outside the pocket. With cleaner mechanics and added experience, Fajardo will have a future at the next level.
Two of Fajardo's top receivers in senior Brandon Wimberley (#4) and junior Richy Turner (#2) will be looked to frequently, due to the fact that UCLA graduated both of their starting corners from 2012. Built and skilled in contrasting fashion, Wimberley serves as a thick, big bodied possession receiver at 6'3, 225 pounds, while Turner is a quicker, more shiftier receiver that creates after the catch. Forced to win with defenders near him at the catch point due to a lack of quick twitch traits, Wimberley's physical play and strong hands have enabled him to be productive for a long time at Nevada (164 receptions over three full seasons). Teammate Richy Turner jumped off the tape with explosive plays after the catch, as well as fearless play over the middle and in traffic.
Moving to the defensive side of the football, the afore mentioned Anthony Barr is an elite talent that opens the season as our top rated senior prospect at Optimum Scouting. As an edge rusher, Barr showcases rare body control and agility to bend the edge and run the arc in two-to-three large steps. His body type at 6'4, 255 perfectly suits him to operate in an NFL styled 3-4 defense, and his tremendous closing burst to the football make him a factor on nearly every play. Originally signing with UCLA to play halfback and playing sparingly at the position for his first two seasons on campus, Barr converted to the defensive side of the ball when Jim Mora took control of the football program. Now embracing the position and working to maximize his elite potential, Barr has a chance to climb into the top 10 or top 5 overall in next year's NFL Draft.
In addition to Barr, UCLA has a sleeper that isn't talked about enough with regards to inside linebacker Eric Kendricks (#6). Totaling nearly 150 total tackles a year ago, Kendricks abused the box score with 6 tackles going for loss, 2 sacks, 1 interception, 3 fumble recoveries and a blocked kick. Simply making plays, these two linebackers won't be difficult to find as the two combined for 232 total tackles in 2012.
Others to watch:
(JR) Xavier Su'a-Filo, OG, UCLA – #56, 6'3, 305
Shaquelle Evans, WR, UCLA – #1, 6'1, 204
Owamagbe Odighizuwa, DE, UCLA – #94, 6'3, 268
Cassius Marsh, DE, UCLA -#99, 6'4, 260
Brock Hekking, OLB/DE, Nevada – #53, 6'4, 255
Joel Bitonio, OT, Nevada – #70, 6'4, 315