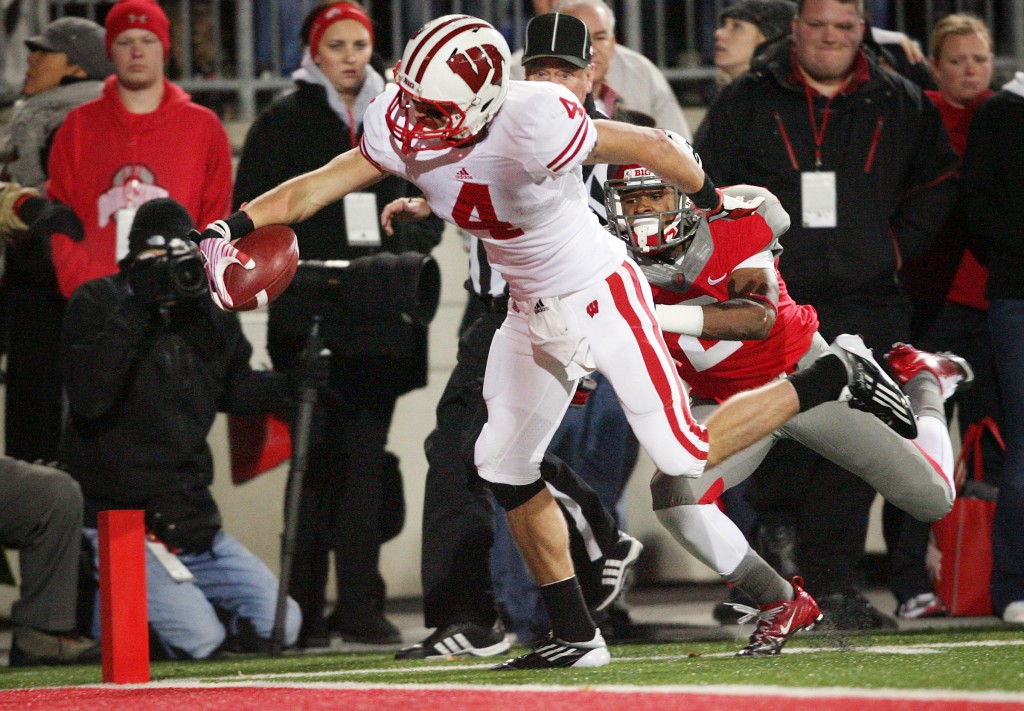 Despite an Ohio State victory, both receiver Jared Abbrederis and linebacker Chris Borland of Wisconsin posted impressive scouting performances this past weekend. Also, the SEC shootout of Aaron Murray and Zach Mettenberger gave NFL teams reason to be excited about both prospects. On the other note, a top cornerback prospect and a formerly intriguing quarterback struggled in this Week 5 Stock Watch.
Who Impressed This Weekend
Jared Abbrederis, WR, Wisconsin
Abbrederis was matched up on Bradley Roby multiple times throughout the game, and seemed to have a Roby's number all game long. Utilizing his physicality and very efficient downfield routes, Abbrederis finished with over 200 yards and a touchdown, not even considering a pass interference and holding call he forced on Roby. Abbrederis may not have elite vertical speed, but he's certainly quick enough after the catch and has is very physical throughout his route tree.
Chris Borland, OLB, Wisconsin
While he wasn't perfect all game long in terms of his positioning, and lacks the athleticism/length to make enough open field tackles, Borland played about as well he could have for his skill set and size. He positions his body very well on the interior, sinking his hips and keeping his back arched to drive through his tackles and consistently form tackle. His lack of the ideal skill set/size will limit him, but scouts were able to see what Borland could do in a 3-4 defense in the box.
Aaron Murray/Zach Mettenberger, Georgia/LSU QBs
In college football's highest ranked game this weekend, two of the best senior quarterbacks took full advantage of the national spotlight to prove their worth to NFL teams. Zach Mettenberger showed poise, composure, and consistent ball placement downfield, while Aaron Murray displayed his better-than-people-think arm strength and plus eye movement when switching fields. It wouldn't be a surprise to see both quarterbacks end up as Top 100 picks, with Murray a potential second rounder and Mettenberger in the first round discussion.
Derrick Hopkins, DT, Virginia Tech
With talent across their defensive line, James Gayle and JR Collins have gotten the most attention, but Hopkins was the feature performer of the unit against Georgia Tech. A force laterally in the run game and attacking one-on-one opportunities well, Hopkins showed why he's one of the more talented senior defensive tackles in this class. If he can continue to build on a so far solid senior season, Hopkins could rise to a potential Top 100 pick.
Brandin Cooks, WR, Oregon State (JR)
By now, he should be "rising" anymore, as he's had over 150 yards three times this year. Cooks showcased his high pointing ability in traffic, body control, open field fluidity and quickness as a runner in this past week's game against Colorado (and so far this year), and has firmly planted himself in the best receiver in college football discussion.
Vintavious Cooper, RB, East Carolina
In East Carolina's landslide upset of North Carolina this weekend, the surprise senior Cooper had his best game of the year, racking up 256 yards from scrimmage on 42 touches. On one rush, 3rd and 30 from inside the ECU five yard line, Cooper busted a 43 yard 1st down run, showcasing the balanced lower half and ability to work through 2nd and 3rd level traffic. While a suspension in the pre-season due to "on-campus drug related citation" will need to be answered, he's firmly put himself on the NFL radar.
Who Struggled This Weekend
Bradley Roby, CB, Ohio State
One of the most talented defensive players in the entire country was torn apart by Jared Abbrederis. He showcased his elite mirror ability on his shorter routes, but struggled mightily when forced to play physical downfield. He appeared over-aggressive with his hand usage, and Abbrederis took full advantage of Roby's lack of ideal thickness in his mid-section to control Roby and push him around downfield. Roby possesses the athleticism and foot quickness to be an elite man cover cornerback, but he'll need to be more effective against more physical receivers.
David Fales, QB, San Jose State
A lackluster first game against FCS Sacramento State certainly made evaluators cautious of Fales's senior season. And unfortunately, he's continued to disappoint. After suspect games at Stanford and at Minnesota, Fales was drastically outplayed by Chuckie Keaton and Utah State, and was unable to connect on enough vertically stretching throws to give his offense a consistent rhythm. Without any notable match-ups, until the last game of the year against Fresno State, Fales has severely hurt his Top 100 chances this year.
LSU Defensive Backs
As I alluded to earlier, Aaron Murray played a very impressive game in the Bulldogs home victory over LSU. However, two of his touchdowns were clear miscommunications by the LSU secondary, and as a whole the unit struggled. Sophomore Danielle Hunter and junior Antonio Johnson were very impressive in keeping Murray off balance and disrupting throwing lanes in the short area (Johnson had an interception on a delayed stunt), but senior safety Craig Loston and sophomore Jalen Mills, two of the more talented defensive backs on this roster, were up and down all day, especially when Murray tested them vertically.