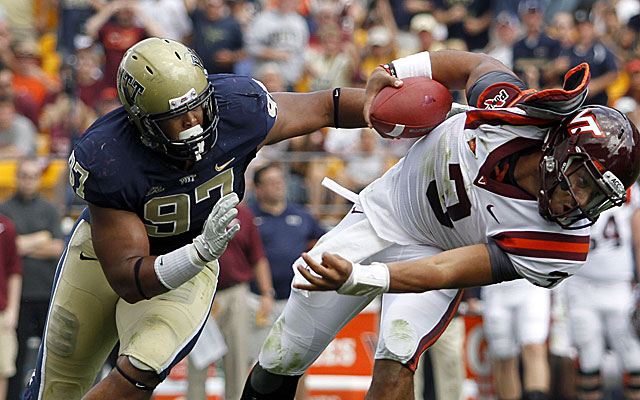 In what was a quick turnaround between practices due to the Senior Bowl's tight scheduling, scouts were forced to play catch-up after hustling from the North practice. Scouts got the chance to evaluate some of the more intriguing quarterbacks along with the superior defensive back and offensive linemen talent the North possesses.
The biggest "winners" of the first day of North practices were Josh Huff, Zach Martin, and Aaron Donald.
Quarterbacks
-It's clear that Logan Thomas of Virginia Tech possesses all the natural size, arm talent, and flashes of brilliance that scouts desire in a developmental franchise passer. And while he showcased a bit of all of those things on day one, his velocity control and placement on routine throws still plagues him accuracy-wise. Hopefully he can develop, but he could rise like EJ Manuel did a season ago if he improves throughout the week.
–Stephen Morris and Tajh Boyd both struggled on day one, and didn't help their case to be Top 100 picks. Morris has the live arm, but his placement is consistently erratic, while Boyd's lack of a big arm affected more than one throw. Expect both to have better performances and (hopefully) more flashes as the week goes on.
Running Backs
-In what was a late start to practice because of the turnaround, it was difficult to get a great read on the running backs on day one. However, both Charles Sims of West Virginia and James White of Wisconsin showcased controlled steps and the plant and drive steps upfield that scouts expected of these two runners.
Wide Receivers/Tight Ends
-Oregon's Josh Huff edged Robert Herron as the receiver of the day from the North squad. He ate up cushion quickly and he showed some savvy moves at the line to beat press coverage. He also plays up to his 5'11 200 pound frame running through physicality in his routes and setting up defenders at the top. The highlight of his day came during the team session when he executed an outstanding stop-and-go route against NC State CB Dontae Johnson, who completely bit and left Huff wide open behind him.
-Wyoming speedster wideout Robert Herron impressed with his all around explosiveness and ability to separate from defenders. He's a guy that defensive backs will have trouble running with if they don't get their hands on him when hip to hip. In person he has a lot of similar qualities to Oregon State's Brandin Cooks when looking at size and how he gets open. If Herron can win underneath on a consistent basis this week, look for him to get more attention from NFL teams.
Offensive Line
–Zack Martin was the top blocker viewed on both rosters, considering his controlled, sudden movements off the snap and refined hand usage. He establishes positioning early, maintains a squared relationship to his target, delivers accurate strikes and resets to direct the point of attack.
-Although he was benched at one point this season, Seantrell Henderson wowed with his foot speed and mirroring skills versus speed rusher Michael Sam. Kicking out to protect the arc and redirecting towards the LOS when Sam countered back inside, Henderson displayed his talented skill set in a big way.
-Tackle Jack Mewhort handled UNC's Kareem Edwards with fair ease during one-on-one drills, keeping his shoulders and waist in correct positioning through his kick slide and delivering a strike to set the point.
-Utah State center Tyler Larsen made a strong impression with his ability to latch onto defenders and create movement inside. Larsen generates force on initial contact and can win as a belly-to-belly blocker in a man-scheme, yet his punch technique and lack of length limits his NFL projection. Receiving quite a bit of coaching today, Larsen has to be far more proficient with the timing of his strike in order to compensate for his short arms.
-Colorado State's Weston Richburg was the quickest to engage and secure a proper inside fit with his hands. He's clean with regards to technique and has firm hands at the point of attack, however his inability to dig his feet in and set the pocket could be a limiting factor in his NFL game.
Defensive Line
-Shrine game call-up Justin Ellis didn't disappoint in his first practice, defeating blockers with his patented swim move and a variety of other hand counters. Despite weighing nearly 350 pounds and being a dominant force on contact, it's Ellis' swift footwork and redirect ability that stand out the most.
-Minnesota's Ra'Shede Hageman came across as a "no nonsense", straight-line pass rusher in this practice, as he often converted his explosive first step to power. Though he pressed the pocket consistently, he struggled to break down and disengage at heel depth versus the run. He also had difficulty finishing his counter moves due to rising pad height, an obvious concern for a 6'6 defensive tackle.
-Offensive guard Cyril Richardson had difficulty containing Pittsburgh's Aaron Donald, who displayed not only quickness laterally but also the footwork to setup counter moves. Richardson relies heavily upon his upper half to stun and control blocks, and he'll need to drop his anchor lower in pass sets. As for Donald, he won with speed on multiple reps before coming back with a well timed speed-to-power move.
Linebackers
-Similar to running backs, there wasn't a whole lot to glean from linebacker drills today. However, I did notice UCLA's Jordan Zumwalt emerging as a vocal leader as well as unnecessarily "jacking up" receiver Jeff Janis. Zumwalt is one of the only true linebackers playing the spot this week for the North (after Jonathan Brown), and by comparison, could have a strong week.
Defensive Backs
–Deone Buchanan's day was very resembling to what he shows on tape. The Washington State safety showed range in cover 3 looks and was exceptional closing on the ball. His best play came in run support where he made a tackle behind the line of scrimmage after sprinting 15 yards downfield from the opposite hash.
-One of a handful of size/speed corners at the Senior Bowl, Nebraska cornerback Stanley Jean Baptiste had a strong day in both press and off man coverage. He is very physical within 5 yards and snaps his hips quickly to transition to turn and run. He also showed the make up speed and length to make plays on the ball when receivers were able to get behind him.