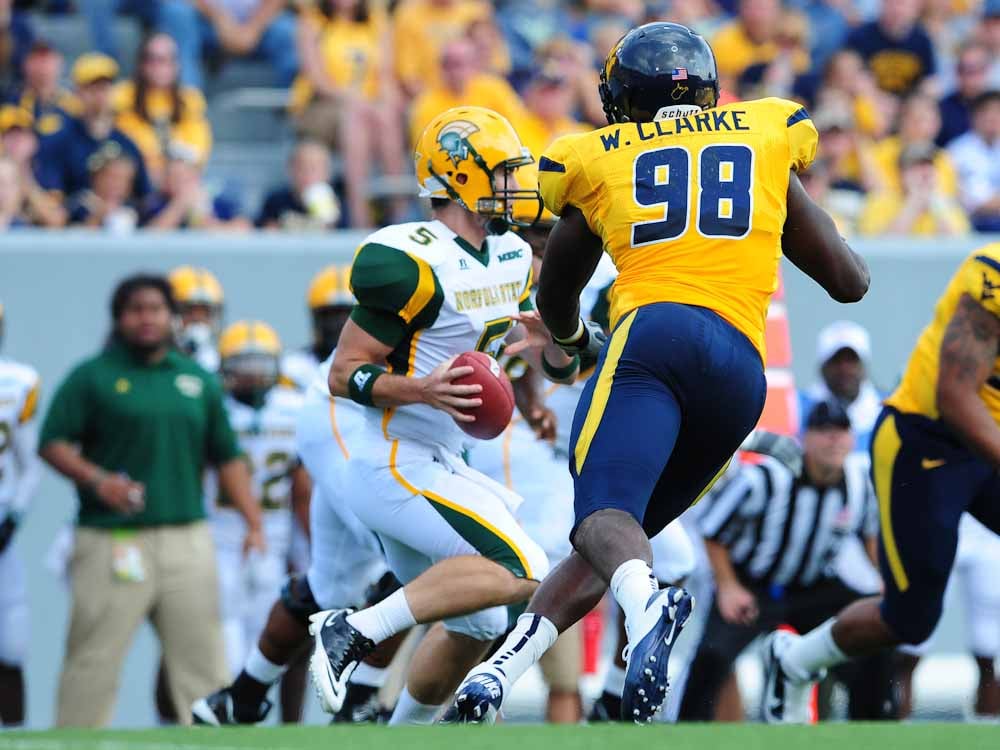 The East roster in this year's Shrine Game boasts the better quarterback, running back, and receiver talent of the two rosters, along with a handful of prospects on defense that could certainly take advantage of a big week herein St. Petersburg, Florida.
Quarterback Jimmy Garoppolo, defensive end Will Clarke, and cornerback Andre Hal headline a talented East roster that has plenty to prove this week.
Quarterbacks
1. Jimmy Garoppolo, Eastern Illinois
Easily the top quarterback prospect at the Shrine Game, Garoppolo could leave the Shrine week early to attend the Senior Bowl. A highly coveted "mid-round" quarterback at this point, Garoppolo could quickly emerge as a passer almost every team would consider in the Top 100 picks. Possessing a quick release, high IQ across the field, and the touch in the mid-range routes to attack both man and zone coverage, Garoppolo fits offenses that rely on decisive reads and accurate throws in the mid-range. He's still a work in progress and may need added development, but if he can showcase the accuracy vertically and the footwork on an NFL level, he could quickly rise to a solid 2nd round pick.
2. Jeff Matthews, Cornell
After starting the season as a high ceiling, "sleeper" quarterback, Matthews struggled this year to take the next step as a quarterback. Based on film, he still remains a project quarterback, but has ample arm strength to make all the throws and flashes the football IQ to make NFL level reads/throws, especially in the red zone. He needs ample work on his footwork, mechanics, and timing as a passer. He needs a strong week at the Shrine Game to get back into good graces with evaluators before they'll consider him with a Top 5 round pick.

3. Jordan Lynch, Northern Illinois
Lynch has been one of the best collegiate football players for the past two years, but his future lies in exactly where he fits in the NFL. While he is a very impressive athlete and has shown ability as a runner in terms of field vision, willingness to initiate contact, and the burst through contact to finish runs, Lynch hasn't shown many of the NFL tools as a quarterback that team's need to see. His biggest plus as a passer is his vertical touch, where he shows control in his mechanics and a high understanding. He'll need to show that and a strong arm this week if he hopes to continue playing quarterback.
Running Backs
1. LaDarius Perkins, Mississippi State
A compact, well-built runner, Perkins has battled through injuries this season despite his talent and past success in the SEC. His success as a running back stems from his impressive quickness and initial burst up and through the hole. While he's not an elite talent and has adequate but not imposing size, Perkins has the one-cut burst to be maximized as a rotational runner with the potential upside to be a starter if he can make the most of his talents with added vision/patience. He'll get the opportunity to showcase his 3rd down ability as a blocker/pass catcher in St. Petersburg.
2. Raijon Neal, Tennessee
A compact, successful interior runner, Neal is a big bodied power runner who utilizes his patience, consistent lean forward, and ample size to consistently churn out yards. While he lacks great top end speed, agility in space, or wide cuts in traffic, he makes up for it with his use of blockers, jump cuts with balance, and his knack to fight through and fall forward through contact. He may not be the flashiest running back in St. Petersburg, but he could certainly have the best game.
3. Zach Bauman, Northern Arizona
Wide Receivers
1. Jeremy Gallon, Michigan
After a productive yet very inconsistent senior season, the undersized Gallon will hope to prove it was the Michigan offense, and not his own abilities, that lead to his up and down season. As an under 5'10 receiver, Gallon doesn't showcase the type of route develop and versatility on film as you'd like, though part of that may have been the Michigan lack of versatility. He's polished in deep comebacks and drag routes, but he hasn't been able to show NFL separation on deep breaking or mid-field routes while in college. He'll certainly need to do so this week.
2. Allen Hurns, Miami (FL)
As Stephen Morris's best vertical receiver this year, Hurns was utilized across the field in an effort to get him involved as much as possible. Thanks to his natural adjustments of his routes to react to defenses and his route definition that effectively keeps defensive backs off balance, Hurns was able to get free multiple times this year for big play opportunities. He shows some plus burst in the open field, and keeps speed through the catch, though he could be quicker in snapping his head around and finishing catches on quicker routes.
3. Matt Hazel, Coastal Carolina
Hazel will likely be the best of the receivers on the East roster in traffic and across the middle, as he's had ample work against physical cornerbacks during his senior season along with teams doubling him. He attacks well away from his frame, timing his jumps well and utilizing strong hands to finish catches in coverage. He has a quick get-off from the snap and gathers himself well quickly in his routes, especially on the sidelines. He does seem to lack great open field elusiveness, so he'll need to show some big play ability this week whenever possible.
4. Erik Lora, Eastern Illinois
5. Ja'Mes Logan, Ole Miss
6. Parick Laird, Army
Tight Ends
1. Alex Bayer, Bowling Green
Actually being utilized as more of a blocker this season that you'd expect for a natural pass catcher, Bayer got the opportunity to showcase his blocking ability in both run and pass plays, along with catching balls himself. While he lacks great blocking strength and could lower his base more effectively, he shows development in terms of positioning, hand placement, and block pickup, all of which should be on display this week. As a pass catcher, he finishes catches very well, plucking them smoothly and keeping concentration throughout, along with adjusting in the seam very well.
2. Crockett Gilmore, Colorado State
3. Blake Jackson, Oklahoma State
Offensive Linemen
1. Zach Fulton, OG, Tennessee
Easily the best offensive lineman on the East roster, Fulton was the best Tennessee offensive lineman in a few games this year, which is saying a lot considering they boast two potential Top 50 offensive tackles. Fulton doesn't have elite pop initially, but he regains and holds his ground very well after first contact, extending away and playing under control as a pass blocker. While his hand placement and foot transitions could use work, he should have his ability as a pass blocker and as a pulling guard on display this week.
2. James Stone, OC, Tennessee
Playing both center and guard for the Voluneteers this season, Stone has more versatility but not nearly the strength or consistent blocking technique as Fulton. Stone does utilize his quickness off the snap and sudden hand explosion to get into position initially, and can win throughout his pass block when he can position his hands well initially, but he'll be tested by bigger defensive tackles this week that have shown the ability to over-power him 1v1.
3. Justin Britt, OT, Missouri
Britt doesn't possess great quickness in his kick slide or plus body control as he works downfield, but he was very efficient during his senior season to help the Missouri offense have success. Setting up with idea form in both his kick slide and hand positioning, Britt was able to have success against speed and power rushers. While he can be susceptible to quick attacks off the edge and rushers who can counter inside with strength, he looks the part of a long time pro at either tackle or guard.
4. Matt Hall, OT, Belhaven
5. John Urschel, OG, Penn State
6. Antwan Lowery, OG, Rutgers
7. Zac Kerin, OC, Toledo
8. Chris Elkins, OC, Youngstown State
9. Matt Feiler, OT, Bloomsburgh
*Laurent Duvernay-Tardiff, OT, McGill
Defensive Linemen
1. Will Clarke, DE, West Virginia
Playing (and have success) both inside and outside as a rusher for this West Virginia defense, Clarke was one of the few bright spots on a team that severely struggled this year. Clarke is best at transitioning his power laterally as he attacks as a rusher, adjusting with plus hand strength and quickness. He wins by adjusting his strength to attack blockers leverage at a high level, even keeping his feet and getting a push through double teams when he works off the edge. His quickness off the snap an ability to win both inside and outside as a rusher should make him one of the week's best defenders.
2. Jay Bromley, DT, Syracuse
Unheralded throughout the season despite his ample production, Bromley was one of the best pure pass rushing interior lineman in the country this year. He explodes off the snap initially, generates a great initial punch/push, and he holds his anchor well as he pivots to further adjust his positioning to attack the quarterback. He struggles, however, against the run, at times mightily. He'll get the chance to make up for his struggles in-season in team drills this week, showcasing a potentially improve ability vs. the run.
3. Ethan Westbrooks, DE, West Texas A&M
With quickness off the snap and plus punch initially, Westbrooks will have his two best skill sets tested this week as he faces Division 1 talent throughout practices. While his quickness and initial pop should translate, scouts will see if he can finish plays and utilizing effective counter rushers this week, something he didn't wow as much with in 2013 as he did as a junior. Still, he's one of the more talented pass rushers at the Shrine Game this year.

4. Demontre McAllister, DT, Florida State
5. Zach Kerr, DT, Delaware
6. Bruce Gaston, DT, Purdue
7. Garrison Smith, DT, Georgia
8. Kerry Wynn, DE, Richmond
Linebackers
1. Preston Brown, ILB, Louisville
The safeties Hakeem Smith (below) and junior Calvin Pryor, along with pass rusher Marcus Smith got much of the attention this year for the Louisville defense, but the active Preston Brown shouldn't be forgotten. He doesn't have great interior strength to consistently hold up against bigger blockers. Still, his activeness on the interior, explosion upfield when he has an opening, and hand usage could make him stand out in run focused drills.
2. Derrell Johnson, OLB, East Carolina
Playing primarily outside for the ECU defense, Johnson has utilized his versatility in the box and explosiveness in pursuit to have great success this season. Johnson initiates contact at a high level as a blitzer, and takes on blocks while adjusting to the ball carrier very well. While he's nothing flashy in pass coverage, and his read steps could be greatly improved upon, his role as a SAM linebacker, strength in the box as a rusher and tackling finisher, and explosiveness in multiple facets of his game, Johnson could be the star of the game on Saturday and impress in multiple team drills during the week. He could rise to be one of the favorite mid-round outside linebackers of teams, and a Top 100 pick wouldn't shock me.
3. DeDe Lattimore, OLB, South Florida
Despite being a well-built, compact linebacker, Lattimore moves as well as any in this class. Fluid in space as both a pass rusher and when dropping into coverage, Lattimore showcases quickness in pursuit as a rusher, especially the ability to sink through the edge, bend at the hips, and drive to collapse the pocket. In coverage, Lattimore doesn't have the ideal instincts yet and lacks the length to be efficient in man coverage, he does diagnose and react in zone and quick-man coverage for it not to be a weakness at the next level. He's able to have success in every key area at the position, but he'll need to wow this week in a few if he hopes to persuade teams to consider him in the Top 100.
4. Glenn Carson, OLB, Penn State
5. Andrew Jackson, ILB, Western Kentucky
6. Xavius Boyd, OLB, Western Kentucky
Defensive Backs
1. Andre Hal, CB, Vanderbilt
A physical, active cornerback, Hal was asked to play in a variety of coverages for Vanderbilt, primarily zone based. Having success in fluidity and ball skills in both Cover 2 and Cover 3 looks, Hal consistently shows the ability to finish at the catch-point when in position and transition cleanly to make a play on the ball or finish tackles in space. He is, however, susceptible to deep breaking routes, particularly comeback routes when he's asked to play Cover 3. Finally, he's a solid tackler in space, but he's not active nor physical enough to really make an impact in the run/quick screen game. He'll get a chance to test his ability against quick receivers, especially getting the chance to maximize his fluidity in his hips.
2. Pierre Desir, CB, Lindenwood
Hailing from the small school Lindenwood, Desir is a well-built, highly talented cornerback that will get a chance to show his abilities against the top receivers in the country. At 6'2, 200+, Desir has the size, length, and physicality to fit the new mold of what NFL teams want in their cornerbacks. Fluid downfield and physical across a receiver's route tree, Desir was rarely targeted his senior season at Lindenwood. Desir could leave the Shrine Game as a Top 100 pick, if not higher.
3. Hakeem Smith, SAF, Louisville
The second of two talented Louisville safeties, Smith paired with junior (and recently declared) Calvin Pryor to give the Cardinals a talented secondary. Smith is a versatile strong safety presence, but has the versatility to play as a single high safety if need be. Able to attack off the edge and finish tackles, tackling running backs/receivers shouldn't be an issue for Smith. But he'll need to show improved coverage timing and footwork if he hopes to emerge from a crowded yet lackluster safety class.

4. Tre Boston, SAF, North Carolina
Despite the North Carolina defense reeking of inconsistency this year, Boston was still able to impress as a versatily safety this season. Playing both strong and free safety responsibilities (along with special teams) this season, Boston utilize his activeness to the ball, quickness to react with what's in front of him, and fluidity to pick-up in man or zone situations, Boston showed that he can fit with versatile defenses at the NFL level. His ability as a tackler and explosive transitioning safety should allow him to stand out this week and find himself a long term home in the NFL.
5. Kenny Ladler, S, Vanderbilt
Playing centerfield for Vandy, Ladler is more of a flashing safety than one that I'd consider as a solid NFL starter early in his career. Ladler showcases the athleticism and quickness to attack in the running game and finish tackles on receivers in the mid-field, and can make plays on the ball well enough downfield. However, he gets caught out of position when asked to switch onto a receiver too easily, losing sight of the ball at times and not in ideal position to either react to the throw or transition to a run. He'll need to display improved vision and positioning this week.
6. Dezmen Southward, SAF, Wisconsin
7. Travis Carrie, CB, Ohio
8. Ricardo Allen, CB, Purdue
9. Jemea Thomas, CB, Georgia Tech
10. Ross Cockrell, CB, Duke
11. Phillip Gaines, CB, Rice
12. Nevin Lawson, CB, Utah State