Taking a closer look at the Big 12's draft eligible quarterbacks, four signal callers, Robert Griffin III (Baylor), Landry Jones (Oklahoma), Ryan Tannehill (Texas A&M), and Brandon Weeden (Oklahoma State), have proven to be in a class of their own. Each of the mentioned quarterbacks should hear their names called no later than the end of Day 2 of the NFL Draft.
Now it is important to note that the first two quarterbacks mentioned, Robert Griffin III and Landry Jones, are both Redshirt Juniors and still have yet to declare for the draft. Barring unforeseen circumstances or injury, both Griffin and Jones will likely be 1st round draft picks. So assuming that both players continue their excellent seasons, let's dive into how each of these players, as well as the seniors Ryan Tannehill and Brandon Weeden, fit into the upcoming draft, their strengths, weaknesses, and overall skill set as it translates to the next level.

Robert Griffin III, Baylor, RS JR, 6'2, 220 lbs
My highest rated quarterback in the Big 12 is Robert Griffin III. Griffin, put up ungodly statistics through the first 9 games of the season; 3rd in total quarterback rating with a 190.7 rating, RGIII has completed over 75% of his 232 throws, and sports a 23:2 TD:INT ratio. Statistics aside, what has been even more impressive is the incredulous improvements from last season to this year.
Entering this season, I had trouble giving Robert Griffin III a 4th round grade. His lack of fluidity and feel inside the pocket, coupled with inconsistent ball placement on the deep fade, inability to progress from target to target in his reads, lack of confidence in his previously torn ACL from the season before, and his throwing mechanics as a whole, scared me to death as a talent evaluator. Griffin's athletic prowess, impressive character and leadership made him a must draft player nonetheless, but I still had my doubts in his ability under center.
Griffin wasted no time in winning me over as a believer, as he torched the TCU secondary in the season opening game. Griffin showcased elite arm talent, driving the football impressively outside the numbers, perfectly placing his "bucket throws", and was razor sharp with his accuracy on the deep fade route. In stark contrast to his play last season, Griffin consistently stepped into his throws, getting on top of the football and consistently spun a clean ball. There were 4 specific throws, all further than 40 yards (in air) and outside the numbers, which showed RGIII had stepped his game up to an elite level. This sample size has since been the precedent for Griffin's unprecedented season.
Mechanically, Griffin's throwing motion is quick, rapid, yet elongated and upright. From separation to release, Griffin's throwing motion is quicker than a hiccup. Resets his hips, shoulders, and feet very quickly to make catch and throw passes outside the numbers. Everything about RGIII is rapid and fast flowing, from the offensive tempo, to his throwing mechanics. Built like the NCAA hurdling champion he is, Griffin possesses long arms, long legs, and a lean build. As he sets into throws, Griffin's length provides "a lot of body to hit" so to speak. He stands tall in the pocket and doesn't bend much into his throws.
As mentioned earlier, the most impressive part of Griffin's game this year as opposed to last, is his emergence as a great deep ball passer. Art Briles had been known to stick with underneath patterns, bubble screens, draws, and horizontal stretch play calling. This year, Briles has shown immense faith and trust in Griffin and has transformed the playbook into an explosive, vertical stretch passing offense. The placement and extraordinary loft RGIII is able to put on his deep vertical throws is as good as it gets. He's also able to manipulate defenders in zone by utilizing a good head and shoulder fake. In an honest evaluation, you would be hard pressed to find a better deep ball passer than RGIII.
I would be shortchanging RGIII if I left out his productivity throughout the entire route tree. Much more dynamic than in season's past, as I have discussed, Art Briles has made a concerted effort to push the ball down field. Griffin's most obvious success, the deep ball, should not overshadow the strides he has made when throwing over the middle of the field as well. Able to change velocity depending on the given route concept; RGIII keeps a tight spiral on short throws and displays soft touch on underneath drags and cross patterns. On post and dig patterns especially, Griffin has displayed the ability to drive the football accurately in traffic, placing the football where only his receiver can get it; the ball jumps/explodes off Griffin's hand at the release point, and again, he consistently spins a clean spiral.
As a runner, Griffin will begin games by probing at how the defense reacts in space, looking somewhat cautious. He seems to only run decisively whenever he feels he has to make a big play, and all passing options downfield have been exhausted. When outside the numbers or close to the sidelines, Griffin does a good job of protecting his body from contact; whether that be sliding or simply getting out of bounds. However, he really struggles to protect the ball when running within the hash marks and also allows his body to be beaten to a pulp. RGIII must learn to slide and protect his body and needs to cover up the ball when running in the middle of the field.
The biggest knock on Griffin is his mechanical and unnatural movement skills within the pocket. Griffin has not shown the natural in-pocket movements that Andrew Luck and Matt Barkley possess, leaving him just outside that top tier of quarterbacks. Now whenever he does decide to break the pocket, there is no other quarterback in college football that accelerates and explodes more quickly to top speed than Griffin. He has improved his pocket feel and footwork from last year to this year, but still has room to grow.
Landry Jones, Oklahoma, RS JR, 6'4, 230 lbs

Widely considered as the #2 or #3 rated quarterback in the country, I would currently rate Jones as the 4th best quarterback in the country behind Andrew Luck, Matt Barkley, and Robert Griffin III in that order. Comparisons of Landry Jones to Sam Bradford are unfair and unjustifiable, and need to end now. Having watched every throw this year by Jones, I am convinced he is the best, pure "arm talent" eligible for next year's draft. The throws Jones is able to make, whether fitting in between three defenders 25 yards over the middle of the field or roping a low trajectory fastball outside the numbers 40 yards down field, will undoubtedly make him a sure fire first round selection in 2012 (if he declares). The most productive quarterback in Oklahoma Sooner football history, Jones owns the all-time record in career passing yards (11,265), completions (920), attempts (1,459), and passing touchdowns (92).
Something about Landry Jones' throwing mechanics looked glaringly wrong to me when I first began evaluating him last season. Still, I could never pinpoint what that problem was. So I figured I'd make a concerted effort to break down his mechanics. The most notable feature of his throwing motion is that he tucks in his non-throwing arm at the release point, but this is something I will reference later. Landry Jones' lower body bend combined with a firm base and light feet, allow him to quickly release the football under control, on target, and with velocity. The knee bend is important to note, in that it allows Jones to get the most out of his lower body strength during weight transfer. This is where Jones excels, in getting his back half "thru" the throw. He puts great strain and force on his throwing elbow; has an ideal throwing slot, elbow is tucked in and whips hard down to his left hip pocket. One of the first very correctable issues I had, was where Jones held the ball prior to the throw. Jones holds the ball at or just below his numbers, having to wind the ball back up to his shoulder slot. This action seems to enable more velocity on throws, but slows down his entire throwing motion. Very strong wrist action and consistent follow through, Jones spins an extremely tight spiral with a high amount of revolutions. Jones doesn't pronate his left non-throwing arm forward as most quarterbacks do, as noted earlier he tucks in that arm. Another correctable issue, Jones must get his elbow pointed at his target (forget the forearm and hand) and pull that arm "thru" the throw, which will open up his hips better and utilize his front half more efficiently. Even though Jones is already one of the most impressive throwers in the country, he could, with the right coaching, develop into an even better passer.
Making most of his decisions in his pre snap reads, Jones pretty much knows exactly where he's going with the football on each and every passing down. He will stare down the safeties in order to try and open up the target he wants to go to; usually does a great job of moving the single high safety away from his primary target, but will lock into his initial read. Relies heavily upon timing, and when routes are disrupted Jones struggles to slide in the pocket to allow routes to develop. Biggest issue and concern I have is Landry Jones' lack of natural pocket feel, presence, and poise; I've always viewed this trait as innate and natural, but I could be wrong, as good coaching can go a long ways. Somewhat uneasy at the end of his drops, will press when nothing is initially open, and will force throws into tight, contested, passing windows.
When given time in the pocket, Jones is as accurate as they come, hitting his receivers in stride, on the numbers, and away from defenders. Squares his shoulders and hips to throw, and throws ball effortlessly. On the other hand, when pressured Landry Jones' accuracy, placement, and overall confidence are noticeably shaken. Is unable to slow the game down. Flustered easily by blitz pressure and accuracy diminishes as result; will panic under pressure. Has tendency to lock into his initial read as mentioned before, telegraphing his throws.
Jones is at his best when he is decisive with his throws and gets rid of the ball quickly. Has a fluid over the top delivery, and aside from the Texas Tech game, does not struggle with having passes batted at the line of scrimmage. Very similar to Baylor's Griffin III in that he runs his offense at a high tempo, with next-level timing and feel for all of his wideouts. Oklahoma's receiving corps is arguably the best in the country, featuring the most productive receiver in FBS history in Ryan Broyles. Again, Landry Jones is one of the most impressive pure passers eligible for the upcoming draft, flashing the ability to complete difficult, NFL style throws downfield with ease.
Ryan Tannehill, Texas A&M, 6'4, 222 lbs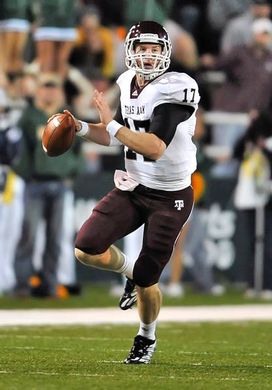 The top senior in the Big 12 quarterback class, Tannehill is the only player in FBS history to put up 3,000 yards passing and 1,500 yards receiving in his career. Equally impressive is that he is also the only player in FBS history to record 400 yards passing and 200 yards receiving in a single game (not the same game). Recruited as a quarterback, Tannehill worked very hard to win the starting job his redshirt freshman season but ended up switching to wide receiver. Accepting his role on the team, Tannehill went on to lead his team in receptions and receiving yards as a freshman, setting freshman records in each category. Still, Tannehill sought out the quarterback position, serving as the primary backup his redshirt sophomore season. Having spent essentially his entire collegiate career at wide receiver, Tannehill earned the starting quarterback job midway into last season (2010) and hasn't looked back since. Is 10-5 as the starter dating back to his first career start in 2010 vs. Texas Tech, and lost 3 games this season by a combined total score of just 12 points.
Tannehill is a big-bodied QB with great mobility, pocket presence, throws with precision on the roll, and is extremely accurate outside the numbers within 30 yards. Sports a very quick windup, holding the ball just above his numbers; a compact throwing motion and smooth delivery, everything is tightly wound, quick, and smooth flowing. Windup is so short and compact, Tannehill almost short arms or pushes the football. His throwing slot is usually dependant on how the pocket develops, but for the most part Tannehill's arm slot sits somewhere between a ¾'s position to a full, over the top delivery. Has a very live arm and is impressively accurate when throwing routes breaking out towards the sidelines –most notably the deep out and deep comeback routes. Will lock into his pre snap read much in the same way Landry Jones does, and trusts his receivers to gain separation. Timing in the quick passing game is fun to watch, as Tannehill delivers just before or right at the route break. Tannehill struggles with his accuracy and placement on intermediately "in" breaking routes, such as the dig, post, and curl. Although he delivers the ball on time with good velocity every throw, Tannehill will throw to the spot or route as opposed to the actual receiver; needs to determine the leverage played by the man in coverage/ or the zone "holes" and do a better job of throwing his receiver open. Great timing, anticipation, and feel for the short to intermediate passing game make Tannehill an ideal west coast offense quarterback.
This quarterback's greatest asset is his accuracy on the roll; Tannehill does a nice job of consistently squaring his shoulders at the target, hitting his receivers on the numbers and simply delivering catchable passes on a consistent basis. Well balanced and light on his feet, Tannehill sets and fires passes outside the pocket with great comfort and confidence.
As impressive as Tannehill is outside the pocket, it is more important to note his poise, feel, and ability to move from within the pocket. Tannehill slides effectively in and out of the pocket, manipulating throwing lanes and avoiding the pass rush, while keeping his down field. Has internal clock on when the ball needs to leave his hand, yet does a good job of adjusting post snap to allow his receivers to get open.
Brandon Weeden, Oklahoma State, 6'4, 218 lbs

The true "senior" of this class so to speak, Brandon Weeden recently turned 28 years old, is a former MLB pitcher (minor league level), and a married man. The biggest reason Weeden is not considered a top round quarterback prospect, is the fact that he inevitably is 28 years of age. What most people quickly forget however, is that Hall of Fame quarterback, Roger Staubach didn't step foot on an NFL field until he was the ripe age of 27. I'm not saying… I'm just saying.
Possessing arm talent that rivals Landry Jones, Brandon Weeden does an excellent job of setting his feet to the throw, transferring his weight while staying balanced, and finishing his throws. More specifically, he points his shoulders and elbow to his target and torques his left upper body all the way thru the throw. Really follows thru with his throwing hand exceptionally well, and remains balanced throughout his motion. Throws with a ¾'s delivery and arm slot. The ball jumps off Weeden's hand with incredible velocity, and he truly can make any throw on the field. Will take his chances with the football, forcing the ball into double, sometimes even triple coverage.
Weeden deciphers post snap information quickly and decisively; able to progress through multiple reads with efficiency and always knows where his check down is. Delivers a very catchable ball and hits his receivers in stride. Can change velocities without any lost accuracy, showing good touch on underneath/crossing patterns. Anticipates route developments very well and displays superb ball placement on all throws across the field. Weeden is especially effective at driving deep post and deep fade patterns. A pure pocket passer in every sense of the word, Weeden can slide when he has to, but generally has a hard time dealing with blitz pressure. Is a great athlete but lacks great mobility or movement skills to make tacklers miss and pick up yards on the ground. Has natural arm strength, a smooth delivery, quick release, and impressive velocity on his throws.