Now that the season is fastly approaching, we take a look at each conference for where the teams may stack up, who are the best at each positon, some of the storylines to watch, and some of the top talents for the 2010 NFL Draft.
Contributions by: Dylan Gwinn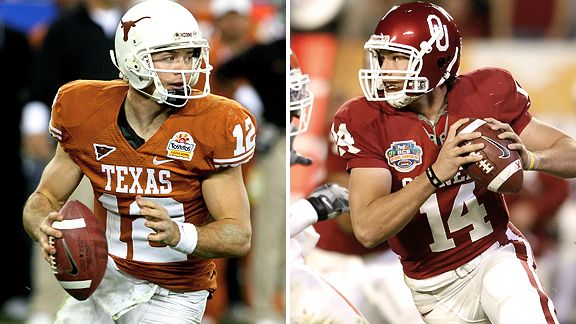 | | | |
| --- | --- | --- |
| | Projected Final Standings | |
| | North | |
| 1. | Kansas | 8-4 |
| 2. | Nebraska | 7-5 |
| 3. | Colorado | 7-5 |
| 4. | Missouri | 5-7 |
| 5. | Kansas State | 4-8 |
| 6. | Iowa State | 2-10 |
| | | |
| | South | |
| 1. | Texas | 11-1 |
| 2. | Oklahoma | 11-1 |
| 3. | Oklahoma State | 10-2 |
| 4. | Texas Tech | 8-4 |
| 5. | Baylor | 7-5 |
| 6. | Texas A&M | 5-7 |
Pre-Season All-Conference:
QB- Sam Bradford, Oklahoma, Jr.
RB- Demarco Murray, Oklahoma, Jr.
RB- Kendall Hunter, Oklahoma State, Jr.
WR- Dez Bryant, Oklahoma State, Jr.
WR- Jordan Shipley, Texas, Sr.
TE- Jermaine Gresham, Oklahoma, Jr.
C- Chris Hall, Texas, Sr.
OL- Trent Williams, Oklahoma, Sr.
OL- Russell Okung, Oklahoma State, Sr.
OL- Adam Ultoski, Texas, Sr.
OL- Brandon Carter, Texas Tech, Sr.
DE- Sergio Kindle, Texas, Sr.
DE- Auston English, Oklahoma, Sr.
DT- Gerald McCoy, Oklahoma, Jr.
DT- Ndamkong Suh, Nebraska, Sr.
LB- Sean Witherspoon, Missouri, Sr.
LB- Travis Lewis, Oklahoma, So.
LB- Joe Pawelek, Baylor, Sr.
CB- Perrish Cox, Oklahoma State, Sr.
CB- Dominique Franks, Oklahoma, Jr.
S- Earl Thomas, Texas, So.
S- Darrell Stuckey, Kansas, Sr.
Intriguing Story Lines:
1. Colt McCoy vs. Sam Bradford
The debate will rage on throughout the season. Would you rather the strong armed, prototypical NFL looking quarterback who in the consistent pocket passer, or the gutsy, shifty quarterback who's accuracy is already drawing comparisons to NFL elites? Both have their cases for the Heisman, both have their cases for the top quarterback in college football. But, odds are, the Heisman, the quarterback ranking, and the chance to go the BCS title game will be decided Oct. 17th when these two commanders lead their charge in the Red River Shootout.
2. Oklahoma State Trying To Compete with OKL, TEX
While the Big 12 will be dominated, at least for one more year, in the headlines by Texas and Oklahoma, the third best team in the Big 12, and one of the best in the country, should be trying to make a name for themselves this season. The Oklahoma State Cowboys, lead by athletic QB Zac Robinson, quick RB Kendall Hunter, tremendously sized WR Dez Bryant, and devastating block LT Russell Okung, sure have the horses (and the NFL Draft prospects) to give both Oklahoma and Texas a run for their money. The odds of beating both, as well as Texas Tech, are very slim, don't be shocked if they upset one of the two, end the season with 1 or 2 losses, and be in the mix for a BCS game.
3. Big 12 North Less Talented, Much Tighter
The Big 12 South has 3 teams in the Top 10, along with last year's surprise Texas Tech and the quietly emerging Baylor. The North however, lacks a clear cut favorite, but has the four top teams in the mix for a shot to play in the Big 12 title game. Kansas and Missouri have been there in the past, and should start the season as the favorites to have the right to face Oklahoma or Texas (or Oklahoma State). However, Nebraska, under coach Bo Pelini, has the track record and now the defense to really make a case and attempt to begin the revival of the once dynastic Cornhuskers tradition of winning. Also, Dan Hawkins (former Boise State head coach who made them the power they are now) is in the midst of a very crucial season. He has his son, the very talented and quietly impressive quarterback, Cody Hawkins at the helm, and solid depth at running back and along the defense. He really needs to show the Buffalo boosters and fans that he can lead this team from their recent 5-10 year slump. 
End of the Season Awards:
MVP: Colt McCoy, QB, Texas
Offensive Player of the Year: Sam Bradford, QB, Oklahoma
Defensive Player of the Year: Joe Pawelek, LB, Baylor
Newcomer of the Year: Christine Michael, RB, Texas A&M
Surprise Player of the Year: Cody Hawkins, QB, Colorado
Top 5 NFL Prospects for 2010 Draft
1. Gerald McCoy, DT, Oklahoma
After being named the " 2008 Big 12 Defensive Player of the Year," by the Dallas Morning News. Gerald McCoy will have plenty of expectations heading into the 2009 season. In fact, some 2010 mock drafts have him going as high as #1 overall. Gerald packs incredible agility and speed, into a 295-pound frame. Which he uses to stunt and twist along the offensive line, and even drop back into coverage on the zone blitz, as Tim Tebow found out when Gerald picked him off in the national championship game. Coupled with his ability to run down tailbacks in space, Gerald plays like a more athletic Tommie Harris. His name will not be on draft boards for long in April. 

2. Sam Bradford, QB, Oklahoma
When you think of Sam Bradford, you don't think of a fringe 3-star prospect out of high school who wasn't highly thought of and never mentioned on ESPN's coverage of the prep madness. Yet, through some Rhett Bomar luck and his quarterbacking ability, this recruiting afterthought has become a Heisman winner and fighting for the top QB spot in the draft. Bradford has the size, at 6-4, 218, the arm strength, displayed all season last year, and the resume-50 TDs and a Heisman win. However, in the two most meaningful games in his college career so far, this season vs. Texas and vs. Florida in the BCS title game, Bradford didn't look the part of a Top overall pick. He'll need to win at least one big game this year, and show more confidence in his throws and his plays this season if he hopes to fend off Jevan Snead or Colt McCoy.
3. Russell Okung, OT, Oklahoma State
A guy who could have been a Top 10 pick a year ago in the draft, Okung has the perfect build, just over 6-6 and a trim, tone 305, and athletic ability to be a future left tackle in the pros. His pass rushing technique is near-flawless, which has scouts gushing with complements for the Oklahoma State product. If he can play well and consistent against the likes of Oklahoma, Texas, and Georgia, Oklahoma State's hardest games, then he could vying for a Top 5, even Top 3 selection in the upcoming draft.
4. Colt McCoy, QB, Texas
No longer only a household name in Texas, Colt McCoy proved to the country that a sophomore slump in 2007, where he threw for 22 TD's and 18 INT's, and a completion percentage of 65.1, was just an aberration. In 2008, Colt threw 34 TD's, only 8 picks, and improved his COMP% to 76.7. As his numbers would suggest, Colt is deadly accurate with his arm, and just as dangerous with his feet. Colt also led the Horns with 576 yards on the ground. With BCS title glory stolen last year by a pesky Texas Tech team, McCoy will be out to prove that the wrong team played Florida last year. 
5. Jermaine Gresham, TE, Oklahoma
With the Antonio Gates and Tony Gonzalez tight ends now the norm and the most coveted, Gresham is in line to be equally, if not better, then both. Gresham has the size and frame to be a dominating red-zone threat. He also has very consistent hands for a tight end, and surprisingly runs routes as well as any receiver in the country. Outside of the blocking issue, which the team that drafts him can work on and also limit the amount of blocking, Gresham should be a lock for the Top 25, going to the first team with the luxury of taking a tight end, or a team in desperate need of a playmaker.