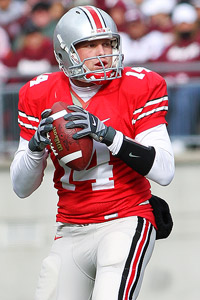 Ohio State head coach Luke Fickle still hasn't decided on a starting quarterback.
To be successful in the NFL, Pat White should follow the Armanti Edwards blueprint.
Note: We had an article talking about Pat White, Joe Webb, Armani Edwards, Tyrod Taylor, and other athlete quarterbacks HERE
It appears that Georgia has lost another player to injury, this time defensive back Jakar Hamilton.
Southern California wide receiver Markeith Ambles has been ruled academically ineligible for the 2011 season.
Oregon State safety Josh LaGrone has been forced out of football because of knee injuries.
Stephfon Green's return to Penn State this year is in doubt, at least according to Joe Paterno.