In another edition of the Scouting Notebook, we'll take a look at the crop of JUNIORS in this NFL Draft in particular, as well as some sophomores as well. I'll delve into the 2013 quarterback draft after this Luck/Barkley/Griffin-palooza is overwith.
Also, I'll talk about some players who may now strongly consider the NFL with their college head coaches fired, as well as which USC juniors could declare now that their 2011 season is offically over. Finally, I rank the Top 10 running backs by a stat that may be the only one NFL teams use when scouting a running back: career carries.
Look Past Luck: Top Quarterback Prospects for the 2013 NFL Draft
By now, you know the bigwigs in the 2012 NFL Draft. Andrew Luck is elite, and we think Matt Barkley is right on Andrew Luck's tail, if not tied as a prospect. Robert Griffin has the high ceiling, Landry Jones fits most NFL systems now, and the seniors for the most part are barely 1st round prospects themselves. And while there will be A LOT more analyizing of them from now until late April, lets get a sneak peak at some of the top prospects for NEXT years draft.
For now, lets assume Luck, Barkley, Griffin, and Jones all declare, as expected. The top two juniors (2013 seniors) are Tyler Wilson of Arkansas and Geno Smith of West Virginia. Wilson has caught my eye since his reserve duty when Ryan Mallett went down last year, and Arkansas expectations were high this year because of him. Wilson is a decent athlete, but has a great arm, sets up his receivers well, and is confident back in the pocket. Smith has begun a very exciting progression with Dana Hologorsen as his head coach. Combine Brandon Weeden's vision as a passer and Geno Smith's athletic ability and arm strength, and Smith could have a Heisman-type year in 2013 and be well on his way to a first round selection.
Also in the upcoming senior class, Brock Oswiler of Arizona State has been awfully impressive this year. Though I'll talk about him a bit later as well, he has an outstanding arm and his skills as a passer remind a bit of Ryan Mallet. His size concerns (he's around 6'8) are an issue, and his pocket mobility worries me in a changing NFL where almost every good QB needs to be mobile. Also in that 2013 senior class, EJ Manuel of Florida State and Colin Klien of Kansas State have great athleticism as quarterbacks and will have talent around them in 2013, but lots of development is needed before they're NFL passers.
As far as the upcoming junior class, there really is a lot to like. Atop my board and in the upper part of the 2013 overall board is Virginia Tech's Logan Thomas. He's improved dramatically as a passer from the beginning of the season. He reminds so much of Cam Newton, and I believe that if we saw Cam Newton play in the SEC or ACC as a sophomore, he'd look a lot like Thomas. Give him one more year, and he could dominate the ACC. After him, two SEC quarterbacks are middle to late 1st round talents in Tyler Bray of Tennessee (#2 2013 Junior QB) and Aaron Murray (#3). Bray might have a new head coach at Tennessee, but he'll have some young weapons around him and an off-season to continue to get stronger and develop himself into an NFL built passer. Murray has become maybe the SEC's most reliable passer and has quietly led the Bulldogs to the SEC championship game and a potential BCS game.
Finally, some other sophomore quarterbacks I like a lot, but still have a ways to go before they can be legit NFL prospects (ranked in order): Tahj Boyd from Clemson, Bryn Renner from North Carolina, Keith Price from Washington, and Casey Pachall from TCU.
—–
With Fifteen Coaches Fired So Far, See Which Juniors May Leave Their Program Too

By my count and by the time this article is published, 15 coaches have been relieved of their duties as the face of the football program. Some after long careers with the programs (Mike Stoops of Arizona, Joe Paterno at Penn State, Ron Zook of Illinois), and some after very, very short times (Larry Porter of Memphis, Rob Ianello of Akron).
Handicapping which juniors declare for the draft depends on a lot of factors, most of which we don't discover until after the fact. Whether it's agent/NFL advisory projections, a need for money for the family, whether or not the next year's team is worth returning, and so much more. One factor that can play a role, however, is the factor we can completely know, at least based on who's coaching and who's not.
For Memphis, defensive tackle Dontari Poe is the first that is likely to consider leaving early. Coming from a non-BCS conference, whenever you have a chance to be a possible Top 50 pick at a school with little exposure, you have to strongly consider the NFL jump. Now with likely a new coach and a new system, it may not be worth the risk. At Arizona State, quarterback Brock Oswiler (talked about above) could consider it with Dennis Erickson out of a job. While it'd be a mistake to do so, unless the Sun Devils can lure an offensive minded coach, a la Mike Leach or Larry Fedora, Oswiler may strongly consider the NFL.
Also in the Pac-12, Arizona's receiver Dan Buckner, one of the favorites of Nick Foles, could decide to leave along with Mike Stoops. Foles as well as fellow receiver Juron Criner will be gone, and Rich Rodriguez's new offense at Arizona isn't likely to cater to Buckner's ability. Illinois and North Carolina also had prospects considering leaving, and with new coaches slated for 2012 season, Whitney Mercilus at defensive end for Illinois and Donte Paige-Moss/Kevin Reddick for North Carolina could have already made their decision now they have NFL Draft attention and a new coach coming in.
—-
With No Bowl Game, USC Juniors Are Likely the First We'll Hear From For NFL Draft Declarations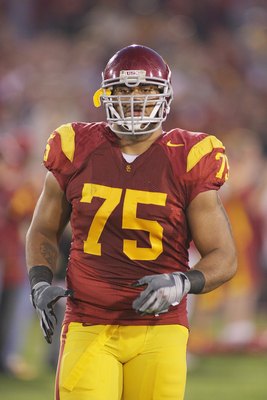 Despite a 10 win season, having the best record in the Pac-12 South, and finishing the season in the Top 10 of the AP poll, USC has no conference championship to play for, no bowl game future, and nothing left of their 2011-2012 college football season. So what's next for USC? The coaches will begin recruiting, the seniors will begin NFL draft training or finish their college academic career, and the juniors will be left with the next choice in their football careers: to declare or to return?
For some of the USC Trojans juniors, the decision should be easy. Matt Kalil at left tackle and TJ McDonald at safety are two prospects I anticipate declaring. If they did, both would be in the top 2 at their position on draft day, with Kalil being a near sure-fire Top 5 pick, and McDonald firmly in the Top 50. Defensive ends Nick Perry and Wes Horton also will consider the jump, with Perry being more likely to declare, but neither a lock to think their stock can't rise more with another season as a Trojan.
And then comes the question of Matt Barkley. I'll let you check out Arash Markazi of ESPN Los Angeles give you a better breakdown of Matt Barkley's decision, as he did a helluva job breaking it down: http://espn.go.com/blog/los-angeles/usc/post/_/id/10697/barkley-has-a-tough-decision-to-make
Should Barkely declare? In my opinion, he's 1b in this draft, just slightly behind Andrew Luck as a quarterback prospect…for now. In terms of that, NFL teams would be crazy to let him slip past #3 in this draft. So in a draft stock sense, yes he should. But Andrew Luck and Sam Bradford returned, and became the 1st overall pick the following year. Matt Leinart returned to USC and loved his time as a senior at USC. And with a bowl game and so much young talent back, is it really so hard to believe Barkley wouldn't return to maybe the greatest place to play quarterback in college football?
—-

Top 10…Junior Running Backs Based on Career Carries

As the draft time approaches, you'll hear a lot of evaluators talk about "tread on his tires" when speaking of a running back, meaning how many times has he carried the ball. The general idea behind it is that running backs, especially smaller ones, only have a few carries in them before they eventually breakdown. The theory is that it's better to be successful and impressive in college in a short time, and safe your poundings for the NFL game. Well, I've ranked the Top 10 junior runnings backs in college football based on the number of carries.
The top three was of little surprise to me, and the fact that they are all above 600 for their career wasn't that much of a surprise. However, seeing five others on this list at or around 500 carries (a bench-mark that shows 2 years plus worth of carries in college) shows that those players need to consider leaving college early to save themselves from future poundings. This isn't the only factor for a running back, but at least some food for thought.
1. Chris Polk, Washington (769 carries)
2. LaMichael James, Oreogn (721 carries)
3. Bernard Pierce, Temple (638 carries)
4. Robbie Rouse, Fresno State (576 carries)
5. Robert Turbin, Utah State (520 carries)
6. Trent Richardson, Alabama (520 carries)
7. Rex Burkehead, Nebraska (514 carries)
8. Montee Ball, Wisconsin (509 carries)
9. Zach Line, SMU (501 carries)
10. David Wilson, Virginia Tech (427 carries)
Another top junior running back:Lamar Miller, Miami (FL) (335 carries)