The season begins in just a handful of days now, which seems even more exciting this year thanks to a host of NCAA violation stories (Ohio State, Miami, Oregon, Auburn, etc.) that made college football discussions centered around anything but actual college football.
While I'll delve into one of those situations (Miami FL) in here briefly, I'll also rank the top 5 college quarterbacks replacing top three round NFL draft picks, and how the top independent, the Notre Dame Fighting Irish, will do this year.
Top College Quarterbacks Replacing Top 3 Round NFL Talent
In college, replacing a quarterback who not only has been productive over his career but was the big man on campus is no easy task. Generally, it takes a full year to assume control of the offense and try to build your own resume on the field. But these five quarterbacks, all who replace recent NFL top three round quarterbacks, will need to play well in year one, as their team's are banking on it.
1. Tyler Wilson, Arkansas (JR)
Played well last year when Mallett went down for a game, Wilson is a potential 2013 high round pick with continued development. He should thrive in Petrino's offense especially with Greg Childs this year on the outside.

2. EJ Manuel, Florida State (JR)
Hyped as a great prospect for years now and has played a lot with Christian Ponder's past injury history, Manuel has a very high ceiling and has better than expected pocket awareness and confidence in his step. He could lead Florida State to an ACC title this year, he has the talent.

3. Logan Thomas, Virginia Tech (SO)
Will have to take over for the most successful Virginia Tech quarterback ever, Thomas is a bit different that Tyrod Taylor. While he still has the feet to make plays in the open field, he's a bigger quarterback at 6'6, 245, and should be a better pocket passer down the road than Tyrod. He has lots of weapons this year to ease into his development.

4. Casey Pachall, TCU (SO)
Will have to fill Andy Dalton's shoes who was a pure winner at TCU and a great mixture between a game manager and a playmaker. Pachall seems to have the skill set to be a very good college quarterback, but with only 2 returning offensive starters, it could be a up and down year for the sophomore.

5. Keith Price, Washington (SO)
Price had one start last year when Locker went down, and did have two touchdown passes a year ago. Beating out Nate Montana as the quarterback likely was no easy task, and now that he's got both Steve Sarkesian's blessing as well as his coaching, Price could quickly develop into another great Pac-12 quarterback under Sarkesian.

Miami (FL) Players Facing Possible Suspension/Does It Affect Draft Stock?
By my count, according to the Yahoo! article on the Miami Football Scandal, five players are listed as receiving benefits that were projected senior starters for this football team. They are Jacory Harris, Travis Benjamin, Aldarius Johnson, Sean Spence, and JoJo Nicolas.
All five of those guys have a shot to make the NFL, with Spence and Harris already having some NFL attention. Spence is viewed as a fringe first round prospect, while Harris was given a 5th round grade by the NFL scouting services. These players, along with a host of other Miami players that received illegal benefits, may be facing serious NCAA punishment, including potentially missing games this year.
But as for their draft stock, as long as they play some meaningful games this year (at least half, preferably more) and show that they can withstand the NCAA violation talk and still play football at a high level, there should be next to zero impact on draft stock. What does taking money and gifts really say as a person? Sure, maybe you're not of Tim Tebow like character, but players have done far worse in college and in the NFL, and still have a professional football job. So, for those Miami players, as long as the suit up, put this behind them, and show improvements, all five could escape this mess with little issue for their future.


N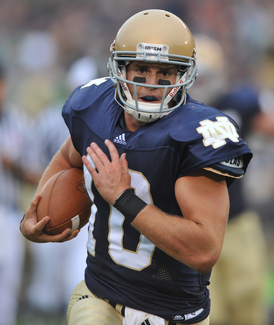 otre Dame Team Outlook/Prediction


With 16 returning starters (eight on each side of the ball), a 2nd year coach who won 8 games in his first year with the program, and NFL talent on almost all levels of the offense and defense, it's easy to see why many are projecting the Fighting Irish to double digit wins and top ten rankings.
But I'm not sold quite yet.
First of all, they have some great pieces. Michael Floyd returning is huge for them, and gives the offense the absolute difference maker they need. They have four retuning offensive linemen, which generally breeds good things for the offense. And on defense, Darius Fleming (at OLB, Manti Te'o (JR at ILB), and Harrison Smith (at S) all have NFL futures ahead of them. Also, while not of huge importance, returning maybe the best kicker in college football in David Ruffer could give this team the edge in more games than one this year.
However, this team is not the world-beaters they are projected by some to be. First off, Dayne Crist was good, not great last year at quarterback, and unsettled quarterback jobs (he's battling with Tommy Rees) aren't a good indicator for early season success. He'll need to be a stud this year, something that could happen in year two of Brian Kelly's system. Also, after Michael Floyd, the offense doesn't have any outstanding playmakers to rely on. Theo Riddick at receiver and Cierre Wood at running are decent, but to win big games, they'll need one or both to be a major contributor to take pressure off of Floyd. On defense, they again lack starters with great talent, especially on the defensive line and at cornerback. Ethan Johnson is solid at defensive end, along with cornerback Gary Gray, but they'll need to be able to be more than just average to really maximize Te'o, Fleming, and H. Smith's ability.
And on a quick note, they have to play against South Florida, at Michigan, against Michigan State, and against Pittsburgh in their first four games. USF and Pittsburgh are winnable games, sure, but the Michigan schools are not, especially the one in the Big House. Add those games to still having to play an improved USC team, Navy (who they lost to last year), and at Stanford to end the year, and the Irish may struggled to win 8 games, nonetheless 10 or more.
The Irish should be much improved from two years ago, I can say that. But expecting BCS game is a little much this year based on their lack of elite talent. A 9-3 season would be outstanding for them based on their schedule. Year Three could be the golden ticket that Irish players, fans, and alumni have been praying for.