This weekend seemed to be all about Geno Smith. And well deserved. The future Top 3 draft pick played lights out against Baylor, and beyond just beating up on a very poor secondary. But another highly touted quarterback showed something this past weekend. And it wasn't good.
After Geno Smith, time to talk about Logan Thomas's struggles, the next wave of potential defensive end studs, general scouting notes of Virginia Tech, Cincinnati, Miami, NC State, Michigan State, Oklahoma State, and Texas, and Top 10 quarterbacks in a very poor stat.
The Opposite Paths of Geno Smith and Logan Thomas
Coming into the season, it was "trendy" to fall in love with Logan Thomas. As an evaluator, I was excited to see what he could become. He has Cam Newton size, he flashed Cam Newton running ability, and looked similar with his big arm. But he wasn't Cam Newton yet, and so far, he certainly hasn't been.
As for Geno Smith, he's developed everything that myself and fellow Optimum Scouting scout Alex Brown thought he would: a star. I even remember in the off-season when we both felt that he could have a similar "breakout" season like RG3, but by already having a handful of thoroughly impressive games under his belt (see 2011 vs. LSU) and by possibly showing more arm talent than RG3.
While hindsight is 20/20 and it's clear that one quarterback is fading back and (hopefully) returning for his senior season while the other is likely to finish his senior season as a Top 3 pick, it's important to see just why these quarterbacks have headed in opposite directions.
For Geno Smith, it's simple: he's comfortable. Unbelievably composed, controlled, and confident. A quarterback with those three skills is both hard to find and even harder to stop as a defense. Sure, the offense doesn't ask him to consistently attack downfield, but he's already shown his vision and ball placement as a downfield passer, both against Baylor in his 650+ passing yard effort and against a team like LSU in 2011.
Every evaluator would like to see every NFL throw every game for a quarterback like Geno Smith. That'd be easy to see. But what's far more crucial, especially since we know his arm talent, is to see if he's mastering the nuances of the game. Is he standing in the pocket past the 3 second window and changing reads? He did against Baylor, and that was by far his biggest improvement over the course over the 2011 season. Can he run multiple concepts throughout a particular drive and analyze multiple defensive looks and coverages? While Baylor seemed to leave Stedman Bailey open all day, Smith seemed to NEVER miss an open receiver, finding the hot read each and every play. And again, he made huge strides there in 2011 that lead up to this.
And maybe most importantly for EVERY quarterback, does he look confident? Being confident as a quarterback can't be stressed enough. Confident in your arm. Confident in your reads. Confident in your receiver and system. And Geno Smith is confident in all of those areas. That Baylor game is a summation of all his talents combined with elite level confidence. THAT is why team's will fall even more in love with him throughout the scouting process. Not his arm, not his elite ball placement, not his athletic upside. But his composure, controlled manner, and confidence in his skills.
—–
As for Logan Thomas, his biggest concern? Decisiveness.
Being decisive as a passer is so important, as reads are there for just a second or two (and less at the NFL level) that need to be maximized. But it seems Thomas has actually regressed as a passer thanks to Virginia Tech giving him more responsibility as a quarterback.
His lack of improvement in shoring up his release and release point is frustrating. He doesn't seem to be consistently in-sync in any routes outside of shorter, inside slants and vertically stretching plays, which is frustrating considering how talented receiver Marcus Davis is. Even moreso than last year, his happy feet, lack of pre-snap coverages and blitz recognition have stunted any growth as a passer. And still, his ball placement continues to be an issue. He rarely rotates his hips to generate both improved touch downfield as well as generate velocity besides using his natural arm strength.
But all of that can be improved upon with added decisiveness. He's seeing his reads far too late. He's hesitating his throws, leading to poor footwork and mechanics as he "stutters" with his motion. He's not looking to run when defenses give him the opportunity, something that could allow for bigger throwing windows that he obviously needs.
Not only have these quarterbacks taken different paths, but seem to be spreading themselves on the quarterback plan thanks to the mental aspects of the game. Geno Smith wows of confidence and control. Logan Thomas wreaks of indecisiveness and a lack of diagnosis. Geno should be the 1st or 2nd quarterback taken in the 2013 draft. Logan Thomas should see if he can salvage his NFL career by sticking around for his senior season.
———————
The Next Chandler Jones, Jason Pierre-Paul? The Senior Class has Three Potentials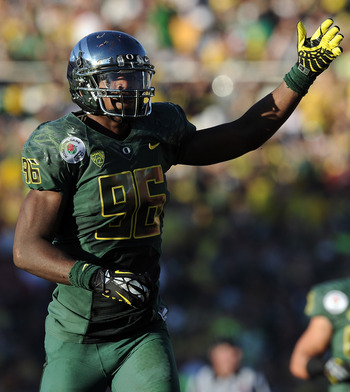 Everyone wants the next physical freak to be their defensive line leader. Julius Peppers seemed like a once in a lifetime talent. Now we've seen athletes like Jason Pierre-Paul, Aldon Smith, and Chandler Jones literally come each and every year. And their only getting better.
While it's hard to ask for any upcoming seniors in this class to live up to that type of expectations, there are three potential high upside defensive ends that intrigue in similar fashion.
The first is the 6'7, 250 pound Dion Jordan from Oregon, who has already been on the tips of NFL evaluators tongues since the off-season. He certainly fits the mold of the development, elite upside 4-3 rusher that can be molded. Despite being at 6'7, he shows the ability to sink his hips and bend on the outside, both play contain thanks to his lateral quickness while engaged as well as set the edge as a rusher, and finish tackles in the backfield when asked to attack on 3rd down. With his natural athletic ability and upside, he'll thoroughly impress as Oregon's season progresses, but even more at the NFL combine where he'll have a chance to rise to the elite level the way Aldon Smith and talents before him have.
While he's been just average thus far in the season, it's clear that Illinois defensive end Michael Buchanan flashes the elite upside that could make him a "late riser" in the draft process once team's realize how talented he is for a 6'6 size. He shows the ability to pinch the inside with body control and taking ideal angles, but his ability to quickly transition outside thoroughly impresses. He doesn't show the same activeness Whitney Mercilus did a year ago, but he's far more consistent and maybe has a more intriguing upside. Again, a lot could be determined on how he works out at the NFL combine.
Finally and likely the most intriguing is SMU defensive end Margus Hunt. A pre-season Alex Brown (of Optimum Scouting) favorite, Hunt hasn't exactly flashed the pre-season 1st round grade we slapped upon him. Just four years into his football playing career ever, "you can't draw up a more perfect 5-technique prospect, considering his 6'8, 285 pound frame that's still filling out." He has explosive strength, ideal length, and the upside to be a JJ Watt type rusher plus more upside. Being as raw as he is and a 26 year old, it'll be interesting to see how many teams will be willing to give him a chance in the late first or early second round. But talents like Hunt don't fall that far in the NFL draft.
————————-
General Scouting Notes:
Scouting Notes thanks to Eric Galko, Jimmy O'Brien, Alex Brown and Kevin Hochistein all of the Optimum Scouting staff.

-After watching the second game of him this year and a host the previous year, it's clear that Virginia Tech linebacker Bruce Taylor is arguably the best senior linebacker in this draft class. He's active to the ball, has fantastic instincts coupled with ideal positioning in his anticipation and ideal technique as a rusher, block engager, and tackler. He'll have a chance to be a late first rounder if he plays this well.
–James Gayle of Virginia Tech may be one of the best junior rushers in college football this season. He extends away from his body well, pinches inside in both run and backside pass rushing, and slides well naturally in pursuit. He still could improve in getting lower on interior rushes and being more diverse as a rusher, but he'll certainly intrigue NFL teams if he declares early.
–JR Collins, the teammate and opposite defensive end to James Gayle (listed earlier), is only a junior, but really impresses me with his timing as a rusher in his rush moves and his lower body drive as a run supporter. His lack of ideal size to be an impact rusher hurts and doesn't allow him to take too many chances. But he's at worst a rotational rusher in the NFL, and a good one.
-Fellow junior defensive lineman for Virginia Tech, Derrick Hopkins flashes very active hands and the ability to get upfield off the snap. However, he still needs to sink his hips better with balance after his initial punch and better utilize his active and quick hands to generate pass rush more consistently in one on one situations.
-Thoroughly intrigued by Kenbrell Thompkins, receiver for Cincinnati. Long and lanky, he showed subtle separation in the red zone. Though he lacks downfield speed, he does have some route vision downfield to help his quarterback out, shows extension ability to get vertically, and has the frame to get bigger. Still would be a bit of a work in progress at the next level, but at worst worth a workout.
-Also for Cincinnati, watch for Ralph David Abernathy to get some looks as a return specialist. Maybe the most talented in the country, Abernathy has the big play ability that could generate some interest, even at the NFL combine.
-While I continued discussing him at length in this Scouting Notebook, there wasn't much area too. Still, Walter Stewart of Cincinnati is a guy who once again has impressed. He tracks the ball well as a contain edge rusher, stays balanced as an edge rusher, moves laterally very well with body control, and gets off the line quickly with subtle rush moves. He could get a little thicker in the lower half and show better body technique as an inside rusher, but certainly looks the part of a potential early/mid rounder as a 3-4 rusher.
-Finally from the Virginia Tech game, left tackle Nick Becton impressed at left tackle. He doesn't have dominating athletic ability and won't jump off the tape with his kick slide or elite hand placement. But he stays in great position, keeps his hands fighting, stays balanced upfield as a run blocker, and does a great job against speed rushers.
-NC State quarterback, Mike Glennon, had an up and down day, juxtaposing promising physical plays with familiar mental mistakes that have plagued him throughout his career. Glennon displayed excellent accuracy, and especially touch, on two deep go routes, for 61 and 73 yards respectively, and threw a perfect back shoulder fade, to Tobias Palmer, early in the game. He also completed a clutch fourth down pass, using his legs to escape pressure, for a 27 yard touchdown late in the fourth quarter to keep NC State in the game. However, Glennon repeatedly stuck with his first reads too long, continued to struggle moving within the pocket to create throwing lanes, and, under pressure, rushed his deliveries. Versus Miami, he twice failed to recognize corner blitzes, once losing a fumble on a sack deep in his own territory, and he also mis-handled a shotgun snap for a costly safety.
–
Although it's rare to see one player singlehandedly determine the outcome of a game, Wolfpack CB, David Amerson, virtually accomplished that feat versus the Hurricanes, when he was beaten for an incredible 5 touchdowns, including the 62 yard game winner with 19 seconds to play. Amerson was burned badly for a score on a first quarter corner route, when he got caught with his eyes in the backfield, then followed by surrendering a touchdown on a simple fade, where he failed to locate the ball. His biggest gaffe may have been when he stopped playing completely on a play where a Wolfpack player jumped offsides, allowing Miami to complete an easy 76 yard pass behind him for another score. On his fourth allowed touchdown, a fourth quarter red zone slant, Amerson shared blame with safety Brandon Bishop, who let the pass go through his hands to the receiver, but the fifth score was a mind-numbing mental breakdown, where he permitted the wideout to get behind him, 60 yards downfield, with less than 30 seconds left in a tie game. To cap off a horrific afternoon, Amerson also was flagged for offsides on a field goal attempt, giving the Hurricanes a first down, which they quickly turned into six points. All told, through a combination of mental blunders, poor technique, and undisciplined play, Amerson had his fingerprints on 6 Miami touchdowns, and continues to look like just a shadow of the player who led the nation in interceptions in 2011, showcasing elite athleticism and genuine big play ability.
-On the positive side for NC State, Earl Wolff turned in an impressive defensive performance from his boundary safety position, demonstrating sound cover skills and excellent break on the ball. Wolff made pass breakups from both zone and man coverage schemes, while providing good run support, making tackles at all levels of the defense. Racking up a team leading 10 tackles on the afternoon, Wolff looks like a draftable player, and certainly appears to be a better pro prospect than his teammate, field safety Brandan Bishop, who is a more physical tackler, but possesses poor recovery speed, and was consistently a step behind when asked to react and redirect in space.
-Also flashing potential for the Wolfpack was WR Tobias Palmer, who was dynamic on kick returns and in the open field after the catch. Palmer, who projects as a slot player at the next level, not only showcased separation and post-reception ability to run away from defenders, but also showed some grit in making two tough catches in traffic across the middle.
-For the Hurricanes, although he wasn't challenged frequently, CB Brandon McGee displayed top level athleticism, and was more involved in run support than he has been in the past, revealing improved effort and effectiveness. He also made a key pass break-up on the goal line in the third quarter, and provided a huge momentum swing when he created a fumble with a heady strip of the ball, then recovered the fumble just outside his own end zone, late in the game.
-Miami safety, Vaughn Telemaque, who is a physical tackler with range, returned from a two game injury hiatus. Though he didn't take a full workload of plays, he showed no lingering effects from the lower body problem, demonstrating good leg drive and explosion on tackles. Telemaque played with his customary aggressiveness, at times overrunning plays, and he did make a key mental mistake, when he bit on an underneath route, allowing the opposing receiver to get behind him for touchdown on a crucial fourth down play late in the final quarter.

-Michigan State's senior cornerback Johnny Adams's claim to fame is his ability to never get beat deep due to his physicality and his very good turn-and-run ability. However, he has gotten beat deep for a touchdown in multiple games this season after letting up a long touchdown to Ohio State's rising sophomore wide receiver, Devin Smith. Smith ran a simple fly route down the sideline, and with a great throw from Braxton Miller, Smith turned it into a long touchdown. Adams's weaknesses have been exposed this year, and his draft stock has taken a hit because of it. He is more of a mid-round pick after being considered a 1st rounder in the preseason.
-Oklahoma State's junior tailback, Joseph Randle really impressed with a variety of cuts and plants in reaction to the fast flowing, Texas defense. Showing burst to and through the hole, immediate acceleration to top speed, and ability to pull away from 3rd level defenders in the open field, Randle is an explosive playmaker capable of breaking the big run. His sudden elusiveness in the open field and decisive, one-cut and go inside running, combine for a well-rounded running style that best suits zone scheming teams. Flashing some power and motor to drive through initial contact, as well as the blitz pickup skills to be a 3rd down option, Randle certainly looked like a top 3-round prospect in this matchup.
-Another junior Cowboy with an intriguing skill set is outside linebacker Shaun Lewis. A fast, explosive backer with excellent straight-line closing speed and pursuit skills, Lewis projects favorably as a Will linebacker in a 4-3 defense. His closing gear, coverage skills, and ability to rush the passer as a delayed blitzer were evident throughout this bout. At times Lewis was overaggressive in chasing down the ball carrier, taking bad angles in pursuit and leaving his feet for missed tackles. With that in mind, Lewis isn't a top-flight prospect and definitely has room to grow, being just a junior at Oklahoma State. Unlikely to declare in 2013, this Will backer prospect is one to keep an eye on for 2014.
-Texas Longhorns' former 5-star recruit Mike Davis showcased smooth athleticism, sharp change of direction skills, and plus speed to be a next level, impact player, and potential early declarer for the 2013 draft. Firing out of his release and accelerating right away to top speed, Davis consistently ate up the cushion given by his opponent. Most encouraging with Davis, were his precise one-cut route, where he was able to cleanly get in and out of his breaks for consistent separation. Coming up with the catch of the night in setting up a 1st down inside the red zone and a short field goal try, Mike Davis won at the catch point by high pointing and snaring the football away from his frame. Stacking the corner following his release off the line and maintaining positioning throughout the catch, Davis shielded the defender from the throw and gave his quarterback an open window to drop in the bucket throw. Though it's more likely he returns for his senior season, Davis could declare in 2013 if he keeps producing these types of performances.
——-

Top 10…Quarterbacks' Sack Totals
Geno Smith has thrived thanks to being upright in his drop backs (just 3 sacks all year). The pass rushers mentioned have flashed great pass rushing upside. But these quarterbacks have been on the wrong end of both of those talents.
1. Zach Maynard, California – 24 sacks
2. Jordan Webb, Colorado (JR) – 20 sacks
3. Ryan Katz, San Diego State – 17 sacks
4. Mike Glennon, NC State – 14 sacks
5. Nick Lamaison, UTEP – 13 sacks
6. Zac Dysert, Miami (OH) – 12 sacks
7. Graham Wilbert, Florida Atlantic – 12 sacks
8. Sean Schroeder, Hawaii (JR) – 12 sacks
9. Zach Mettenberger, LSU (JR) – 11 sacks
10. James Franklin, Missouri (JR) – 11 sacks
10. Keith Price, Washington (JR) – 11 sacks
10. Jordan Rodgers, Vanderbilt – 11 sacks
10. Garrett Gilbert, SMU (JR) – 11 sacks