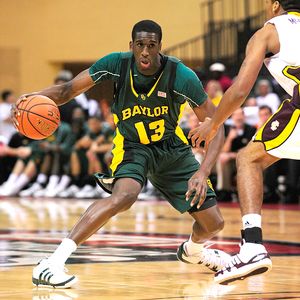 Right now, Ekpe Udoh is receiving a lot of hate. A bunch of teams haven't been favoring Baylor's forward Ekpe Udoh because he is entering the NBA Draft at the age of 23. A lot of players over 22 years of age receive a lot of criticism and have bad track records in the NBA.
And that is why Larry Bird will draft him.
No, not becuase Udoh looks like he will have a terrible track record, but Bird won't believe that hype. Bird always goes for guys who have spent three or four years in college. At 23, it's obvious Udoh has.Udoh is fast for his size and can be a hybrid if the Pacers draft him at the number ten pick. The 6′10″ 240-pounder can play small forward and power forward. In his last year with the Baylor Bears, he averaged 13.9 points per game and 9.8 rebounds per game. That is pretty much averaging a 14-10 per game. He can score and rebound and can be a guy who can compete with Troy Murphy and Tyler Hansbrough at the power forward position or Mike Duleavy at the backup small forward position.
And also, in my opinion, I see nothing wrong with Udoh being 23 years old. Josh Howard came into the draft as a 23-year-old I think and look how great he is, except off the court. Yeah, you know how he is. But Udoh isn't like that. I see him as a quiet guy and a very underrated basketball player. Udoh's best game last year statistically was twelve points and 20 rebounds. He has had many other games like this with 17 rebounds and things like that.
Also, there is another person who has found success, and was older than Udoh coming into the draft: Taj Gibson. Gibson turned 24 years of age a day before the 2009 NBA Draft went down. When he was drafted by the Chicago Bulls, he received much criticism. But he played well in his rookie year, averaging nine points per game and 7.5 rebounds per game. He also showed a lot of maturity on and off the court. Along with that, he was voted to the NBA All-Rookie First Team, with guys like Tyreke Evans, Stephen Curry, Brandon Jennings, and Darren Collison. Not bad, huh?
Larry Bird has shown a lot of interest in a guy like Udoh. The Pacers now need a new power forward. Roy Hibbert is the future at center. Danny Granger is obviously the future of the Indiana Pacers franchise, so there is no need to fill his spot at small forward. Shooting guard is well secured with Dahntay Jones, who has been a big defensive stopper and was actually coming off one of his best years, if not his best, offensively. I can see Brandon Rush improving sometime soon. Plus, the point guard position has been receiving too much hype from Pacers fans. I see nothing wrong. T.J. Ford will probably change himself and A.J. Price will turn out to be the future. Along with that, Earl Watson came off big off the bench. The problem I see is power forward. I mean, Troy Murphy has only been good when he was healthy. And sometimes, he tends to act like he's a shooting guard when he chucks up those three-pointers, which he is awful at most of the time. Tyler Hansbrough is questionable. And Solomon Jones and Josh McRoberts are only used as good backups, not starter-worthy. And Jeff Foster? Please. Right now, he is nothing more than trade-bait.
With drafting Ekpe Udoh, he can be that power forward of the future. Now people are thinking of other draft picks. Let's discuss that.
Gordon Hayward will be the dumbest pick ever. Remember Steve Alford? The Pacers passed on him and drafted Reggie Miller. That was the best decision made in the team's history. This is going to happen again. Hayward was projected as a late first-rounder and early second-rounder before Butler's run at the NCAA championship. As I read David J. Berri's book, Stumbling On Wins, a player's draft position can be boosted up if his team makes it to the NCAA Championship game. Hayward is now projected as a pick 14-23. All because of his TEAM'S success, not his. Yeah, he played well in the tournament, but he is awfully being too overhyped. Xavier Henry could be a good pick, but it might be a mistake. Henry wouldn't be a smart choice in my opinion. The Pacers really don't need a shooting guard now. I have said before Indy should draft him, but now that I have thought about it, he is not needed. And when people mention Cole Aldrich, I laugh. Aldrich will be a laughable pick for the Pacers. I know Larry Bird has targeted him, but no, do not get Aldrich. Hell, Aldrich will most probably be gone before it is Indy's turn to pick. And he will be a major bust in my opinion. But even if the Pacers have Aldrich available, they will probably pass on him. I bet you they will. And so what if NBADraft.net has Hayward projected, that's retarded of them. Along with that, people have hinted Ed Davis. I see Davis falls with the Utah Jazz, who have the ninth pick. Carlos Boozer will probably be leaving and that leaves the Jazz at Davis. Avery Bradley has been mentioned, but that will be a bad pick, too. Like I said before, the point guard position is a bit overhyped. Bradley will most likely fall from picks 15-20.
So why draft Udoh? Yes, I talked about his age won't be bad and that he is a scorer and is great for his size. Udoh also has good character. He is a great guy in person and won't be a cancer to the locker room or anything. He is a smart basketball IQ and is just a very respectable and nice person. But there is also another thing: luck. Now how the hell is luck go into the equation? Well, the Pacers do in fact hold the tenth pick of the draft. Now if you haven't looked at the NBA Draft for the last ten years, the tenth pick is very underrated and has received a lot of luck. This is where you don't see many busts at all. The worst you have seen at the tenth pick for the past few years is average. From 1999-2005 and 2007-09, the worst pick is average and best is superstar. The worst year for the tenth pick in the past ten years was in 2006 when the Seattle SuperSonics, now the Oklahoma City Thunder, drafted Mohammed Sene. Other than that, there have been a lot of great picks. Take a look from this chart I made:
Now are those some good picks or what? I say so. Keyon Dooling and Spencer Hawes or worst out of the group but other than that, all of those others guy are one of the faces of the NBA and their teams. Now if the Pacers draft Ekpe Udoh, they could get luck. It happens. Whoever is the tenth pick gets luck. You probably think I am crazy, but I'm not. Some of these guys were considered underrated when they were drafted. And now look at where they are now. It's kind of like the Madden game curse. For the past ten years, every single player has taken something from the curse. Troy Polumalu had an injury problem and Larry Fitzgerald wasn't that effective. Brett Favre was terrible with the New York Jets in his last few games, and that's when he was on the Madden 2009 cover. Or how about Shaun Alexander? He was terrible after the curse. Vince Young did bad, too, but now is redeeming himself. Ray Lewis probably has probably received the most success after the Madden Curse. He was injured for much of the year after being on Madden 2005, but now is back to being one of the best linebackers in the league. This year, Drew Brees is on the Madden 2011 cover and may have some bad things coming for him. Ekpe Udoh is the opposite if he gets drafted. He will be great.
The Pacers will have to draft Ekpe Udoh for many reasons. And I admire the guy. Larry Bird is paying attention to Udoh carefully. And once all the options and the keys to success go down, Udoh will probably be the best fit.
So Indy, I am begging you, draft Ekpe Udoh!
What do you think Pacers fans?