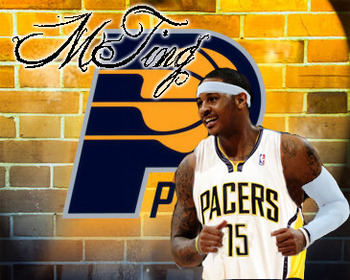 As an Indiana Pacers, you have to be psyched for the 2011 NBA Free Agency. We all know what has happened this year but there are also some pretty darn good free agents coming into 2011.
With the likes of Tony Parker and several others coming in, the guy I am really looking forward to is someone real special. With the Denver Nuggets, you don't want to mess with him.
But, to be real about the situation, the Nuggets won't win the NBA Finals. Just face it. And that is why this certain player will leave and could be convinced by the Indiana Pacers.
If you don't have the logic to know who it is, his name is Carmelo Anthony. I believe Anthony will in fact opt out and enter 2011. He will have a lot of interest drawn towards him.
Now you are probably thinking to yourself: THE INDIANA PACERS?!! You serious? The Pacers will land Melo?
Yes, I am serious. I really think Indy has a good shot a number 15. And it will bring back the good old times with Reggie Miller and Jalen Rose or Miller and Dale Davis.
So without a further ado, here are some ways the Pacers convince the Denver Nuggets' small forward to come to Indy in 2011 and how it will all work out.
Money
The Indiana Pacers are going to get a lot of help from the money equation. First of all, the new cap rule and can help Indy to give Melo a lot of money. I see a max, six-year contract coming in for Anthony.
Plus, the Pacers will get a lot of help from waiving a few players. Other than Danny Granger, T.J. Ford, Troy Murphy, and Mike Dunleavy hog up the cap space.
Coming into 2011 with all those free agents there, the Pacers can release all three of them to give Melo the big bucks. With this, the Pacers can still get some players with also a few veteran minimums.
Murphy takes up over $11M and Dunleavy takes up about $9M. The Pacers don't need these guys, as which they can have an easy replacement at power forward.
Melo could get very intrigued by the money. But there are a lot of others factors for Indy to convince him.
Talent
Danny Granger is going to be the key for the Pacers landing Carmelo. If Granger comes up big for the 2010-11 season, Melo could bolt to Indy and create a tandem with him. Both are tall, strong, and fierce small forwards.
The Pacers also have a lot of other good, young talent. From what I am seeing with the emergence of Lance Stephenson in the Summer League, he could be another convinced player if he shows up in 2010.
Also, there is Roy Hibbert. This will be the year where Hibbert shows himself as one of the Top Ten-to-Top 15 centers in the league. Hibbert has a lot of potential and I see a breakout year for the 7′2″ center.
Also, if tenth overall pick Paul George shows up, he could be another piece in the puzzle.
The Pacers can have their own Big Three, with Granger, Carmelo, and Hibbert.
Marketing
Believe it or not, marketing could help in this part. Carmelo Anthony and Danny Granger can easily be huge for 2011. Indianapolis is growing into a great, but also underrated city.
Now I be getting too full of myself here with this part, but you never know, this could actually work. First of all, Indiana has the Colts, who continue to impress by making the playoffs every year.
But if the Pacers land Melo, a lot of marketing benefits will be made. The Pacers will be back to being featured on big TV networks like ABC, TNT, and ESPN. It's been awhile sine we seen that.
For the past years, I have been watching FSN for the Pacers and sometimes it gets hectic. Melo can help the marketing reach for this team and with several other key components like Granger and Hibbert, marketing can work.
Indianapolis can be somewhat of a hit with Peyton Manning, Reggie Wayne, Danny Granger, and Carmelo Anthony ruling the Sports World of Indianapolis.
Other Free Agents
If they can with enough cap space, the Pacers can try luring in guys like maybe Kendrick Perkins or Andrei Kirilenko. A good shot can be at Michael Redd, though. A great shooting guard, this guy can convince Carmelo Anthony as well.
If the Pacers do have enough cap space, they could land the top-two free agents in the 2011-class with Tony Parker and Melo. Realistically, the best shot they have is Redd and maybe Jason Richardson. You could also try throwing in J.R. Smith.
But I think Redd can convince Melo enough for him to bolt to Indy.
This Is the Home of Basketball
Indiana is the home of basketball. The true place. This is a basketball town and Carmelo Anthony would hopefully love to play in a place home of basketball. You can't deny the history and the passion this state has for the sport of basketball.
Where else do you see High School Championship games treated like as if you were watching the NBA Finals? I bet Conseco Fieldhouse would be packed with Melo here.
How It All Works
The money is really going to intrigue Melo. I am really talking about a lot of cap space when it comes to Indy for 2011. Don't be surprised seeing Melo given a six-year $110-to-$120M contract from Indy. The marketing will play a small role. Talent-wise, the Pacers are ready to bring in Melo. Indy also has a shot to bring in several other free agents, too. This is also the home of basketball. Another key is if they finish good this off-season.
So if Carmelo Anthony comes to the Indiana Pacers, a lot of benefits will be coming in for him. With this, I have the rotation possibly looking like this:
PG: Lance Stephenson
SG: Carmelo Anthony/Michael Redd
SF: Danny Granger/Paul George
PF: Thaddues Young
C: Roy Hibbert
I believe the Pacers can sign Thaddues Young to a decent contract. Or Indy can sign a veteran like maybe Juwan Howard or something. Overall, their starting five is going to be decent with a great back-ups in George and Redd. However, if Indy doesn't finish good this year, they can draft a decent power forward.
I wouldn't be surprised if Indy goes with this, too:
PG: Lance Stephenson
SG: Michael Redd/Paul George
SF: Carmelo Anthony/Paul George
PF: Danny Granger
C: Roy Hibbert
That could also work out really well.
Indy will go for an easy 50-60 wins.
Pacers fans, when the off-season rolls by next year, let's start chanting this on and on…
"WE WANT MELO!"