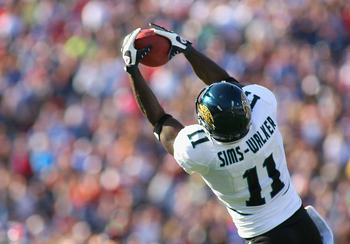 As the owners and players union continue to meet this week, we can only hope that both parties will be able to hammer out a deal by Friday's deadline. Until they do, or don't, however, we won't be informed much into how the negotiations are progressing. Instead, we will all have to just sit tight and wait it out.
But what we can do is continue to look ahead to the 2011 free agency class, which will hit the open market whenever a new CBA is in place. More specifically, we can look at possible veteran solutions to the several key voids on the Dolphins' roster. We've already taken a look at the running backs and interior lineman, now let's take a quick glance at the speedy receivers that would give a slow Dolphins offense big-play potential.
For the record, I would prefer seeing the Dolphins look to free agency to bring in a running back and an interior lineman, and save bringing in speedy skill players for the draft. But if they truly feel that they can rebuild their running game in the draft exclusively, it would probably be wise for the front office to consider one of these speedsters if they want the Dolphins offense to have more firepower in 2011.
1. Santonio Holmes, New York Jets, 27: You have to put the guy on here because he's technically scheduled to become an unrestricted free agent if the new CBA includes a salary cap, and he's one of the more dominate blazers in the game. But realistically speaking, there isn't a chance Jets' GM Mike Tannenbaum is letting Holmes get away. If the Jets really can't afford to retain both Holmes and Edwards, I don't think there is any secret which receiver is going to be shown the door. Holmes was just too big of a steal for the Jets in 2010 and made too many game changing plays.
2. Mike Sims-Walker, Jacksonville Jaguars, 26: You don't have to speculate about Mike Sims-Walker's availability. The former Jaguar is going to become a free agent. And when it's all said and done, after teams are able to resign players with knowledge of the financial particulars of the new CBA, Sims-Walker may be the best receiver period on the open market. He's not your typical speedster, though. The kid has solid size at 6'2, 214 pounds to accompany his mid 4.3 speed.
But when you think about the type of skill set this Dolphins' receiving core is missing, I'm not sure Sims-Walker fits the mold. He timed fast coming out of college, yes. But he never really emerged as a game-breaker in Jacksonville. His career long reception stands at 61 and he didn't have a catch over 40 yards in 2010. That's nothing to be ashamed of by any stretch of the imagination, but the Dolphins should be looking for someone with a few more home runs on their resume. He would be a solid number two in Miami, absolutely, but the Dolphins already have a solid number two receiver in Brian Hartline.
3. Steve Breaston, Arizona Cardinals, 27: Breaston doesn't possess elite speed, but as a mid 4.4 guy, he's faster than any receiver on the Dolphins' roster. He also has a 1,000 yard season under his belt. Of course, that was playing with Kurt Warner, but don't forget he had to compete for targets with the likes of Larry Fitzgerald and Anquan Boldin either. Unfortunately, for Breaston, though, he just can't manage to stay healthy.
4. Jacoby Jones, Houston Texans, 26: Jacoby Jones is the type of player that is a threat to take it the distance every time he gets his hands on the football. With Jones, though, that's been showcased with his kick and punt return ability, not his receiving skills. Having said that, he did finish the 2010 season strong with 287 yards in the Texans' final four games on his way to a career high 562 total receiving yards on the season. Keep in mind that the Dolphins should also be in the market for a kick returner, as they sorely missed Ted Ginn Jr.'s return ability in 2010.
5. Brad Smith, New York Jets, 27: Speaking of kick returners, Brad Smith is one of the best in the business. Having only managed 44 receiving yards in 2010, it's hard to justify putting him on this list, but the extra dynamic he brings to the game as a returner and also as the triggerman in the wildcat would do wonders for a Dolphins offense in desperate need of a spark. With Ronnie Brown unlikely to be brought back, Smith would be an ideal signing if the Dolphins want to continue to run the formation they made famous.