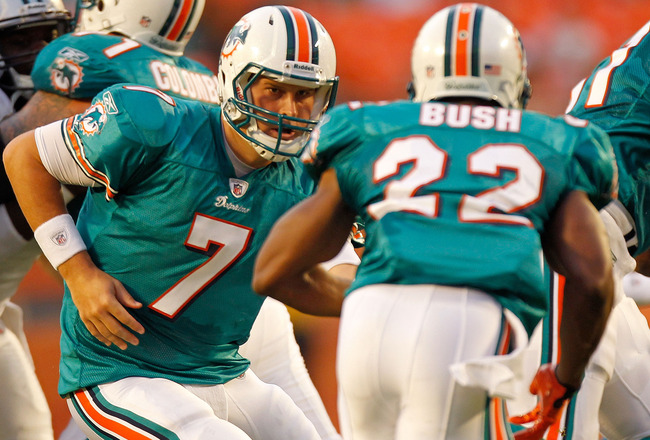 Yesterday we took a look at the Dolphins' defense- a potentially elite unit that could be more turnovers and fewer points away from surfacing as one of the top defenses in football. But the consensus is the defense is already playoff ready.
Everybody knows what really needs to happen for this team to defy logic and surprisingly land one of the conference's six playoff spots. The offense, which ranked 21st in total yards but a pitiful 30th in points scored a year ago, must at least find an identity if the Dolphins are going to seriously compete.
In 2010, while Chad Henne deservingly takes on the bulk of the blame, it's the running game that disappointed me the most. If you can compliment a great defense with a dominant, ball-control running game, you may not have a Super Bowl recipe but you have what it takes to make a playoff run.
The Dolphins weren't able to do that under Dan Henning last year. The passing game was actually average, ranking in at 16th, but what was a top five rushing attack in 2009, freefell to 21st.
Accompany the demise of the running game with Chad Henne gift wrapping games for opposing defenses with costly interceptions at the worst times and red-zone woes that probably won Dan Carpenter owners dominance in fantasy football, and it's easy to see why it's so difficult to pinpoint what exactly went wrong in 2010.
But it's a new year. There's a new offensive coordinator in Brian Daboll. Daboll doesn't exactly have an imposing track record, but he brings refreshing youth and energy to the table.
The running game is remodeled, with a new starting center in rookie Mike Pouncey, Vernon Carey's move to right guard, and the new Reggie Bush-Daniel Thomas running back tandem.
Bush along with fourth-round pick Clyde Gates, also addressed a need for speed, as the Dolphins' offense seemed incapable of producing chunk yardage a year ago.
With all that said, Chad Henne is still under center. Once again, the success of this football team will live and die by Henne's right arm. So that's where we'll start in our playoff formula for the Miami Dolphins' offense.
CHAD HENNE
It's time throw on my cape and take on my role as captain obvious. Everybody knows, NFL analysis and casual fans alike, that something in Chad Henne's head must start clicking this season if the Dolphins are going to sneak into the playoffs.
Does he have to be great? Well, that depends. If the new-look running game is good enough to play ball-control offense and the defense takes the next step, I would settle for Henne just cutting down on interceptions.
If he's able to move the ball efficiently again and avoids the costly mistakes that lost games for the Dolphins in 2010, he'll be a much better quarterback and this will be a much better football team.
But judging by the glimpses I've seen for Henne, I actually think he's capable of more. After all, we're talking about a quarterback that threw for over 300 yard three times and over 250 yards six times last year.
He has all the tools to put up big yardage this season, especially in Brian Daboll's attack that utilizes more of a vertical passing game. I also think he'll benefit more from the Reggie Bush addition than people realize.
Not only will Reggie open up Checkdown Chad's conservative reads, he's a player defenses have to account for on every play. That will only open up things for Marshall, Bess, and Hartline.
With all that said, though, the light bulb actually turning on in Henne's head is far from a sure thing. Excluding Drew Brees, who emerged in his third season as the starter in San Diego, most of the top NFL quarterbacks had already established themselves going into their third year under center.
Henne's habit of staring down receivers, probably the biggest thing holding him back, doesn't appear to be a thing of the past judging by the first two preseason games. But here's to hoping…
Henne's magic numbers: 3,700 yards passing, 20 touchdowns, 12 interceptions
RUNNING GAME
Before last Friday, when the Dolphins ran all over the Carolina Panthers in the first half, I was under the impression that Miami may have one of the worst running games in football this year. The interior offensive line looked that bad the week before.
But progress up front was clearly made. Maybe it's the unit getting sufficient time to develop some chemistry this preseason that's making the difference. Sparano, the supposed O-line guru, played musical chairs with the starting positions in last year's camp and subsequently, they weren't able to gel in time for the regular season.
At any rate, even though it was just a meaningless game, last year's line struggled mightily in the preseason. If that was a sign of things to come then, I'm starting to think the success we saw last week might be a sign of things to come now.
It's not all in the interior offensive line's hands, though. The running back duo of Reggie Bush and Daniel Thomas still has a lot to prove. Reggie, who will start according to Sparano, did nothing in New Orleans to draw the conclusion that he can handle a starter's workload.
But if he can stay healthy and consistently produce between the tackles, he's in for a career year in Miami. Daniel Thomas, meanwhile, is drawing a heap of criticism these days from the fans and coaching staff.
He reportedly has been lackadaisical at practice and hasn't been hitting the hole hard in games either. He's certainly not the power back Jeff Ireland said he was when the Dolphins traded up into the second round to nab him.
Behind a solid offensive line, he's certainly capable of being productive, though. If anything, I think Sparano is trying to light a fire under the rookie with all the criticism to go along with the signing of Larry Johnson for that matter. If that happens, he should compliment Bush nicely.
What exactly should be the goal for the Dolphins' running game in 2011? I won't be looking at total yards, as I think yards-per-carry is more revealing.
The Dolphins may have ranked 21st in total rushing yards last year, which is certainly below average, but I believe they had one of the worst running games in football. My reasoning? The Ronnie Brown and Ricky Williams led attack only managed a measly 3.7 yards-per-carry. Only the Cincinnati Bengals averaged fewer yards-per-rush. 4.3 yards-per-attempt would have qualified the Dolphins for top ten status in 2010.
Magic number: 4.3 yards-per-carry
TOUCHDOWNS
Even with the potential to have a great defense, you're not going to win in this league if don't score points. The Dolphins were 30th in the league in points scored a year ago and if that doesn't drastically change this season, this team isn't going to rise from the depths of mediocrity any time soon.
Last season's struggles were particularly so frustrating because of the red-zone woes. It's not like the Dolphins didn't move the ball well at times. They were actually a capable offense between the 20's for the majority of the year.
It's what happened when the Dolphins were in scoring territory that crippled their chances of competing. They settled for far too many field goals in 2010.
In fact, Dan Carpenter led the entire league with 41 field goal attempts. That's a little over two-and-half field goal tries per game. That's not exactly red-zone efficiency.
Cutting a little deeper, only the Carolina Panthers had fewer touchdowns. The New England Patriots were 13 scores away from tripling the 26 touchdowns Miami managed, leading the league with 65.
To make a long story short, the Dolphins must find a way to capitalize on more drives with seven instead of three. So how about it Coach Sparano? Let's save the first pumps for touchdowns this year.
Magic number: 42 touchdowns