In honor of NFL Network's Top 100 Players of 2011, which wrapped up its top 10 on Sunday night, I thought I would see how the standout Miami Dolphins ranked amongst their AFC East rivals. To do so, I posed one simple question to my fellow Bloguin AFC East writers: Who do you think the top 10 players in the division are?
I had two bloggers from Buffalo Wins and Foxboro Blog, one from Rex Sanchez, and of course, Daniel and I, submit the players we feel are the class of the AFC East in order from 1-10. I tallied the submitted lists with a points system that rewarded the top slot with 10, the number two rank with 9, and so on and so forth.
As you are about to find out, there are some rankings we see eye to eye on, while we're on a completely different page on others. Before I unveil Bloguin's unofficial AFC East Top 10, here are some of the interesting tidbits our lists provided.
• The best left tackle in the league, Jake Long, who was the third highest ranked player in the division in NFL Network's player's lists, proved to be one of the most polarizing figures. He was slotted as high as third on four of our panel's lists, but was actually left off of one of the Foxboro Blog's top 10.
• The same can be said for Jerod Mayo. Mayo solidified himself as one of the league's most productive inside linebackers with an astonishing 175 tackles in 2010. That led to some well deserved respect from our voters. So much so that one of the Bills' bloggers ranked him in at three. But that didn't stop Rex Sanchez from leaving Mayo off their list.
• That wasn't the only head scratcher Rex Sanchez provided. Outside of Tom Brady, a second quarterback was left off of everybody's list except one. Rex Sanchez considers Mark Sanchez the 7th best player the division has to offer.
• It's clear that some of us let our biases cloud our judgment. That's just our human nature. But when it came to Dolphins' outside linebacker Cameron Wake, who exploded onto the scene in 2010 with 14.0 sacks (third in the league), my co-blogger Daniel actually left him off his top 10. Daniel and Rex Sanchez were the only to do so.
• Maybe it's bias or maybe it's just being well informed, but Buffalo Wins provided a nice little one-two punch for Kyle Williams-the only Bill to make our top 10. They accounted for 13 of Williams' 16 points.
• Speaking of Buffalo, Stevie Johnson was the only other Bill to receive a vote. Johnson was slotted as the 10th best player in the division- ahead of Santonio Holmes and Brandon Marshall- by one of his hometown bloggers.
• It looks like Brandon Marshall's subpar season by his standards has hurt how he is perceived to measure up. Despite putting up over 100 grabs in 2007-2009 and setting a new mark for catches in a game with 21 in '09, Marshall is only considered the 61st best player in the league by his peers and was left off of four of the seven submissions by our panel. Marshall finished with only 11 points in our voting system, tying him with Wes Welker for the second-highest ranked receiver. But that wasn't enough for him to crack the top 10.
• The AFC East champion Patriots lead the division with four players in the top 10. The Jets come in at second with three, the Dolphins are right behind with two, and the Bills are in the cellar with only Kyle Williams. I guess that makes sense considering that's how the division has shaped up the past two seasons.
• Our top 10 is well proportioned with five players on offense and five on defense.
The unofficial Bloguin AFC East Top 10 Players of 2011 can be seen after the jump…
10. Santonio Holmes
15 pts Highest Rank: 6 Lowest Rank: NR Rex Sanchez: 6 Rival Blog's Average: 9
Holmes is the only receiver that cracks our top 10. It's hard to argue that he wasn't the division's top receiver in 2010. Time and time again Holmes made crucial plays for the Jets down the stretch last season. The Super Bowl XLIII MVP arguably has to be considered the most clutch receiver in football.
9. Kyle Williams
16 pts HR: 4 LR: NR Buffalo Wins Average: 4.5 Rival Blog's Average: NR
Before you label Buffalo Wins a bunch of homers, they are far from alone in their admiration for Williams. His 2010 campaign was so strong that Pro Football Focus named Williams the Defensive Player of the Year and the third best player in the entire league. That's right, third!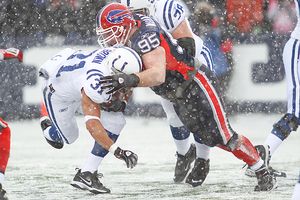 8. Cameron Wake
21 pts HR: 5 LR: NR Phins Phocus Average: 7.5 Rival Blog's Average: 8
I hate to see the "Earth Wake" this low. Not only because he came so close to leading the league in sacks a year ago, but because he's more of a complete player than most give him credit for. By season's end, Wake was just as dominant as a run stuffer as he was as a pass rusher. Few realize he was second in the entire league in tackles for loss with 12.
7. Logan Mankins
22 pts HR: 5 LR: NR Foxboro Blog Average: 6.5 Rival Blog's Average: 8
It's hard to justify how Mankins was left off of two of our voter's rankings. With all due respect to Tom Brady, I've never seen a quarterback stand straight up in the pocket for as long as he's able to. Mankins is the best player on one of the league's top offensive lines.
6. Jerod Mayo
24 pts HR: 3 LR: NR Foxboro Blog Average: 6.5 Rival Blog's Average: 8
Jerod Mayo was on the cusp of elite status after back-to-back 100 plus tackle seasons to jumpstart his career, but there's no debating that now. Mayo was outstanding in 2010, racking up a league-high 175 tackles. I would still take Wake, but it's easy to see why most of our voters felt that Mayo is the division's best linebacker.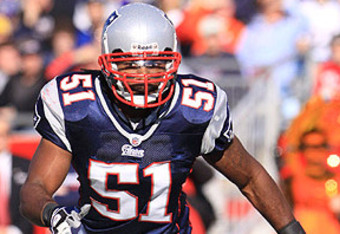 5. Nick Mangold
30 pts HR: 4 LR: NR Rex Sanchez: 5 Rival Blog's Average: 7
For those Dolphin fans that are disappointed with Mike Pouncey being taken in the first round, just ask Jets fans how big of an impact a center can have on a running game. Nick Mangold, who is regarded as the best center in the league by many, has played a huge factor in why the Jets have established themselves as perennially one of the league's top running offenses.
4. Jake Long
39 pts HR: 3 LR: NR Phins Phocus Average: 3 Rival Blog's Average: 6
I'm really shocked that Big Jake was left off of one of our panel's rankings. The game's best left tackle not a top 10 player in the division? The Dolphins have been widely inconsistent over the past few years, but the one constant has been Jake Long. Anytime you can erase the opposition's most productive pass rusher game after game you have yourself a nice advantage on offense. Unfortunately, the Dolphins have yet to find themselves a solution at quarterback, but if they do, he's going to have the blindside protection he needs to excel.
3. Vince Wilfork
51 pts HR: 3 LR: 4 Foxboro Blog Average: 3.5 Rival Blog's Average: 4
Nose tackle is the most important position on the 3-4 defense. Vince Wilfork is the league's most dominant nose tackle. Having him here at three is justifiable. That's why I'm not too bent out of shape that he gets the nod over Long. The man eats up interior offensive lines and completely disrupts opposing running games. Something tells me Jeff Ireland had Wilfork in mind when he selected Pouncey.
2. Darrelle Revis
63 pts HR 2 LR: 2 Rex Sanchez: 2 Rival Blog's Average: 2
Not that I'm the type to complain when the Jets or one of their players aren't given the recognition they deserve, but I felt that Revis being ranked 8th on NFL Network's Top 100 could have been the biggest snub of the series. I don't think he's as far ahead of Nnamdi Asomugha as some lead on, but he's clearly the game's best corner and in my mind, the game's best defensive player. Offenses pretty much have to play without their top receiver against the Jets and Revis' lockdown coverage is a big reason why Rex Ryan can afford to be so aggressive on defense.
1. Tom Brady
70 pts HR: 1 LR: 1 Foxboro Blog Average: 1 Rival Blog's Average: 1
Huge shocker here, right? If there's one thing Dolphins, Bills, and Jets fans can agree on, it's that we all can't stand Tom Brady. But boy do we respect him. Not only is he the best player in the division, but he's the best player in the league. And not only is he the best player in the league, but he could quite possibly be considered the greatest quarterback to every play the game when it's all said and done.