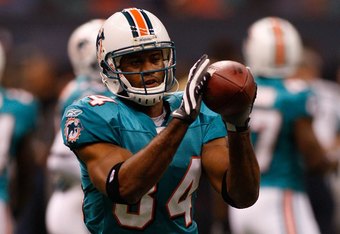 The media is probably guilty of reading too much into the practice reports this time of year. Some more than others. With the preseason just around the corner, though, practices are really the only way to evaluate how players and teams are coming along.
With that said it's important to take everything with a grain of salt, and realize that one negative or positive report about a player or team won't mean much by the time September rolls around. When those negative or positive reports become a pattern, though, it becomes easier to make sound judgements based on what we see and hear.
Now that we are a week into Dolphins' camp, we can start to evaluate which players have impressed and which ones have disappointed, and which prospects have improved their final roster chances and which ones appear as good as gone.
It would be difficult to condese all of that information into one post, but highlighting some of the extreme cases is a bit more manageable. Here is my take on the three players who's stocks has rose the most since the start of camp, and the three guys who's stocks have dropped the most.
UP
Ikaika Alama-Francis: This is a fairly obvious choice. Before camp, Ike was one of the more obscure players on the roster, and was a long-shot to make the team at defensive end. After moving to outside linebacker, though, he's spent most of camp with the second-team, spent one session with the starters, and is now considered a dark horse to win a starting job. It's still Koa Misi's job to lose, but in the event the rookie begins to struggle, Ike could become the most unlikely starter in recent memory.
Nolan Carroll: As a fifth-round draft choice, Carroll doesn't come into the league with many expectations. With the Dolphins' essentially trading Ted Ginn Jr. for his services, though, any contribution would be fantastic given that Ginn would have at least been a dangerous return man.
So far, Carroll hasn't dissapointed. In fact, you could probably even argue that he's had the best camp of any cornerback on the team. Of course, he likely won't move up any higher than fourth on the depth chart this season with three solid players in front of him, but he projects as a potential special-teams standout.
Patrick Turner: It was only a couple weeks ago that it was reported some of Turner's teammates were questioning his character and doubting his roster chances. Since the start of camp, though, he's reportedly been making plays on a consistent basis. If he can build on that for the rest of camp and turn in some solid showings in the preseason he shouldn't be in jeopardy of losing his roster spot as the final receiver on the team.
The next step would be pushing Greg Camarillo and Brian Hartline for playing time. We might be getting a little ahead of ourselves, especially considering Turner had a solid camp last year, but he's surely doing all he can to shake the bust label so far.
DOWN
Jake Grove: This may be the most confusing situation so far this season. It's like the coaching staff doesn't remember how much improved the running game was a year ago. And in particular the running game between the tackles. In 2008, with Samson Satele at center, the Dolphins had to rely on the wildcat to get the running game going, because they had difficulty doing so in base formations.
When Grove singed last offseason, he finally provided Ronnie and Ricky a little room to operate up the middle. The Dolphins did improve from the 11th ranked rushing attack to the 4th best, after all. With Grove thrown into a competition with Joe Berger and now apparently Andrew Hartline, Miami is compromising a sure thing. Sure, Grove may have been a bit overpaid when he signed for $30 million, but if they were willing to pay him that much to improve the running game, and he did, why try and replace him now?
Richie Incognito: Despite coming to town with a notorious temper, which has already brought forth two minor altercations, many had high hopes for Incognito as the starter at right guard. Instead, he's spent the least amount of time with the first-team of any of the lineman who are in the mix to start. He was even moved to left guard a few days ago, which could be a good thing or a bad thing depending on the reasoning behind it.
Still though, most thought Incognito was a near lock to start, with the real competition going down on the left side. Who knows, though, maybe he's still a frontrunner to start, but is currently on the second-team because the coaches know what they are getting with him, and are trying to get a feel for the other three against the number one O-line.
Sean Smith: I hate to keep harping on this given some of his struggles have come matched up against Brandon Marshall, but being demoted to the second-team, and being replaced by Jason Allen can't be a good sign for a corner many thought would rise to elite status in the next few years. I still think that was just a motivational tactic, and Sean will figure this little slump out soon, but if Will Allen is indeed 100% you almost have to pair him with Vontae if things don't turn around quickly.